File Copy Performance
Our file copy test measures the time it takes to transfer our first test folder that contains 29 files, 1 folder, and has 7.55GB of data from our source drive to the target test drive. The second test folder contains 444 files, 10 folders, and 602MB of data. These benchmarks are disk write intensive and require a fast storage system.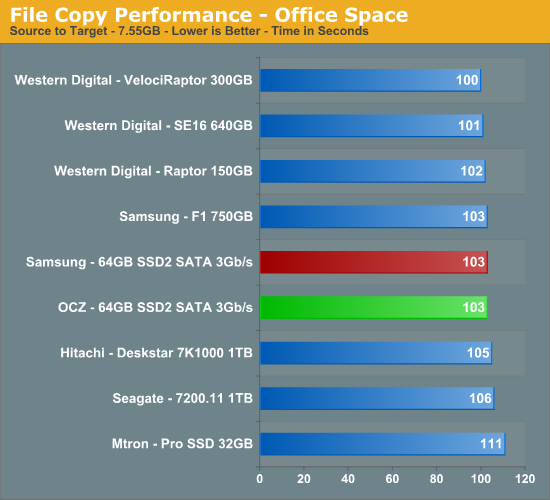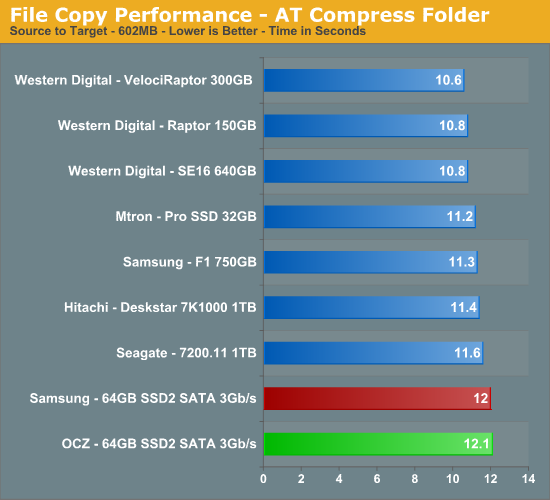 Our file copy tests show a definite advantage for the mechanical drives although the Samsung/OCZ drives were competitive in the Office Space test and scored about 7% better than the Mtron drive thanks to better controller optimizations for large sequential data blocks. However, the copy speeds for the Compress folder that features small files in a non-sequential order hamper the Samsung/OCZ drives. Even though the sequential write speeds of these drives are around 72 MB/s, the random write speeds in offline testing is around 33 MB/s in our test system.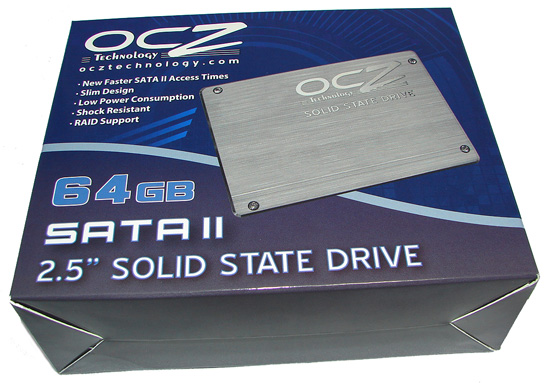 First Thoughts
The latest "mainstream" SSD technology from Samsung has finally arrived. We now have 64GB capacities featuring 100/80 MB/s read/write rates, an ultra low-power envelope, and pricing around $16 per-GB. All right, it is hard to get excited or even speak with a straight face about the per-GB costs when mechanical drives offering the same level of performance go for 50 cents to one dollar per-GB. However, the biggest advantages of the Samsung/OCZ SSD drives is not just class leading performance, but also reliability due to the lack of moving parts, small form factor, excellent thermals/acoustics, and low power use. The target market is obviously the power notebook user, but considering the 64GB of storage, this drive would make any desktop enthusiast with deep pockets valuing top-flight performance happy.
Compared to where we were just over a year ago, it appears Moore's Law is severely behind the curve with this particular technology now. In fact, we are starting to see MLC based SSD products shipping with third generation controller technology that might change the price to performance expectations for the market. In the meantime, Samsung is offering a new level of performance at a price point that was unheard of for SLC based products last year.

We wavered about presenting either drive an award. After all, cost is a significant issue when purchasing any computer component, especially one that costs as much or more than most entry to mid-range desktop systems. However, we must consider this particular SSD technology represents a true shift in this market by offering excellent performance, greatly improved capacities, and class leading thermals/acoustics/power at a price per-GB unimaginable just a few months ago. As such, we offer our Silver Editor's Award to Samsung for the product's technological merits and to OCZ Technology for ensuring this product is widely available at a reasonable cost.
(Ed: Reasonable Cost for similar performing SSD products.)