Game Level Load
This test centers on the actual loading of a playable level within our game selections. Our application timer begins when initiating the level load process and ends when the game play screen is visible.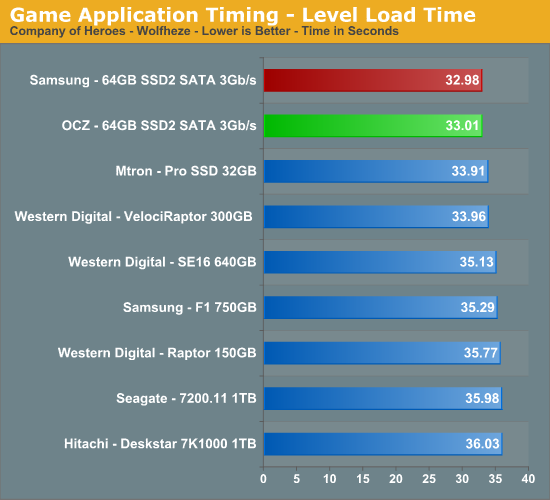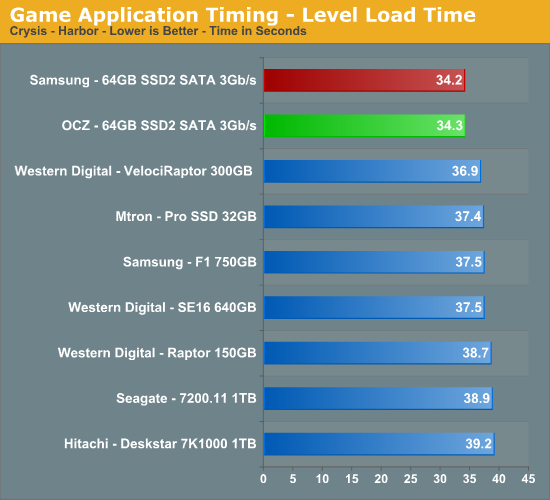 In Company of Heroes, the separation between the test group is around 3 seconds. Our VelociRaptor is the quickest mechanical drive in this test but loses out to the SSD drives. In Crysis, we see a separation of five seconds between the drives with the Samsung/OCZ drives once again scoring a win. Subjectively, the SSD drives seemed to offer quicker transitions between levels as we extended the game play length. Also, the Crysis level load dropped to 28.37 seconds on the Samsung/OCZ drives on subsequent loads if we did not clear the pre-fetch folder; comparatively, the WD VelociRaptor dropped to 33.09 seconds.
Nero Recode
Our encoding test is quite easy - we take our original Office Space DVD and use AnyDVD to copy the full DVD to the hard drive without compression, thus providing an almost exact duplicate of the DVD. We then fire up Nero Recode 2, select our Office Space copy on the hard drive, and perform a shrink operation to allow the entire movie along with extras to fit on a single 4.5GB DVD disc. We leave all options on their defaults except we turn off the advanced analysis option. The scores reported include the full encoding process and is listed in seconds, with lower numbers indicating better performance. We delete each image after use.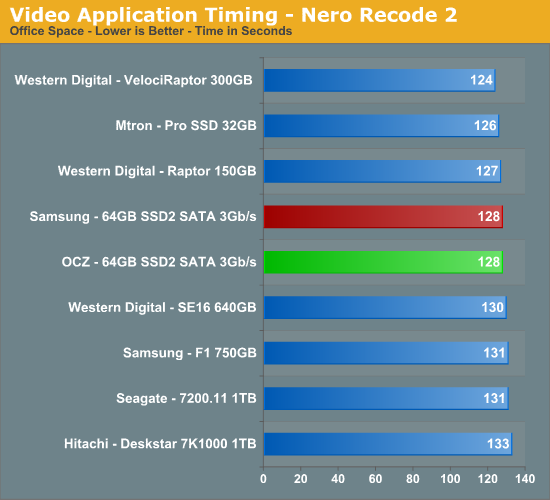 The superior write speeds of the VelociRaptor and Mtron drives are indicative of a test that features large data blocks in a sequential pattern. The Samsung/OCZ drive performs very well and is around 21 seconds faster than the previous generation Samsung 64GB drive.
WinRAR 3.71
Our WinRAR test measures the time it takes to compress our test folder that contains 444 files, 10 folders, and 602MB of data. While the benchmark is CPU intensive for the compression tests, it still requires a fast storage system to keep pace with the CPU. A drive that offers excellent write performance can make a difference in this benchmark.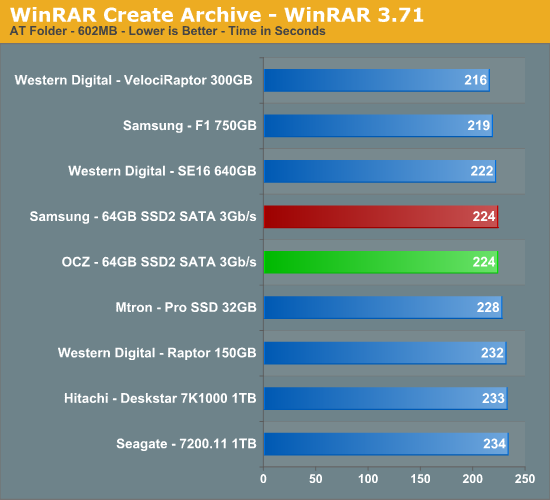 This test relies on the CPU and the burst rate of the storage system. The results in this test surprised us; we fully expected the drive to score even or slightly worse than the Mtron drive due to slower write speeds. We ran the test several times and even tried a new image but the results stayed the same.