Introduction
Amacrox might be not a familiar name to everyone, but the company just expanded its business over in Europe and should soon spread to the US as well. Most people in the PSU market know that Amacrox is actually a brand of the FSP group, which is the third largest power supply manufacturer worldwide. With Amacrox, the people at FSP wanted to create a brand that is actually "hip", whereas FSP is the more conservative brand. We already tested the Freestyle 750W in one of our roundups last year and found it performed quite well… until it failed. That certainly mars the impression, so we're here to look at a different PSU to find out if Amacrox can convey their message better this time..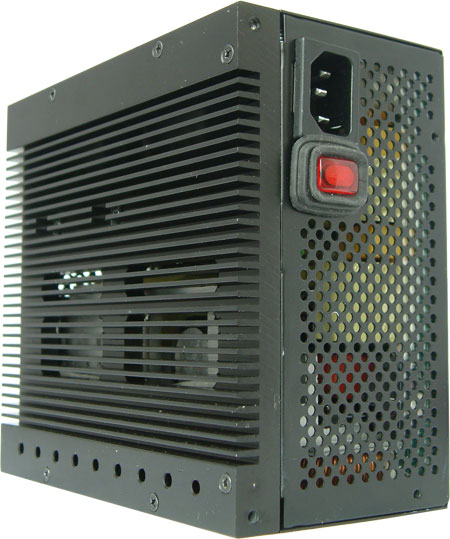 With the Calmer 560, Amacrox has a fanless power supply with a 400W output. In 2006, we saw the Calmer and found it had very good efficiency and stable rails. Today we will be looking at the advanced model and hope that it can stick up to its predecessor. The Calmer 560 comes rated at 400W, but it has a peak output of 560W; hence the name. We will see in our tests if we can run safely at higher outputs and if the power supply can still deliver stable outputs at that level. The target market of this power supply is surely not enthusiasts with high-end graphics cards or SLI, but with 400W one can fire up most midrange systems with a dual-core CPU, a few hard drives, and a graphics cards with a single 6-pin PEG connector. Those looking to build a truly silent system should definitely have a look at this unit and our test results.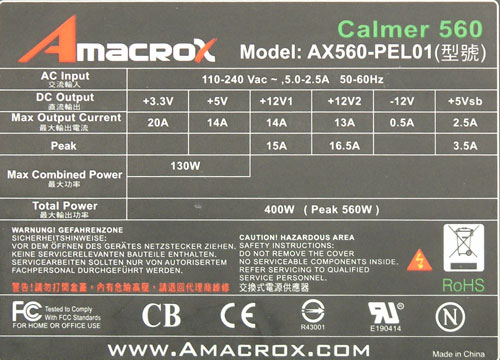 The label shows just 20A on the 3.3V rail and 14A on the 5V rail. Together they have a combined power of 130W, which will be definitely enough. This unit has two 12V rails, both rated at 14A. However, the second 12V rail has a higher peak output of 16.5A while the first has a peak output of 15A. Unfortunately, maximum combined power of the 12V rails is not listed, so we had to guess for our load calculations and settled on 300W.
Note: If you would like to know more about our testing methodology, equipment, and environment, please read our PSU testing overview.
We test an additional 10% above the highest load to see how the units perform with overload, both at room temperature and in a more stressful situation. To keep things somewhat reasonable we keep the ambient temperature at 50°C during the stress overload testing. Experience shows that many units can stand the overload at room temperature but will show problems with higher temperature and overload together. Only the best units will manage this without problems.