Sony Surprises with Quick AF Live View and 14.2 Megapixels
Sony just introduced the A200 at CES about 4 weeks ago. Rumors were floating that even more new Sony models would launch at PMA, but no one really expected the two feature-laden models Sony introduced yesterday.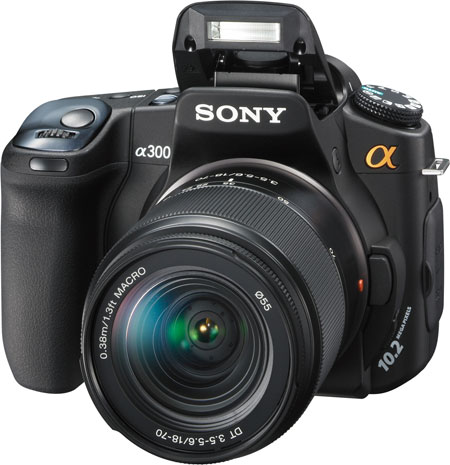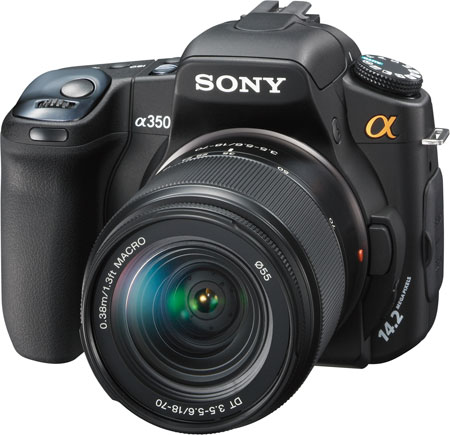 The A300 and A350 are new models that add Live View to the list of features. It is not, however, Live View like everyone else has recently introduced. The Sony Live View is clearly the best implementation of that feature on any SLR.
Olympus pioneered Live View a couple of years ago with the E-330, an expensive DSLR that enabled Live View with a separate sensor feeding the LCD image. In retrospect this was a superior method of providing a live view to the LCD screen. It must have also been an expensive solution since Olympus abandoned that method in future versions of Live View. So did every other manufacturer.
Everyone now uses the imaging sensor to provide Live View, and while that method works and is fairly cheap to implement, it does have serious limitations. First, it eats precious power, as the mirror has to be flipped up and held out of the image path during Live View. Second, the camera must flip down the mirror for focus and metering, which slows down shooting and momentarily turns off Live View. This makes Live View more a check-box feature on today's digital SLRs than something truly like the Live View seen on Point-and-Shoot cameras. Some variations of this exist, such as the Canon Live View system with contrast-detection focusing, but all the Live View systems have been slower and less capable than optical AF.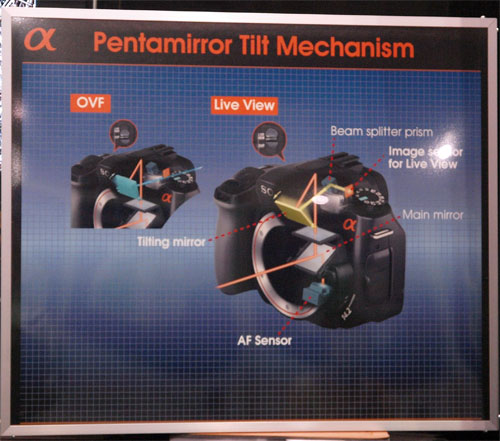 In the A300 and A350, Sony introduces a totally different Live View System, based on an additional live view sensor and a tilting pentamirror.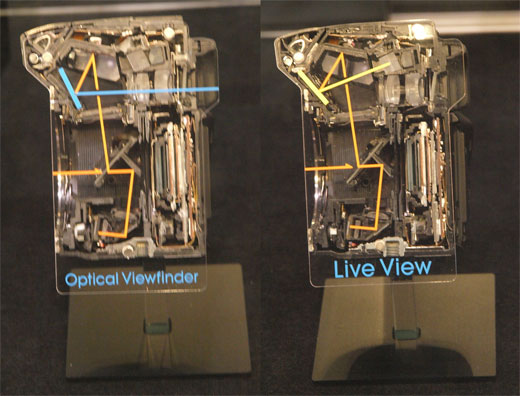 In the Sony Quick AF Live View the pentamirror tilts and the optical viewfinder closes during live view. The dedicated sensor enables true TTL (Through The Lens) phase-detection continuous AF during Live View.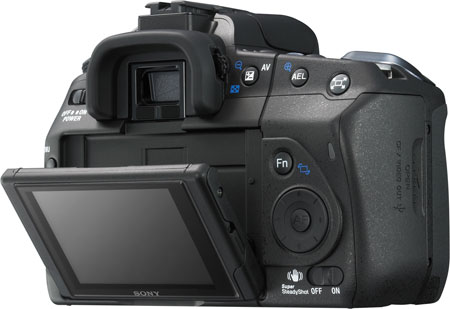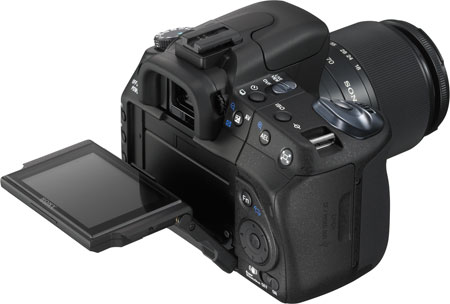 The A350/A300 also sport a larger 2.7 inch LCD display that can tilt down 40 degrees or up 130 degrees (180 degrees measured from film plane) to make the Quick AF Live View even more useful. This is not quite as flexible as the Olympus and Panasonic tilt-and-swivel LCDs, but it is a big improvement on flexibility over a fixed-position LCD.
While Quick AF Live View was an unexpected surprise, Sony had another surprise at PMA. The entry-level A300 is utilizes a 10.2 megapixel CCD sensor, but the A350 step up resolution to 14.2 megapixels.
All three new Sony cameras will sell under $1000 in Kits with the Sony 18-70mm (27-105mm equivalent) lens. The A200 kit will sell for $699, the A300 kit for $799, and the A350 kit for $899. The A350 will also be available as body only for $799. All three Sonys can add a battery grip with the same new Vertical Grip VG-B30AM.