Gigabyte's motherboards are always products we look forward to, especially the budget/midrange solutions. These boards represent features and performance that often belies their price. Recently, Gigabyte has also been making strides into the high-end of the motherboard market. The first product of Gigabyte's aspirations using an Intel chipset was the GA-X38-DQ6 motherboard. The board was generally well received and had a decent set of features and performance. In short, we would not hesitate to recommend the GA-X38-DQ6 for a top-end overclocking or gaming system.
The only gripe about the GA-X38-DQ6 by hardcore overclockers is that it has slightly lower clock for clock performance when compared to other X38 motherboards. The GA-X48T-DQ6 we are reviewing here today obviously uses Intel's higher speed binned X48 chipset. Instead of just plugging the X48 into the existing X38 board design, Gigabyte listened to the concerns of users. Gigabyte made a wise decision to refine the existing X38 motherboard design to take advantage of the additional performance potential of the X48 speed bin.
A few months ago our feelings about the X38 chipset were a little mixed; we felt it really did not bring anything exciting to the table. As time has progressed since the chipset launch, motherboards based on the X38 chipset have become our favorites for overclocking, for many different reasons. In fact, the primary reason is that they have proven to be extremely reliable for overclocking use on a 24/7 basis. Once set up correctly, we find these boards to be able to run the same settings day-in day-out, so long as the demands are reasonable. Naturally for the budget minded users, we would still lean towards the P35 chipset as far as single graphics card use goes. However, as the focus shifts, the prices of X38 based boards should come in lower than the higher end P35 boards, making the decision of which one to choose all too easy.
It really is no surprise that Intel CPU's are at their very best when teamed with Intel chipsets. Understandably, the release schedule of all the tier-one suppliers includes motherboards in either DDR2 or DDR3 format using either the X38 or the updated (speed binned) X48. While we have always felt that the synthetic performance figures of the X38 in DDR2 form have been lower than expected, the 3D performance gains over more attractively priced P35 chipset is always apparent. In DDR3 format the X38/X48 is the performance choice, and outperforms the DDR2 boards overall in just about every benchmark… well, at least by a few percent. Of course, this slight increase in performance comes at an expensive cost, with DDR3 memory prices being double that of DDR2 - if not more - depending on what speed bin you order.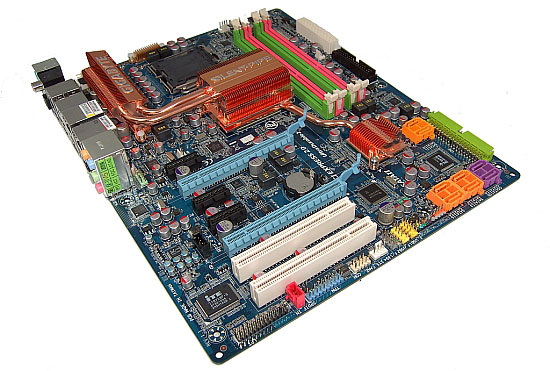 A couple of weeks ago, we were able to provide a small glimpse of the high-end extreme benchmarking that the DDR3 based GA-X48T-DQ6 is capable of in current form. We managed a clean sweep of current single card 8800 GTS 640MB 3DMark world records using this motherboard. The board's overclocking performance impressed us, but using a motherboard in a normal operating environment like most users is always an important part of our testing. Things were still quite rough around the edges at the time of the preview. In fact, we were unable to install Microsoft Vista due to our boot drive being unrecognized as a valid partition after Vista had completed formatting the drive. Issues like these are not new to us; most of the boards always need BIOS updates in their early stages. Our real concerns at the time revolved around non-working memory dividers and general unpredictability when overclocking.
Things have certainly progressed in some areas since our first look; we have received a few BIOS spins addressing improvements and compatibility in several areas. In truth, this has not been the most solid pre-release board we have received of late. We were actually beginning to feel a little spoiled, as most of the X38 based pre-release boards we received have been remarkably ready for good overclocking right from the get-go. In spite of this, we decided to keep the length of time between the first look and our review as short as possible. This is especially important in light of the fact that we are endeavoring to provide users with meaningful BIOS insights before Gigabyte releases the board. Naturally, this process takes time, but we think it's well worth the wait considering the options available in the BIOS. Indeed, we are intrigued to see what Gigabyte has managed in bringing performance and reliability together in one package using the X48 chipset.