Board Layout and Features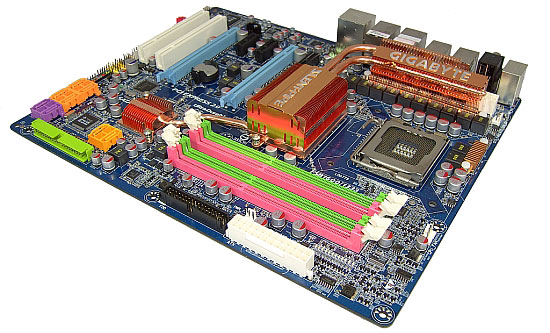 Though the color scheme of this board may seem a little garish (the pink and green memory slots are the worst offenders), it's the boards' features that interest us most. Gigabyte utilizes low RDS MOSFETs for the CPU PWM, memory, and chipset. The CPU power supply is a reported 12-phase design, utilizing five MOSFETs per phase. Gigabyte used the Intersil ISL6327 buck controller, which is only a 6-phase device, so in effect this is not a true 12-phase power supply as marketing materials would lead you to believe. Gigabyte's implementation of the ISL6327 controller is to feature a 3-step software controllable phase shutdown option, which is configurable via the supplied "Dynamic Energy Saver" OS software. We rather like the idea of user configurable phase control. When using quad-core processors for simple applications such as browsing the web, why not save motherboard power consumption by closing down some of the PWM phases? In truth, the power savings of this feature are not huge, but we still regard this as a step in the right direction from Gigabyte.
The memory and Northbridge power supplies are a dual phase design. The MOSFETs used by Gigabyte have a low conduction resistance and are of high quality. This allows for a wide power supply bandwidth and low output impedance, both favorable for overclocking. Dual phase memory power has been used by ASUS in their top-end boards for the last few months and has pretty much become "de rigeur" for companies who wish to compete with the excellent 4GB memory overclocking potential of ASUS motherboards. Not only has Gigabyte jumped on the dual phase power bandwagon for memory, they have also upped the ante by using dual phase power for the X48 MCH chipset. Clean power supply lines to the X48 chipset should easily help bring stock Northbridge voltage support of 1600 FSB to this motherboard.
We are advocates of dual phase memory power. High-speed DDR3 memory modules demand wide bandwidth and a low impedance power supply. A single MOSFET in this application may offer superior ripple rejection but will struggle to supply low impedance at high frequencies, especially if we consider the power draw of four overclocked DDR3 memory modules. Gigabyte has also tuned this board for DDR3-1900MHz memory speed, when using A-DATA's 2GB DDR3-1900 kit and XMP profiles. As usual, Gigabyte uses SMT solid polymer capacitors in all locations. There are eight fan headers to provide cooling options to all key motherboard areas. Fan control is offered via the supplied Easy Tune 5 Pro software for the CPU, System, and Power fan headers. Unfortunately, there are no onboard power and reset buttons. For users that want to benchmark this motherboard on an open test-bed, onboard switches would have been a welcome and expected addition at the price point. The onboard audio is supplied by the very good Realtek ALC889A codec that features DTS connect and full Blu-Ray and HD-DVD audio support.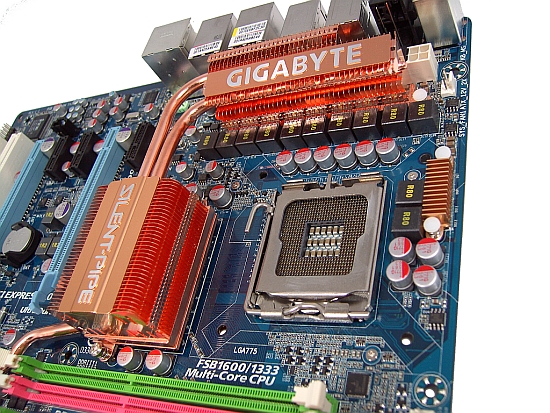 The CPU socket area is clean enough to allow the mounting of large CPU coolers. The issue is that Gigabyte has once again used their "Crazy Cool" heat plate behind the socket heatsink. This means that top-end air coolers that rely on a back-plate and screw mounting cannot be used on this motherboard without modifications to either the cooler or the motherboard. The Crazy Cool heatsink also doubles up as the retention bracket for the stock Northbridge cooler. Therefore, if the Crazy Cool heatsink is removed, the user will also have to find another means of securing the Northbridge heatsink to the board. In our opinion, Gigabyte could easily omit this heatsink design altogether, as it does virtually nothing to ensure better overall motherboard temperatures. Crazy Cool actually serves as a hindrance to those who wish to use top-end air coolers.
The 8-pin ATX power connector is located just behind the PWM heatsink at the top right corner of the picture. The Northbridge, Southbridge, and PWM heatsinks are connected via a heatpipe. Users who wish to water-cool any of these areas will need to replace the entire stock assembly with aftermarket cooling solutions. Lastly, stock Northbridge voltage is set to 1.45V on the latest BIOS we have received. This means that the chipset runs very hot, requiring active cooling with a good fan to ensure stability if this board is to be used for overclocking.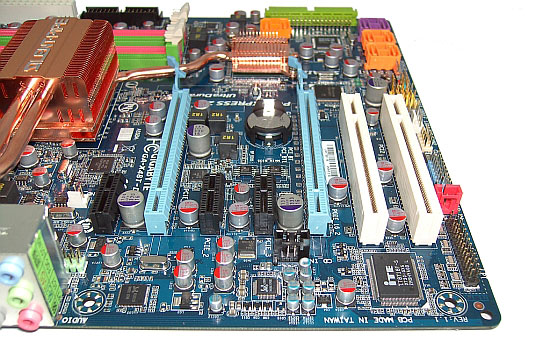 ATI CrossFire support is offered via two x16 PCI-E 2.0 slots. Three PCI-E x1 slots are available for use, though as always PCI-E x1 compatible devices are still not available in abundant quantities. Located at the lower end of the board are two PCI slots, with access to the lowest PCI slot even if CrossFire is used. The CMOS clear jumper is placed above the second PCI-E x16 slot, making it a little awkward to get to once a graphics card is inserted in either PEG slot. Gigabyte again uses their dual BIOS system, which features self-recovery in the event of a corrupt BIOS file.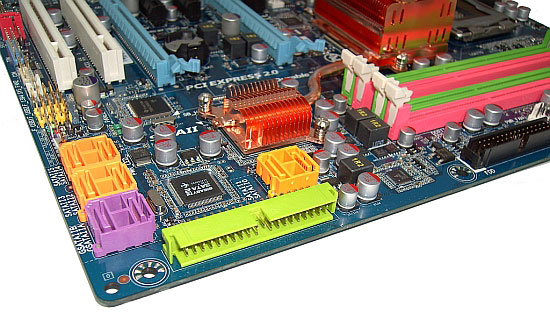 There are a total of eight SATA ports; six come via the Intel ICH9R Southbridge offering RAID 0, 1, 0+1, 5 or JBOD support. The other two SATA ports use Gigabyte's own SATA controller, offering RAID 0, 1 and JBOD support. The IDE connector sits to the right of the SATA ports, with enough clearance to make cable insertion easy, even when a long graphics card is used.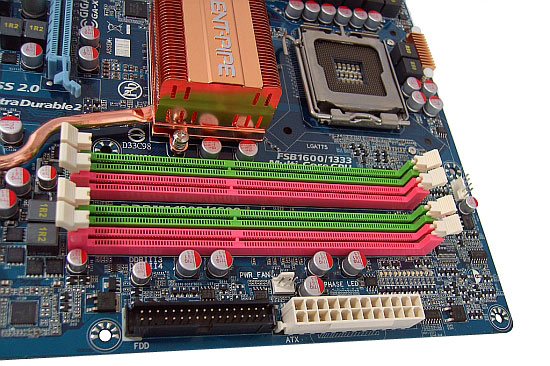 The IDE floppy and ATX 12V connectors are placed conveniently at the right edge of the motherboard; again, there is plenty of clearance around each connector to ensure ease of use.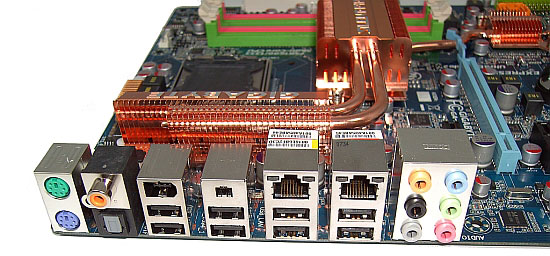 The rear I/O port features eight USB ports, S/PDIF and TOSLINK output, two IEEE 1394a ports, two RJ45 ports, and PS/2 keyboard and mouse ports. Six audio jacks are also available for the Realtek ALC889a onboard audio chip.
Gigabyte's supplied cable package consists of four SATA cables, an IDE cable, and an expansion bracket that provides two eSATA ports. The software bundle includes Easy Tune 5 PRO, which allows Windows based overclocking of the Front Side Bus as well as adjustment of CPU Vcore and memory voltages. There are a host of automatic overclocking features, which overclock the system when under load. Manual overclocking of graphics cards is also possible via the Easy Tune 5 interface.