Eyeing NVIDIA's Lunch: AMD's New Chipsets
Details were scarce about the upcoming RS700 chipset other than the fact it will support DX10 graphics capabilities and include support for HT 3.0, PCI-E GenII, 45nm CPUs, and Avivo HD. This chipset will replace the somewhat successful AMD 690g/V in the low end market in the middle part of next year.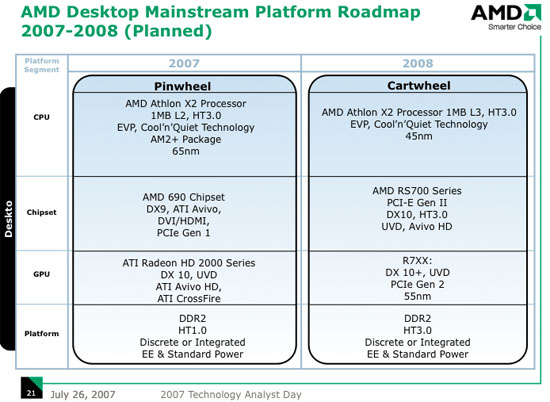 With new CPUs come new chipsets, and thankfully this part of the discussion will happen in the near term. By the end of this year, AMD will introduce its RD790 chipset, which AMD hopes will be competitive with NVIDIA's Socket-AM2 solutions.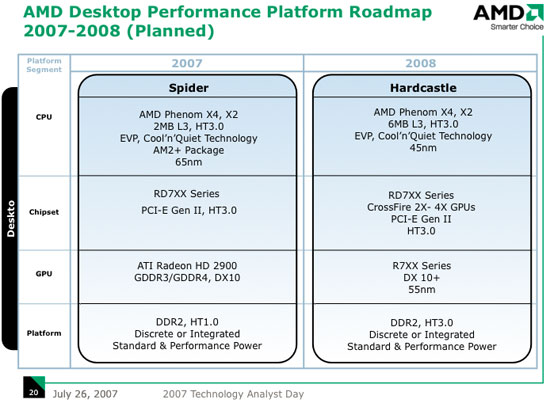 The RD790 will obviously support Phenom, but it will also support what AMD is calling CrossFire 2.0. This enhanced multi-GPU spec will support up to four GPUs working in tandem, although we're not clear what GPUs will be supported in this mode or when. Not to mention whether or not we'll run into the same problems we did with NVIDIA's Quad-SLI and performance.
PCI Express 2.0 will also be supported by the RD790 chipset, which doubles bandwidth and dramatically reduces latency to PCIe 2.0 compliant devices. Backwards compatibility with PCIe 1.0 devices is maintained. The chipset will support 32 lanes for graphics (either in 4 x8 slots or 2 x16 slots), 6 x1 lanes for expansion and a single x4 lane to connect to the South Bridge.