Bobcat in your iPhone?
As much as everyone loves hearing about the iPhone every day, I must bother you with another reference - but I promise it has relevance.
Apple made its transition to Intel x86 processors in record time, everything from its notebooks to its desktops and even the Apple TV use x86 processors. However, the iPhone uses an ARM based processor - which means Apple has to maintain compatibility with a completely different platform when adding OS X functionality to the iPhone. There's no doubt that Apple would prefer to have an x86 processor in its iPhone if for no reason than to simplify its software development, but neither Intel nor AMD make an x86 core that could work in such a cost/power sensitive device.
Intel is working on a chip that could be used in a device like the iPhone down the road, called Silverthorne. Silverthorne is the processor, Poulsbo is the chipset and the entire platform is called Menlow. It's due out in the first half of 2008 and it, like the Bobcat core, will be extremely simplified in order to work in these very low power, low cost devices.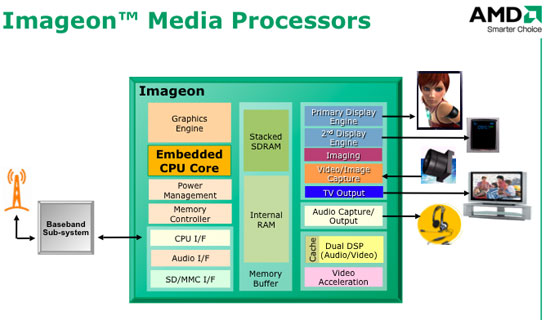 AMD has a different approach; ATI had a number of consumer electronics customers prior to the acquisition, and it was already selling microprocessors into that space - although they were based on MIPS cores. AMD's Imageon and Xilleon processors have been used in set top boxes and digital TVs for a while now but after Bobcat is introduced, there will be a new option.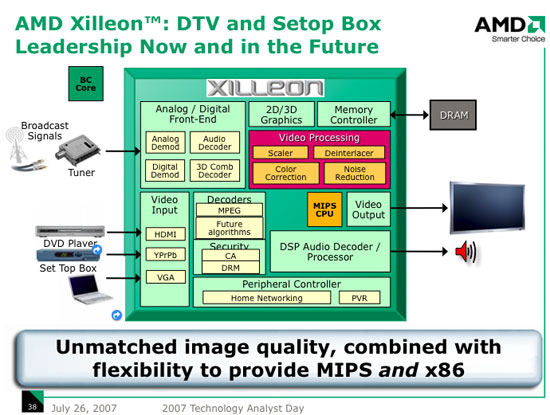 AMD will offer Imageon and Xilleon processors into the same markets it always has, but customers will be given the option of having a low powered x86 core instead of the ARM/MIPS solution they are used to, if they wish. AMD has to offer the option because it is already entrenched in the market, but the end goal is the same: to transition to x86 from top to bottom.
AMD insists that these new Imageon and Xilleon processors would roughly be the same size as present day ones, regardless of whether the customer chooses an x86 or non-x86 core. Only approximately 20% of the SoC (System on Chip) core is taken up by the x86 CPU, so the impact is minimal.
There's no doubt in our minds that devices like the iPhone will move to x86 based solutions, either from AMD with Bobcat or Intel with Silverthorne and its successors, in the coming years. Such a move would greatly simplify software development, as well as increase the capabilities of these devices.