It always seems that the worse a company does, the more information it divulges. We saw this behavior with Intel at the end of the Pentium 4 era, and we're definitely seeing it now with AMD. Enjoy it while it lasts, because it sure makes the industry a lot more exciting to talk about.
Today's disclosures are many of the things we alluded to in our last article about AMD's future, what we called The Road Ahead. If you were waiting for us to fill in the blanks, this article will do just that.
Barcelona Update
Before getting into the new stuff, AMD gave us a brief update on Barcelona, whose launch is now hopefully less than a month away.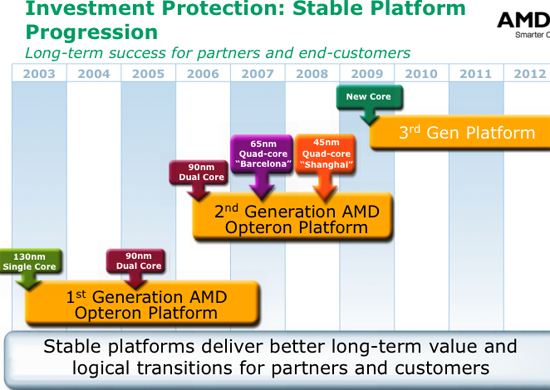 Barcelona is the second CPU to plug into what AMD is calling its 2nd generation Opteron platform, it will have one more socket-compatible successor before the platform is retired: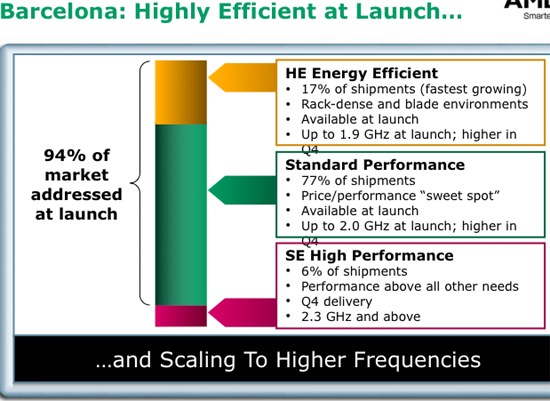 The first Barcelona processors available will be the HE (Energy Efficient) and standard performance CPUs, running at speeds of 2.0GHz or lower at launch:
In Q4 of this year AMD will introduce the SE (High Performance) Barcelona parts, running at 2.3GHz and above.
AMD is doing its best to sugar coat the low clock speed launch by saying that it's addressing the majority of the market at these clocks, but the fact of the matter is that AMD would be singing a different tune if it was able to achieve higher clock speeds at launch.