Bulldozer Performance Expectations
When Intel announced its first Core microarchitecture CPUs, we saw a number of charts that looked like this:
Intel used performance-per-watt to compare the efficiency of its new architecture to its predecessors. AMD is unveiling Bulldozer's performance target in a similar way, by looking at performance-per-watt:
In the client desktop/notebook space, Bulldozer will have around 1.3x better performance per watt than Barcelona. AMD also indicated that Bulldozer will deliver as much as 1.5 - 2.0x better performance per watt in the server and HPC space when compared to Barcelona.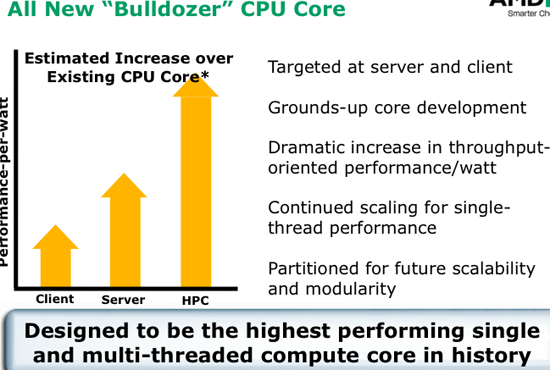 Better efficiency is obviously important, but absolute performance can't be ignored which is why AMD tagged Bulldozer with the line: "designed to be the highest performing single and multi-threaded compute core in history."
Bulldozer will have to go up against Intel's Nehalem core, which to recap is a dramatically evolved member of the Core architecture.