Bobcat
If Bulldozer is the architecture that will compete with Nehalem, Bobcat is what will compete with Silverthorne. Bobcat is yet another ground up design from AMD, also due out in the 2009 timeframe, but it will address a more power constrained portion of the market. Systems that require a 1 - 10W TDP will use Bobcat, while Bulldozer is limited to the 10 - 100W range (obviously with some overlap between the two).
Bobcat is a far simpler core than Bulldozer, which allows AMD to place it in ultra low power devices (think TVs, set top boxes and smart phones), but it also means that costs will be low. Much like Intel's Silverthorne, Bobcat will be a part of a new class of extremely low priced x86 cores designed primarily for the consumer electronics market.
We asked AMD's CTO, Phil Hester, how simple of a core Bobcat would be - and the answer he gave us was quite telling. Two years ago Intel used the following chart to illustrate the need for multi-core CPUs, the driving factor being that you can no longer get good performance scaling by simply improving single core performance: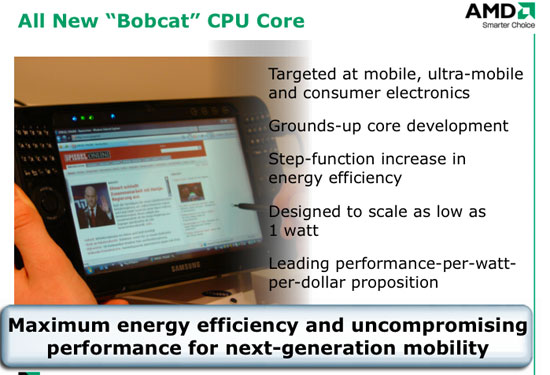 What isn't depicted on this chart is the relationship of power consumption to all of this, but as you can guess, the power consumption curve looks much like the multi-core curve. Incremental improvements in single core performance now require exponential increases in power consumption, which was a major driving factor behind the move to multi-core. By achieving higher performance through minor core improvements and adding more cores, we can maintain the sort of year-over-year performance increases we need while keeping power consumption in check.
Phil told us to imagine a graph of power consumption vs. instructions per clock over the history of microprocessor cores, which you can imagine would be linear for a while, before turning exponential.
We are presently in the very non-linear portion of the chart, where minor increases in IPC require significant power expenditures. Bobcat, takes the non-linear portion of this graph and chops it off, going back to a much simpler x86 core that can be built extremely efficiently on today's manufacturing processes.
If you can imagine a Pentium or Pentium Pro class microprocessor, built on a 65nm or 45nm process, you can already guess that power consumption would be quite low. Now add in a few optimizations that AMD's designers have learned over the years and you may be able to picture what Bobcat's architecture might look like. It harks back to a much simpler time in x86 history, but then again that's exactly what's necessary for the type of low power, low cost devices that Bobcat will end up in.