Additional Features
The DirectX 10 unified architecture is common to all of NVIDIA's GeForce 8 series hardware. All of the midrange solutions incorporate the new PureVideo HD video processing engine. The mobile offerings do have one other technology that's not present on desktop hardware: PowerMizer. Similar to Intel's SpeedStep technology, PowerMizer allows an NVIDIA mobile graphics chips to reduce clock speeds and voltages in order to conserve battery life and reduce heat output.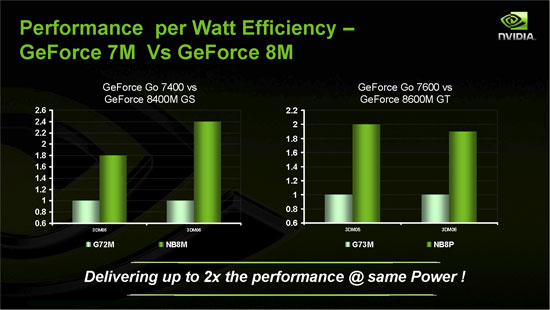 It wasn't clear from NVIDIA's presentation whether or not the latest GeForce 8M hardware makes any significant changes to the PowerMizer technology. However, here's a quick overview of the PowerMizer 7.0 technology. Again NVIDIA claims a twofold increase relative to last generation hardware (G72M vs. NB8M and G73M vs. NB8P), only this time the increase is in performance per watt efficiency. We would be very unimpressed if the new hardware wasn't at least better than the previous generation hardware, but we will hold off on saying more until we have had a bit more time to test NVIDIA's latest mobile GPUs.
PowerMizer 7.0
Starts with upfront power efficient architecture design
GPU-level and system-level power savings
GPU-level savings
Activity based switching between performance modes
Adaptive Clocking dynamically tunes power to match demand
Dynamic Clock Gating intelligently shuts down unused circuitry
Enhanced Analog Circuitry power savings - PLLs, TMDS, PCIE (ASPM and ASLM)
New low-power memory modes of operation -- dynamic drive and termination switching
System-level savings
CPU power savings -- maximum CPU offload for graphics and video applications
Power panel savings -- SmartDimmer 2.0 dynamically modulate backlight-lamp power
NVIDIA also likes to tout their MXM modular graphics subsystem as a feature of their mobile solutions. While the idea does make some sense, the reality is that notebooks typically require a lot more engineering and design effort than your typical desktop solution, so most notebook manufacturers still end up developing their own proprietary solutions. With size and weight being primary considerations on many laptops, it's difficult to come up with a solution that will please everyone. It would be nice if we could one day get the equivalent of the PCI-E X16 graphics slot in notebooks, with the ability to easily upgrade your graphics adapter. So far, we have seen a few halfhearted attempts in this area, but there's definitely no standard to which all manufacturers adhere.