Introduction
One of the fastest-growing sectors in the world of computers is the notebook market, which has been experiencing double-digit annual growth for quite some time. If the current trend continues, notebook sales will eclipse desktop sales within the next five to ten years. That's not too surprising, considering personal computers have ingrained themselves into just about every part of our society, and being able to easily transport them serves to further their quest for world domination. All we need now is for greater proliferation of high-speed wireless networks and it's only a matter of time before SkyNet begins wiping us off the face of the earth....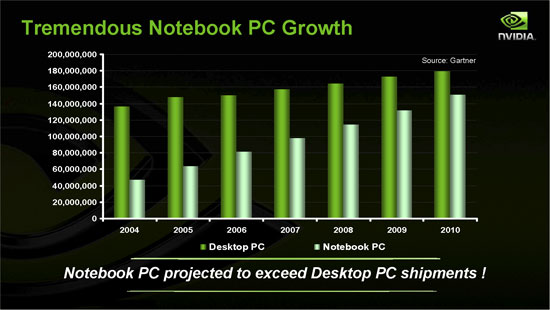 Terminator references aside, the reality is that computers have become a commodity item and performance requirements have begun to plateau. Not only does that mean less frequent upgrades for the less dedicated computer users, but it means the performance that the latest and greatest desktop solutions offer is often unnecessary for your typical computer user. The fastest desktop solutions continue to be well over twice as fast as the best mobile solutions, but there are plenty of people still running four or five year old computers without any complaints. Simply put, the convenience factor of being able to pick up a notebook and carry your work with you at a moment's notice makes them very attractive.
Of course, just because many people are able to use several year old computers without complaining doesn't mean that the various hardware manufacturers aren't looking for new ways to get us to upgrade. Windows Vista, new games sporting improved graphics, and the latest multimedia applications can all tax even the fastest computers, which means those of us who like to keep up with the Joneses will inevitably be faced with more upgrades.
Performance wise, NVIDIA has basically been dominating the mobile sector for quite some time. ATI managed to stay competitive on the desktop in the Radeon X1900 versus GeForce 7900 timeframe, but the Mobility Radeon X1800 has typically played second fiddle to NVIDIA's GeForce Go 7900/7950 solutions, and likewise for the Mobility Radeon X1600/X1700 versus the GeForce Go 7600. NVIDIA also opened up a huge performance and features lead on the desktop when they released the first DirectX 10 capable graphics chip, the GeForce 8800 (G80). We're still waiting for ATI/AMD's response more than six months later, but NVIDIA's big news of the day is the launch of their latest mobile graphics solutions that bring DirectX 10 feature support to notebooks everywhere. Or at least the newest notebooks that are being launched today and in the coming weeks....
We do have an early Santa Rosa notebook in-house for testing that's equipped with a GeForce Go 8600M GS, but unfortunately we've run into some difficulties during testing and won't be able to bring you actual performance results for a bit longer. For now, we will have to content ourselves with an overview of the new features and graphics products being launched and a discussion of how they will affect the mobile market. So without further ado, let's take a look at the GeForce 8M Series.