Additional Notebook Solutions
The new GeForce 8M hardware isn't the only mobile product being launched today by an NVIDIA. They are also releasing some new integrated graphics chipsets as well as business and workstation solutions. Following is a table of all of the products being launched today.
NVIDIA Notebook Products Launching Today
Segment
Consumer
Business
Workstation
Enthusiast
Performance
GeForce 8600M GT
GeForce 8600M GS
Quadro NVS 320M
Quadro FX 1600M
Mainstream
GeForce 8400M GT
GeForce 8400M GS
GeForce 8400M G
Quadro NVS 140M
Quadro NVS 135M
Quadro NVS 130M
Quadro FX 570M
Quadro FX 360M
Value
GeForce 7190M + nForce 650M
GeForce 7150M + nForce 630M
GeForce 7000M + nForce 610M
We won't dwell much on the business and workstation products. The business solutions are based off the same GeForce 8M GPUs, with the primary difference being an effort to ensure better reliability, stability, and compatibility. For IT departments, that usually means that the manufacturers spend extra time testing and qualifying the hardware and drivers before releasing them to the public. The new chipset solutions deserve a bit more attention.
What Is a Motherboard GPU (mGPU
)?
NVIDIA calls the new chipsets "Motherboard GPUs" and defines that as the following:
Combines a true GPU with motherboard core logic
Support for DirectX 9.0 Shader Model 2.0 or higher
At least one digital connector (DVI/HDMI) with HDCP support
Multi-display support
A dedicated video processing engine for HD video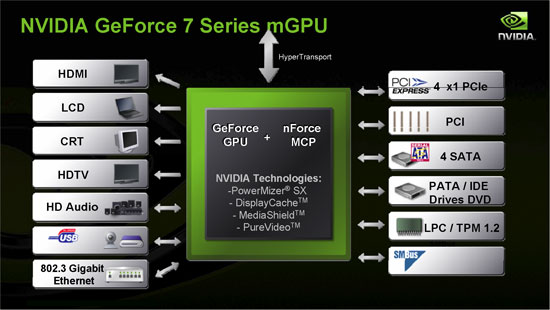 Put another way, it sounds like NVIDIA's latest IGP solutions now come with better performance and a few new features. These new IGP chipsets don't support DirectX 10, but they do support Shader Model 3.0 and they apparently also include the new VP2 hardware to handle H.264 decoding. They are supposed to be up to 40% faster than the last generation IGPs while consuming less power in order to increase battery life.
Better performance sounds nice in theory, but 40% faster than "really slow" still ends up being really slow, sort of like any number multiplied by zero ends up being zero. For gaming, we seriously doubt any of the new IGP solutions will offer acceptable performance -- even some of the midrange GPUs struggle after all -- but the inclusion of video processing engine and HDCP support is still a plus.
Another slide in the presentation states that these new mGPUs offer the "longest battery life for Turion class UMA notebooks." Unfortunately, we take that to mean that for the time being these new chipsets are for AMD platforms and not for Core 2 Duo, although that wasn't entirely clear.
Closing Thoughts
There's plenty of marketing hype in any new product launch, but while these latest NVIDIA products may not rid the world of hunger or ensure the continued survival of mankind, they do appear to offer some interesting benefits. Notebooks are undoubtedly becoming more and more popular, but anyone who has an interest in gaming has likely discovered that getting a laptop capable of keeping up with even a $1000 desktop in the latest games becomes a very expensive proposition. This latest product launch is just one more step towards improving mobile graphics performance.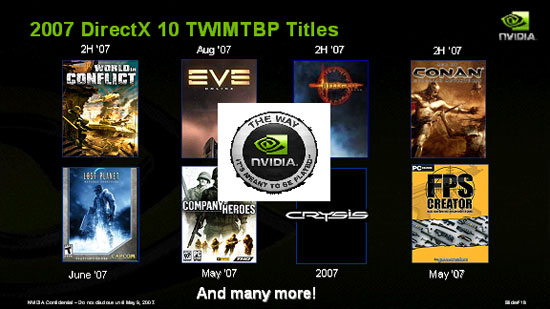 The smaller size and added engineering costs are sure to keep entrance fees for the mobile market higher than what you would expect to pay for equivalent performance on the desktop, but at the very least we should now have a few more options when it comes time to purchase a new notebook. Now all we need is more applications that can truly benefit from this next generation hardware, and thankfully we should get at least several DirectX 10 games by the end of this year.