Rendering Benchmarks
Mental Ray 3.3.3
Below, we are running the 32-bit binaries provided by Alias Wavefront. You may be interested to see how some single CPU setups perform on the same test render
here
. Once again, we are running the same Maya benchmark
file
found in our other reviews. We ran Mental Ray via Maya using the command:
# maya_render_with_mr -file Benchmark_Mental.mb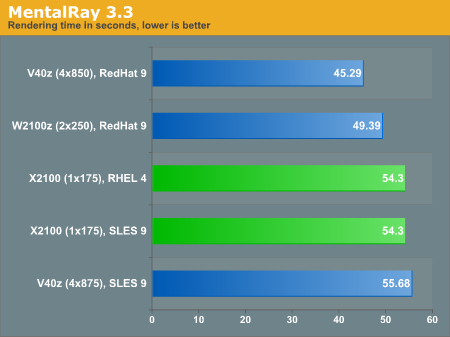 Notice that there is a minute difference in performance between the X2100 and the V40z, even though both are essentially running a single core 2.2GHz processor. Some of this is due to the Aquarius's advantage of unbuffered DDR, but also, the different core logics play a part in each system's performance.
Shake 3.5c
We are planning on moving this benchmark to Shake 4.0, but since we had all of our existing benchmarks in 3.5c, we opted for 3.5c one last time. We took the opportunity to run a benchmark script by Lindsay Adams, which you can download
here
. The benchmark script renders 10 frames under various effects using one or multiple CPUs. We sum the render times and display them below. The times recorded are the averages of three runs. The command run for this benchmark is:
# shake -exec hardware_test_v01.shk -vv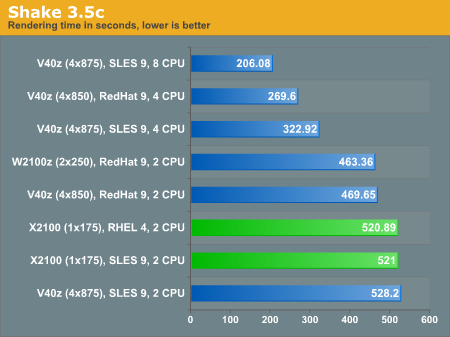 Our SunFire X2100 actually took a bit of a performance hit on this test, something that we hadn't expected; although, we had a similar issue when running the four socket V40z in 2CPU render mode.