Introduction
An interesting policy inside Sun is that you retain your badge number for life. Andy Bechtolsheim retained badge ID #1 at Sun, even after he went on to found Granite Systems and Magma Design Automation. Andy's golden touch extended out to several small companies including a promising little search engine called "Google" as well as academia with Andy's investments into Carnegie-Mellon Universities WCC campus. What does this have to do with Sun's new servers? Well, Andy has some pretty big plans for Sun these days.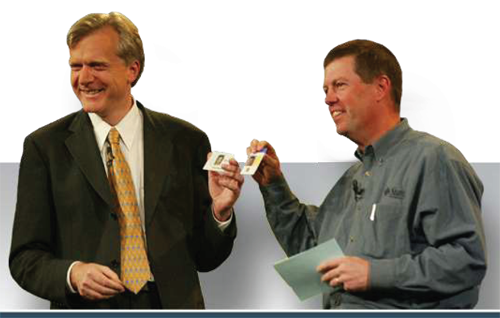 Eighteen months ago, Andy's return to Sun marked the company's Renaissance of new ideas, strategies and philosophies. Everything about Sun is getting a new image, from company motto all the way down to the entry level server designs. Mr. Bechtolsheim is personally responsible for the company's drive towards x64 and x86 processors; the V40z, V20z and W2000z were all children of his push for lower cost servers that relied on efficiency and innovation. Given that Andy only had 6 months to get the initial Opteron servers and workstations online, there wasn't much time to develop everything from scratch, which is why the older Sun x64 workstations and servers are mostly based on Newisys designs and components.
Today is the first x64 server for Sun that is totally unlike anything else on the market. While today is also the mark of Sun's Galaxy server line, the SunFire X2100 model (code named "Aquarius") that we are looking at today will become Sun's entry level sub-$1000 server. Vertical markets will be able to use the Aquarius as a completely storage-less application node, while horizontal markets will be able to use the X2100 as a low cost, high density application or web server. We have some upcoming analyses of the Galaxy lineup, but today, we are very excited to bring the first look at Sun's entry level "Aquarius", or SunFire X2100.