Sun's entrance into the sub-$1000 market isn't an easy one. At the sub-$1000 level, whitebox units generally are the brand of choice for most small and medium businesses, while HPC orders get to go to the IBMs and Dells of the world based on volume. With the SunFire X2100, Sun becomes a viable alternative in both the horizontal and vertical markets. By default, the X2100 is configured best for a diskless cluster or high availability application. Once the SunFire X2100 becomes available
en masse
in the US, we could actually pre-configure the machine for storage and a faster processor instead, making it a very capable web server instead.
Similar to Sun's approach to the V20z and V40z, there will be several different configurations of the X2100, from Small to Extra Large. We actually have an Extra-Large configuration for testing today, which comes out to $2295. Sun tells us the Small configuration comes out to
$745
; although it doesn't have a hard drive or the beefiest of Opterons, $745 is a bargain for what most companies spend on blades. The Large configuration is priced at $1676. Barring any availability problems from AMD, we should see several versions of the SunFire X2100 in the future with Opteron 154 and 180 processors.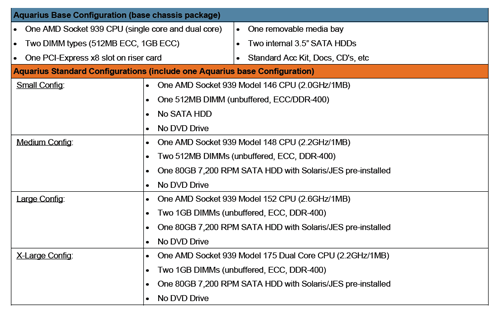 The industrial look of the SunFire X2100 is best described as the true nostalgic Sun look. A look at the front reveals the epitome of form following function.

You'll notice two forward USB ports (something new for Sun), a slim line DVD drive and two hot swappable SATA drive bays. The two hard drives can be set up for RAID 0 or 1 via the BIOS.

The rear reveals more USB ports and a serial interface. You'll also notice the complete lack of any legacy input connectors, including PS/2 keyboard and mice interfaces. The SunFire X2100 requires a USB keyboard/mouse for direct console access. The diagnostic lights on the front and back of the machine signal whether or not the machine is on/off or if there is a component failure. Since the indicator lights are featured on both sides of the server, it's easy to pick out a failed server from either side of the rack. The Aquarius weighs in just under 30lbs, so it is well suited for the included roll-out rack rails.
Also present is a half-height 1- to 8-lane PCIe expansion bay, two Gigabit Ethernet connectors and a single analog video output. The PCIe expansion is unique in the fact that the entire expansion bay is removable from the chassis when the bay cover is removed; no more scratched PCBs when replacing or installing an expansion card.