Database & Apache Benchmarks
MySQL 4.0.20d
MySQL has been a staple of our Linux tests since its inception. Even though it does not carry high relevance for a workstation test, we still regard it as the
de facto
free, open sourced benchmark for Linux. Below, you can see our results for
sql-bench
on both the 64-bit Red Hat kernel. Below, we ran the
sql-bench
insertion and select tests.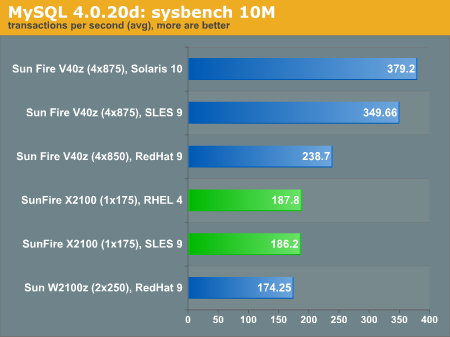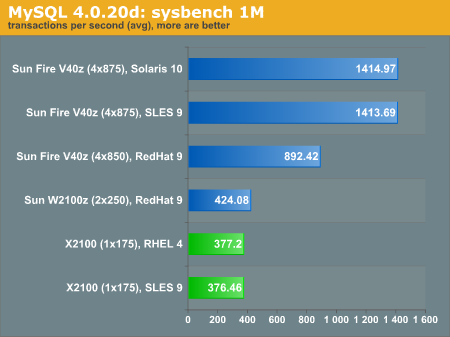 In a web server configuration, Apache immediately becomes the HTTP daemon of choice for anyone using Linux. Apache's ApacheBench is a relatively synthetic benchmark that can give us some baseline performance ideas without straying too far into the realm of artificial. We ran both configurations under 10 and 100 concurrent threads to demonstrate the number of requests per second that the server can handle.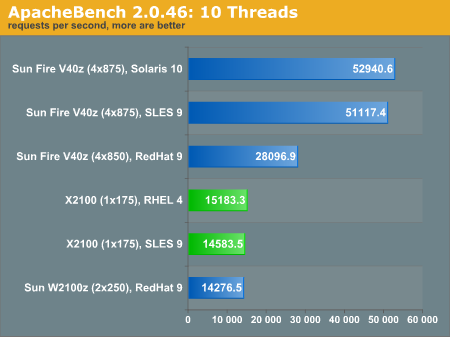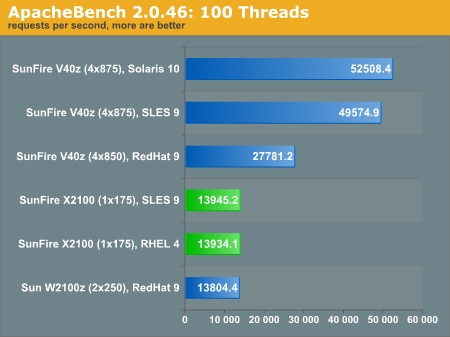 The X2100 serves considerably fewer pages than the bigger SunFire V40z, but what the X2100 lacks in performance here can be made up for in the wallet. A single SunFire V40z can outperform four X2100s, but even in the most expensive configuration, buying four X2100s is still a fraction of the cost of a V40z. For applications that scale well, such as web serving, the X2100 makes perfect sense. For applications that don't scale as well, like databases, you're better off with the heavier lifting V40z.