EVGA Z590 Dark
EVGA plans to unveil a pair of new models. The first is the very recognizable EVGA Z590 Dark, which targets extreme overclockers and enthusiasts with deep pockets. The most notable design traits include an overclocker's toolkit in the top right-hand corner, including a pair of two-digit LED debuggers, a power switch, and a reset button.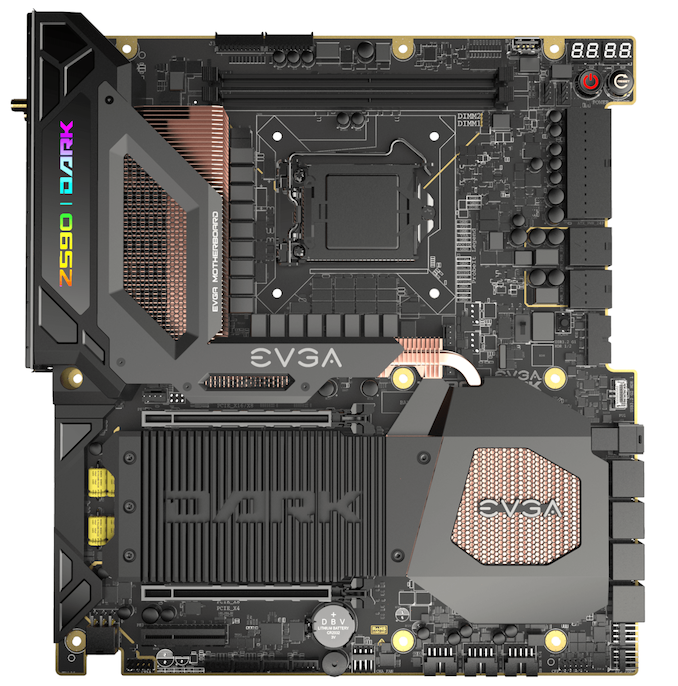 At present, EVGA hasn't given us any technical details about the Z590 Dark, but we can see a couple of notable inclusions. There are eight SATA ports, including support for RAID 0, 1, 5, and 10 arrays, with two memory slots that will likely support some of the fastest DDR4 memory on the market. Designed more for overclockers looking to squeeze every last drop of performance from the silicon, the Z590 Dark has right-angled power connectors including two 8-pin 12 V EPS ATX power inputs for the CPU, with a 24-pin 12 V ATX delivering power to the board. It looks as though the board includes two full-length PCIe slots, with an open-ended half-length PCIe slot, with any M.2 slots likely to be located in between the full-length slots and under the large heatsink.
Once EVGA makes more details available, we will update this page.