Supermicro X12SAE
The Supermicro X12SAE is the only Supermicro ATX W480 model at the time of writing and opts for a more straightforward take compared to other vendors with a professional feature set designed for use in a workstation or server environment. Included is a pair of PCIe 3.0 x4 M.2 slots, six SATA ports, and dual Ethernet ports including an Intel I225 2.5 GbE Ethernet controller.
Supermicro has opted for a conventional socket design for the X12SAE which resembles a regular consumer board, with a green PCB, small aluminium finned heatsinks for the power delivery and chipset, with metal slot reinforcement on the PCIe and memory slots. There are two full-length PCIe 3.0 slots which operate at x16 and x8/x8, with a 5V PCI 32-bit slot. The storage options include two PCIe 3.0 x4 M.2 slots, with six SATA ports that have support for RAID 0, 1, 5, and 10 arrays. Across the four reinforced memory slots, users can install up to 128 GB of ECC and non-ECC memory, with speeds of up to DDR4-2933 supported. The X12SAE also includes five 4-pin fan headers with a BMC/IPMI heartbeat LED, and a catastrophic failure LED which wouldn't be a good thing to see.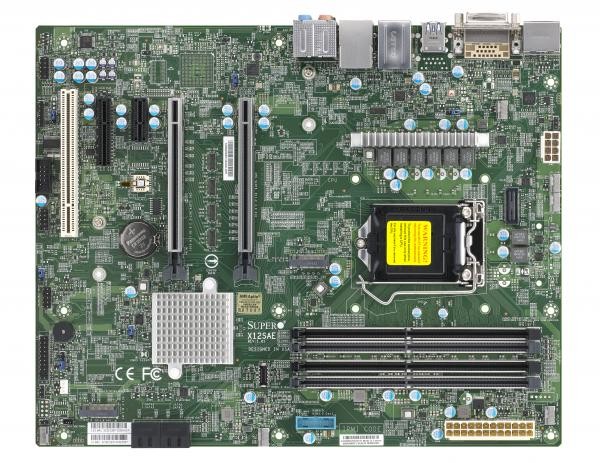 In terms of connectivity, the Supermicro X12SAE includes three USB 3.2 G2 Type-A, a single USB 3.2 G2 Type-C, and two USB 3.2 G1 Type-A ports on the rear panel, with one USB 3.2 G2 port available via the use of an internal header. Also included is a USB 2.0 header which adds two ports, with a USB 3.2 G1 header which also allows an additional port to be used. The rear panel also includes a trifecta of video outputs which consists of a DisplayPort, an HDMI, and DVI-D output. A serial port is present, while there are also two Ethernet ports, one controlled by an Intel I225V 2.5 GbE controller, and the other by an Intel I219LM with support for AMT and vPro.
The Supermicro X12SAE is the quintessential ATX workstation model with a simple core feature set and design, with its most notable features including dual PCIe 3.0 x4 M.2 slots and dual Ethernet on the rear panel. Supermicro mentions IPMI and BMC support but doesn't go into detail about which BMC controller is used if any is used at all. Supermicro also hasn't unveiled its official pricing as of yet, but we expect this to be announced shortly.