Biostar has announced a handful of models for Intel's 10th generation Comet Lake desktop processors which are focused towards the entry-level market segment. Typically with lower-end controller sets and fewer features, Biostar set its sights lower than most vendors with its offerings, which results in reduces the overall cost which can then be passed onto the end-user.
Biostar Racing Z490GTA Evo
The Biostar Z490GTA Evo uses a futuristically styled selection of heatsinks, with some integrated RGB LEDs built in to the rear panel cover. Combining a blend of silver, grey and black heatsinks, with a black and grey patterned PCB, it looks fresh compared to Biostar's Z390 models. Its main features consist of two PCIe 3.0 x4 M.2 slots, six SATA ports, support for up to DDR4-4400 memory, with an advertised 16-phase power delivery.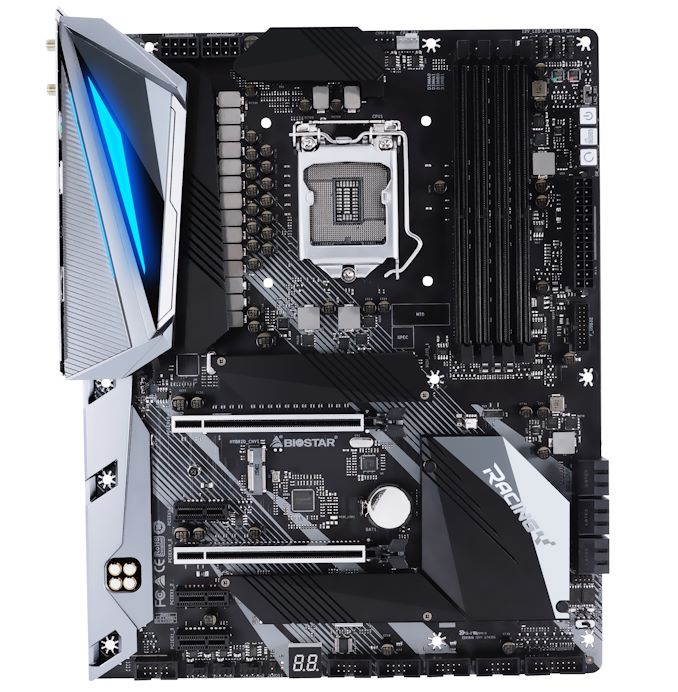 Towards the lower half of the board is two full-length PCIe 3.0 slots which operate at either x16, x8/x8, or x16/+4; Biostar isn't clear on this in the official specifications. This includes three PCIe 3.0 x1 slots, with two PCIe 3.0 x4 M.2 slots with six SATA ports with RAID 0, 1, 5, and 10 array support. When each of the M.2 slots is being used with a SATA based drive, it will disable a SATA port for each populated slot. The Biostar Z490GTA Evo is advertised as having a 16-phase power delivery and has two 8-pin 12 V ATX power inputs to provide power to the CPU. There are four memory slots with support for DDR4-4400, with a maximum capacity of up to 128 GB.

On the rear panel is a single USB 3.2 G2 Type-C, one USB 3.2 G2 Type-A, and eight USB 3.2 G1 Type-A ports. For users looking to use Intel's integrated graphics can use the single HDMI video output, while the five 3.5 mm audio jacks and S/PDIF optical output are powered by the older Realtek ALC1150 HD audio codec. For networking the Z490GTA Evo is using a single Ethernet port powered by an Intel I211-AT Gigabit controller, while there is also wireless capability, but Biostar hasn't specified which wireless interface it is using. Finishing off the rear panel is a PS/2 keyboard and mouse combo port.
The Biostar Z490GTA Evo has a very budget-focused controller set when compared with other vendors top ATX sized SKUs at launch. Aiming more at budget builders than enthusiasts, the design is quite simplistic, yet consolidates necessary features with tons of rear panel USB connectivity, and an ageing Realtek ALC1150 HD audio codec into an affordable package. Biostar intends to launch the Z490GTA Evo with an MSRP of $"""" which is very reasonable for everything that's on offer.