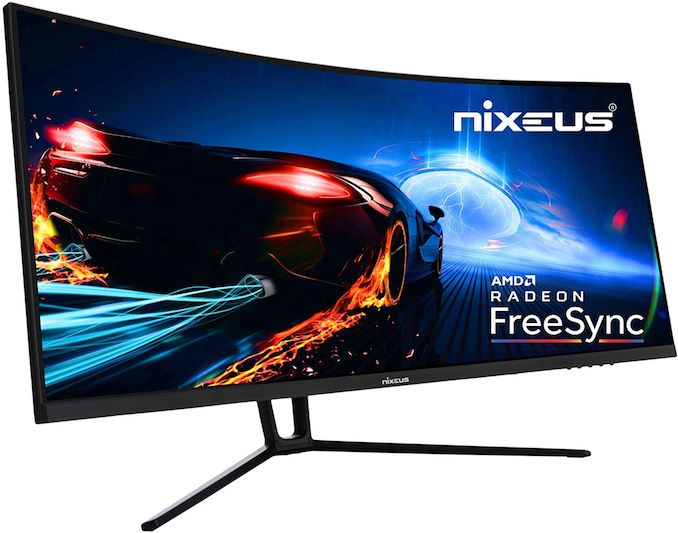 Nixeus this week took the wraps off its latest curved ultrawide NX-EDG34 gaming display, which blends together a large size, a WQHD resolution, a 144 Hz maximum refresh rate, and AMD's FreeSync dynamic refresh rate technology. At present, only a few monitors can boast the same combination of features that the EDG34 has to offer, so it will be in a rather unique position when it becomes available.
The Nixeus NX-EDG34 display builds upon a curved VA panel with a 3440×1440 resolution, and is capable of reaching 350 nits typical brightness (400 nits in HDR mode), a 3000:1 contrast ratio, a 21:9 aspect ratio, 178°/178° viewing angles, and a 4 ms GtG response time. In terms of refresh rates, the monitor's maximum rate is 144 Hz, and in variable refresh mode it operates in a 48 Hz – 144 Hz range. The LCD can display 16.7 million colors and supports an HDR mode, which suggests a wider-than-sRGB color gamut.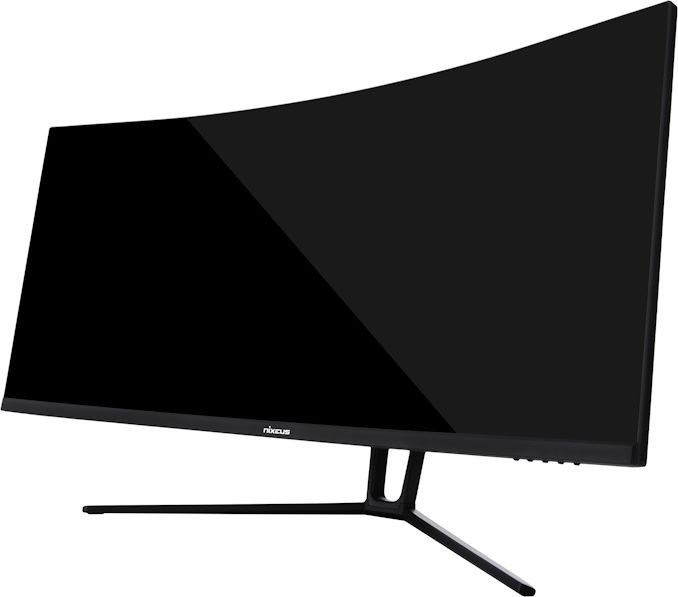 Because the Nixeus NX-EDG34 is designed for gamers, it naturally features multiple inputs to connect a PC (or two) and a couple of game consoles, so it has two DisplayPorts 1.4 and two HDMI 2.0 ports. It is also equipped with a headphone jack.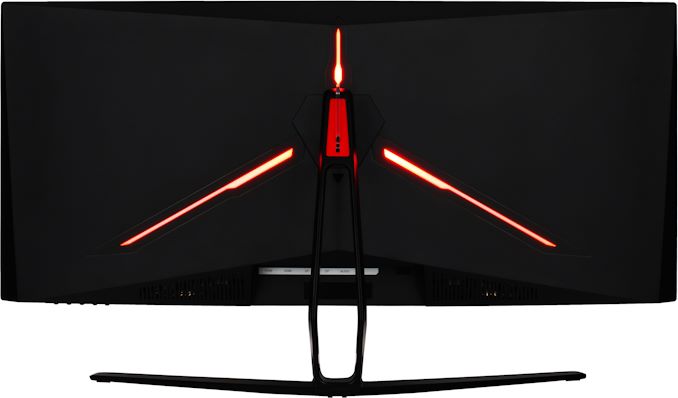 From design standpoint, the Nixeus NX-EDG34 has very thin bezels on three sides as well as red LEDs on the backside to emphasize gaming nature of the device. Nixeus will offer two versions of its new monitor: the NX-EDG34S with a stand that can adjust tilt as well as the NX-EDG34 that can adjust both tilt and height.
Nixeus NX-EDG34 Displays
NX-EDG34
NX-EDG34S
Panel
34" VA
Native Resolution
3440 × 1440
Brightness
350 cd/m² typical
400 cd/m² HDR
Contrast
3000:1
Maximum Refresh Rate
144 Hz
Variable Refresh Rate
AMD FreeSync
48 Hz ~ 144 Hz
Response Time
4 ms GtG
Viewing Angles
178°/178° horizontal/vertical
Curvature
1500R
Pixel Pitch
0.233 mm
Pixel Density
110 ppi
Anti-Glare Coating
?
Inputs
2 × DisplayPort
2 × HDMI 2.0
USB Hub
No
Stand
NX-EDG34: height and tilt adjustable
NX-EDG34S: tilt adjustable
75x75 VESA mount
Audio
headphone output
Launch Price
$500 ~ $550
Nixeus will start shipments of its NX-EDG34S display in late November or early December, depending on the retailer. At present, the monitor can be pre-ordered for $499.99 from Newegg or for $551.15 from Amazon.
As an aside, while 34-inch ultrawide WQHD displays are gaining traction, there are just a few gaming monitors from popular brands that feature a 3440×1440 resolution with high refresh rate (i.e., 100 and higher). In fact, the only product that has the same specs as the EDG 34 is Xiaomi's Mi Surface Display that was introduced back in October, but that is only available in China (and we do not know if and when it will be sold in other countries). Another, similar monitor is MSI's Optix MAG341CQ, that has just a 100 Hz refresh rate and is priced at $428.99. Finally, there is Dell's latest Alienware 34 LCD with as an IPS panel and a 120 Hz refresh rate, but it is priced at a whopping $1499.99. All things considered, the Nixeus NX-EDG34 will be in a unique position in the US at least for a while before other makers adopt the same LCD panel.
Related Reading:
Source: Nixeus