Battery Life
While not strictly related to the performance or the Snapdragon 855 chipset itself, it's also interesting to see how the different devices end up in terms of their battery life. In this approach we can identify how efficient the non-SoC components of a device are.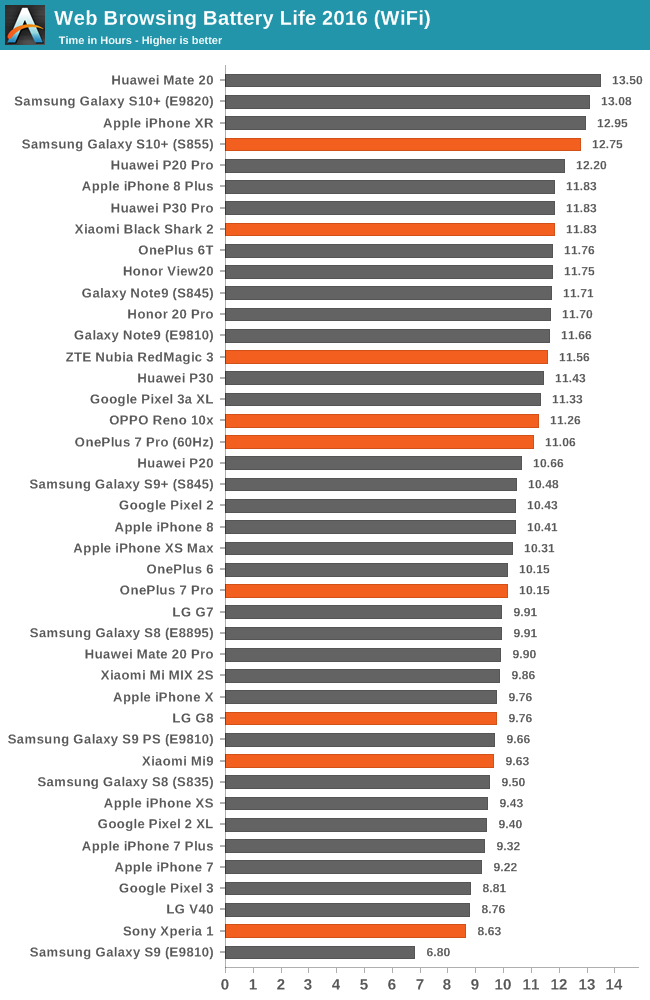 The Galaxy S10+ continues to dominate here, most likely due to Samsung's newer generation OLED panel that seemingly might be employing a newer and more efficient emitter generation compared to all other phones in the comparison. Another aspect of the Galaxy S10 that is different to the other devices in the comparison is that it's using Broadcomm's BCM4375 WiFi 6 (802.11ax) chipset rather than Qualcomm's own WiFi 5 chipset for most of the rest of the devices.
Sony's Xperia 1 suffers from its 4K panel screen and the fact the DDIC has to work a lot harder to drive it, whilst devices like the G8 and Mi9 suffer from either an inefficient screen or simply a smaller battery capacity. The OnePlus 7 Pro in 90Hz mode has to make a battery compromise, while the remaining the devices are doing quite well, but just aren't as power optimised as the S10+.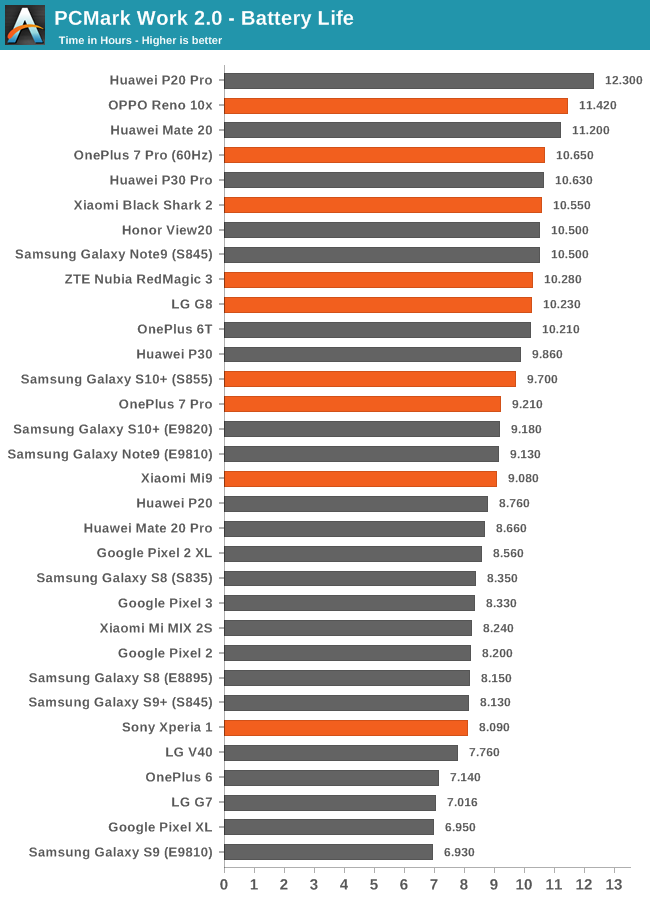 PCMark shifts the results around a bit. In this case, the same factors as on the web test play a role, however the SoC power efficiency has a bigger impact here as the CPU is a lot more active. Devices as the OPPO Reno 10x take the lead because they're also showcasing the worst performance in PCMark due to the more relaxed scheduler and DVFS setting.
Overall still, all Snapdragon 855 devices except for the Xperia 1 are doing well in this test.