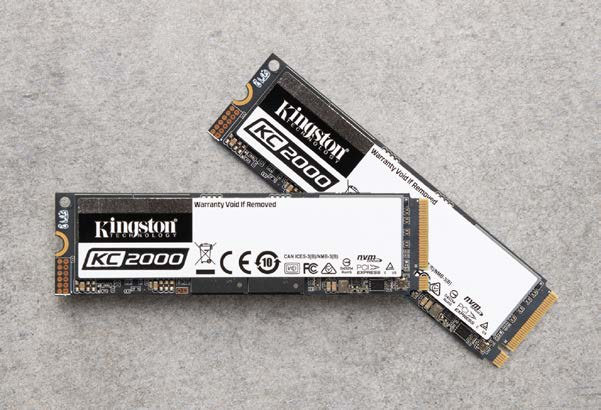 Kingston's latest flagship client/consumer SSD is launching today: the KC2000, which is set to replace the two year old KC1000. The KC2000 was previewed early this year at CES, but pricing and release dates were not announced at the time. Technologically, the new KC2000 is a huge improvement over its predecessor in its choice of both controller and NAND, and as a result it puts Kingston on the leading edge.
The KC2000 is one of the first retail SSDs using Toshiba/SanDisk 96-layer 3D NAND flash memory, compared to the 15nm planar NAND used by its predecessor. The use of 96-layer 3D NAND is especially notable because of how slow other vendors have been to integrate into their own SSDs. The transition from 64L to 9xL NAND (92 for Samsung, 96 for everyone else) started almost a year ago with Toshiba's XG6 SSD for OEMs, but since then everyone has been dragging their heels; manufacturers are reluctant to ramp up 9xL production capacity while flash memory prices are still falling from an oversupply of 64L NAND. Late 2018 and early 2019 saw many vendors refreshing product lines while sticking with 64L NAND, so it's clear that the transition to 9xL NAND won't be complete until sometime in 2020. However, 9xL NAND is slowly finding its way into the marketplace, mostly with OEM products so far.
Kingston's choice of controller is also interesting, since they've mostly been using Phison controllers in recent years, but for the KC2000 they chose the Silicon Motion SM2262EN rather than the Phison E12. For the past few generations, Phison controllers have been almost exclusively paired with Toshiba NAND while Silicon Motion controllers are mostly used with Intel/Micron NAND. We've been hearing for a while that products in the 96L generation will be mixing things up more, and Kingston is delivering on that. Phison's upcoming E16 controller may win them back if Kingston is willing to cut short the product cycle for the KC2000, because the E16 is on track to be the first consumer SSD controller supporting PCIe 4.0, and it's due to ship before the end of this year. Kingston is also planning to use both Phison and Silicon Motion controllers for their next round of entry-level NVMe SSDs.
Kingston KC2000 SSD Specifications
Capacity
250 GB
500 GB
1 TB
2 TB
Form Factor
M.2 2280 PCIe 3.0 x4
Controller
Silicon Motion SM2262EN
NAND Flash
Toshiba 96L BiCS4 3D TLC
Sequential Read
3.0 GB/s
3.0 GB/s
3.2 GB/s
3.2 GB/s
Sequential Write
1.1 GB/s
2.0 GB/s
2.2 GB/s
2.2 GB/s
Random Read IOPS
350k
350k
350k
250k
Random Write IOPS
200k
250k
275k
250k
Power Consumption
3 mW Idle, 2.1 W Max Read, 7 W Max Write
Encryption
AES 256, TCG Opal 2.0, eDrive
Warranty
5 years
Write Endurance
150 TB
0.3 DWPD
200 TB
0.3 DWPD
600 TB
0.3 DWPD
1200 TB
0.3 DWPD
Direct Price
$62.40 (25¢/GB)
$114.40 (23¢/GB)
$201.50 (20¢/GB)
$410.80 (21¢/GB)
The performance specs of the KC2000 are reasonably high-end, but are not record-setting; in particular, drives using the same SM2262EN controller with Micron 64L NAND have been advertising higher performance across the board. We've found those drives to be highly tuned for peak performance at the expense of sustained performance on heavier workloads, and it will be interesting to see if the firmware for Toshiba NAND behaves the same. The 2TB KC2000 also seems to suffer reduced random IO performance compared to the 1TB model. The power consumption specifications for the KC2000 indicate excellent efficiency for reads (mirroring what we've observed from Toshiba and Western Digital's own NVMe drives using BiCS NAND), but the 7W maximum for writes is alarming given how low the rated write performance is.
Kingston provides the typical 5-year warranty and 0.3 drive writes per day endurance rating expected from high-end NVMe drives. They're also supporting all the relevant encryption standards, which are relatively uncommon on retail consumer drives, especially in the NVMe market. Kingston is already selling the KC2000 on their website with prices that are a bit on the high side but not as unrealistic as typical launch MSRPs. All four capacities are listed as in stock, so we expect the KC2000 to show up in the usual retail outlets soon. Review samples are also currently shipping out, and we're eager to see for ourselves how the SM2262EN controller behaves with new NAND.
Source: Kingston