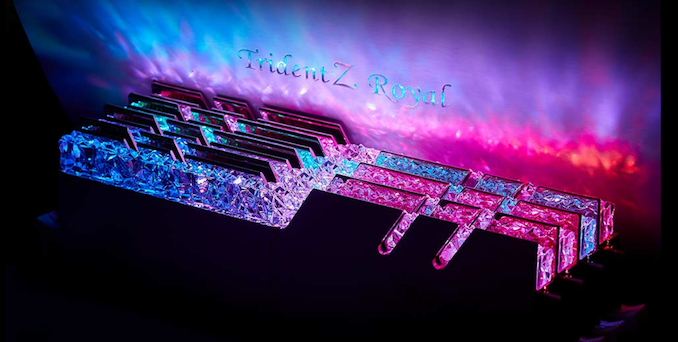 Throughout the years we've seen the evolution of the Trident Z range from G.Skill which currently offers users with three different designs of DDR4 memory to choose from. This includes the standard Trident Z memory, the Trident Z RGB kits, and the more glitzy Trident Z Royal. Following on from this, G.Skill has unleashed a new creation to complement its Trident Z Royal DDR4 memory, the Trident Z Royal display box. Just in case you have some memory left over, right?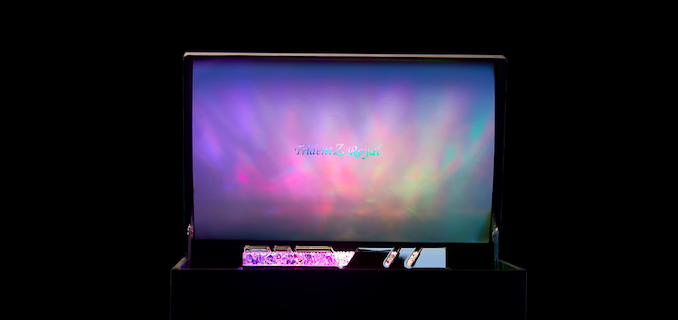 The G.Skill Trident Z Royal display box allows users to display and show off their DDR4 memory with space for up to four RAM sticks inside the extravagant looking box. On the exterior of the box is a smooth black finish with two main compartments featured; a slide-out drawer at the bottom and a lift open lid which reveals four integrated DDR4 slots. Inside of the drawer, G.Skill has included a microfiber cleaning cloth and a USB to micro USB cable with the purpose of powering the box to light up the installed DDR4 RGB memory and the backlit panel built into the lid. For reference, the RGB DDR4 memory will be displayed with its default lighting profile.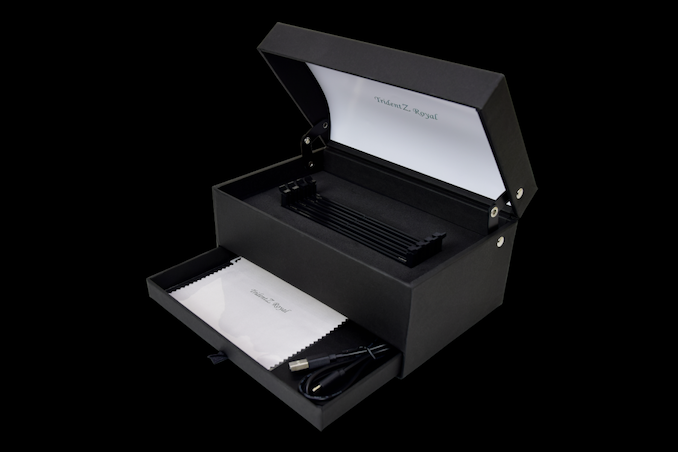 The main element of the elaborate design of the Trident Z Royal display box is in the lid with an illuminated design with the Trident Z Royal branding located in the center. This resembles what I would expect from a child's light up unicorn toy with a range of pinks, blues and purples.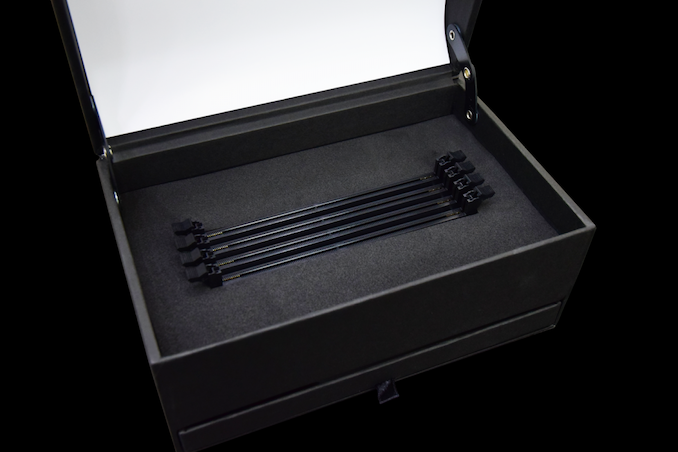 While the whole concept of the G.Skill Trident Z Royal display box is based on users displaying their RGB enabled DDR4 memory, it's not as expensive as one might imagine as it is listed at Chinese retailer PChome for $1700 NTD; this translates to around $55 USD (we confirmed with G.Skill, the pricing is not 1700 CNY as reported elsewhere, which would be ~$250).
For reference, a dual channel kit of G.Skill Trident Z Royal DDR4-3000 currently retails for around $157. It's an expensive outlay for what is essentially a presentation box, but given the internal power routing, the sleek design behind this, it's quite an elegant concept. Of course, this assumes users have the money available to place a kit of DDR4 with RGB LEDs in this display box with the intention of showing it off.
WIth no official details on the materials used in the Trident Z Royal display box's construction, one can assume it will likely be built the same durable cardboard material used to ship its premium DDR4 kits out in. Official availability and pricing for the G.Skill Trident Z Royal display box aren't fully available, but G.Skill do list it on its official website. G.Skill has informed us that the Trident Z Royal display box will be available at Newegg imminently for around $55.
Related Reading