Trident Z
G.Skill has announced a new series of high-end 16 and 32 GB DDR4 kits for Intel's Coffee Lake processors. Following in the footsteps of other vendors who have announced similar highly clocked 32 GB kits, the new G.Skill DDR4-4000+ kits offer 2 and 4 matched DIMM sets with high frequencies and CL17 timings. The new Trident Z RGB modules require a high-quality Intel Z370-based motherboard that can deliver "clean" power to them as well as a processor that can handle both high frequencies and relatively low latencies. G.Skill's low-latency Trident Z RGB dual-channel kits for Coffee Lake CPUs are rated for DDR4-4000 CL17 17-17-37 at 1.35 V, DDR4-4133 CL17 17-17-37 at 1.4 V and DDR4-4266 CL17 18-18-38 at 1.45 V. The kits consist of 8...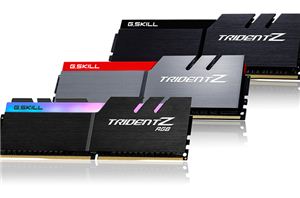 G.Skill has launched a new series of memory module kits optimized for Intel's new 8th Generation Core processors. The new DIMMs belong to G.Skill's Trident Z and Trident Z...
7
by Anton Shilov on 10/18/2017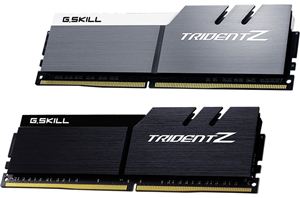 G.Skill on Friday introduced its fastest dual-channel memory kit designed specifically for Intel's Kaby Lake-X processors and Intel's X299 HEDT platforms. The new Trident Z DDR4-4600 DIMMs not only...
14
by Anton Shilov on 9/8/2017
G.Skill on Friday announced its new top-of-the-range DDR4 memory kit for dual-channel PCs running Intel's Kaby Lake processors. The new Trident Z kit for operates at 4333 MT/s (DDR4-4333)...
23
by Anton Shilov on 4/15/2017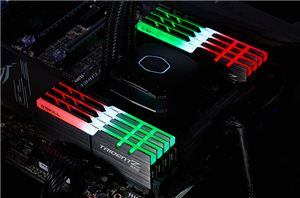 G.Skill has recently launched new Trident Z RGB memory kits, this time aimed at Intel X99 platforms, and following the RGB trend they give owners of high-end desktops an...
11
by Anton Shilov on 4/10/2017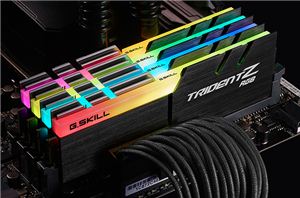 G.Skill this week has announced a new addition to its Trident Z family of high-performance DDR4 memory modules aimed at modders. The new Trident Z RGB will feature software-controllable...
11
by Anton Shilov on 12/21/2016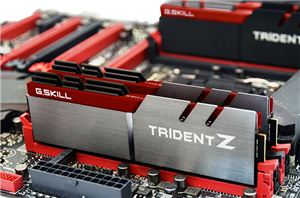 When Intel launched its new Core i7 Broadwell-E processors for high-end desktops earlier this year, all leading makers of motherboards released their new breed of Intel X99-based products that...
0
by Anton Shilov on 8/23/2016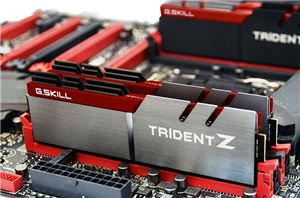 Until recently enthusiasts who would like to use the fastest DDR4 memory with their Skylake-S processors had to use 4 GB DIMMs based on 4 Gb chips, typically sold...
17
by Anton Shilov on 5/20/2016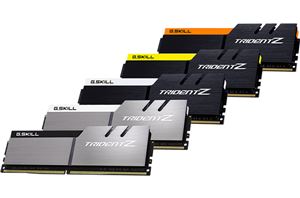 G.Skill has introduced new additions to its Trident Z family of DDR4 memory modules, which are designed to simplify the lives of anyone who wants to color-coordinate their PC...
20
by Anton Shilov on 5/16/2016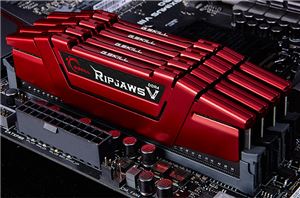 Back in the days, enthusiasts of high-end personal computers had to make a choice between capacity and performance of their memory sub-systems. This year G.Skill, Corsair and a number...
8
by Anton Shilov on 12/22/2015