Trident Z
Despite virtually everything in the consumer world being unnecessarily stuffed to the gills with RGB LEDs, they seem to sell like hotcakes. I was told earlier this year by one company that when they added RGBs to their most popular product, it outsold the non-RGB version 6:1 in the following six months. If you like it or loathe it, RGB is here to stay. But not all RGB-equipped devices have to be a dire shade of color. Enter G.Skill's Trident Royal memory. This product was easily one of the stars of Computex, despite still only being a prototype. Most modern DDR4 memory today with LEDs use a top bar above the memory PCB with some form of plastic diffuser, akin to a stage light, in...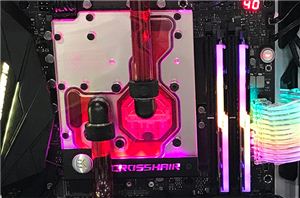 In the constant race to one-up the other memory vendors in the highly commoditized DRAM market, at Computex last week G.Skill demonstrated its Trident Z RGB memory modules running...
18
by Anton Shilov on 6/11/2018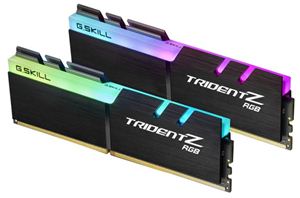 G.Skill announced today a new Trident Z RGB kit which is now the fastest DDR4 memory kit in their product stack. The new dual-channel kit is designed for Z370...
7
by Joe Shields on 2/6/2018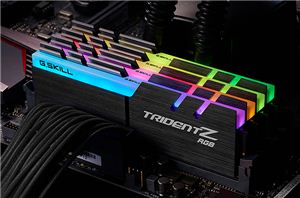 G.Skill has announced a new series of high-end 16 and 32 GB DDR4 kits for Intel's Coffee Lake processors. Following in the footsteps of other vendors who have announced...
15
by Anton Shilov on 11/27/2017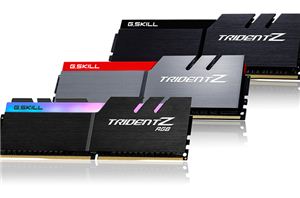 G.Skill has launched a new series of memory module kits optimized for Intel's new 8th Generation Core processors. The new DIMMs belong to G.Skill's Trident Z and Trident Z...
7
by Anton Shilov on 10/18/2017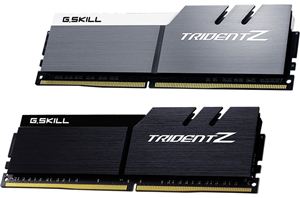 G.Skill on Friday introduced its fastest dual-channel memory kit designed specifically for Intel's Kaby Lake-X processors and Intel's X299 HEDT platforms. The new Trident Z DDR4-4600 DIMMs not only...
14
by Anton Shilov on 9/8/2017
G.Skill on Friday announced its new top-of-the-range DDR4 memory kit for dual-channel PCs running Intel's Kaby Lake processors. The new Trident Z kit for operates at 4333 MT/s (DDR4-4333)...
23
by Anton Shilov on 4/15/2017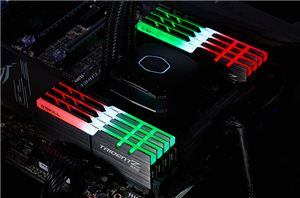 G.Skill has recently launched new Trident Z RGB memory kits, this time aimed at Intel X99 platforms, and following the RGB trend they give owners of high-end desktops an...
11
by Anton Shilov on 4/10/2017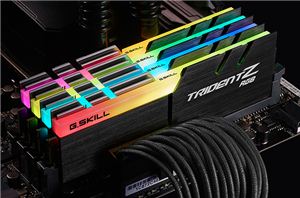 G.Skill this week has announced a new addition to its Trident Z family of high-performance DDR4 memory modules aimed at modders. The new Trident Z RGB will feature software-controllable...
11
by Anton Shilov on 12/21/2016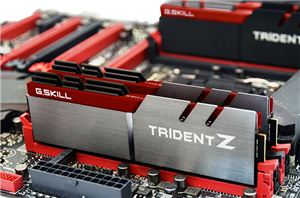 When Intel launched its new Core i7 Broadwell-E processors for high-end desktops earlier this year, all leading makers of motherboards released their new breed of Intel X99-based products that...
0
by Anton Shilov on 8/23/2016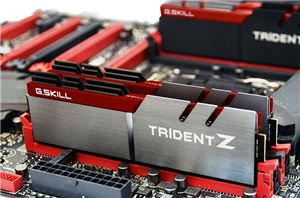 Until recently enthusiasts who would like to use the fastest DDR4 memory with their Skylake-S processors had to use 4 GB DIMMs based on 4 Gb chips, typically sold...
17
by Anton Shilov on 5/20/2016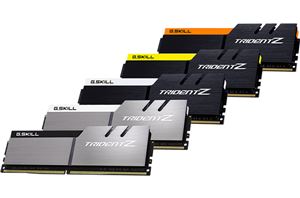 G.Skill has introduced new additions to its Trident Z family of DDR4 memory modules, which are designed to simplify the lives of anyone who wants to color-coordinate their PC...
20
by Anton Shilov on 5/16/2016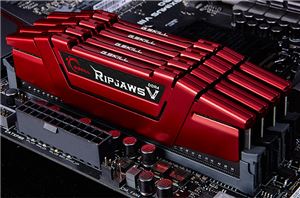 Back in the days, enthusiasts of high-end personal computers had to make a choice between capacity and performance of their memory sub-systems. This year G.Skill, Corsair and a number...
8
by Anton Shilov on 12/22/2015