ASUS Prime X570-P
Moving onto the second of the ASUS Prime series models, the ASUS Prime X570-P represents an entry-level offering to the X570 chipset with two full-length PCIe 4.0 slots, dual PCIe 4.0 M.2 slots, and a pair of budget-friendly Realtek controllers handling the onboard audio and networking. The most noticeable aspect of the board's design is how bare the PCB looks in contrast to other models from the ASUS X570 product stack.
The chipset heatsink is actively cooled with a white and silver design, while the PCB itself features a white and black design which is a trait of the Prime series itself. The Prime X570-P omits a rear panel cover entirely, and the chipset heatsink is running an 8-phase power delivery for the CPU VCore, with a seemingly adequate looking heatsink from our hands-on with this model at Computex.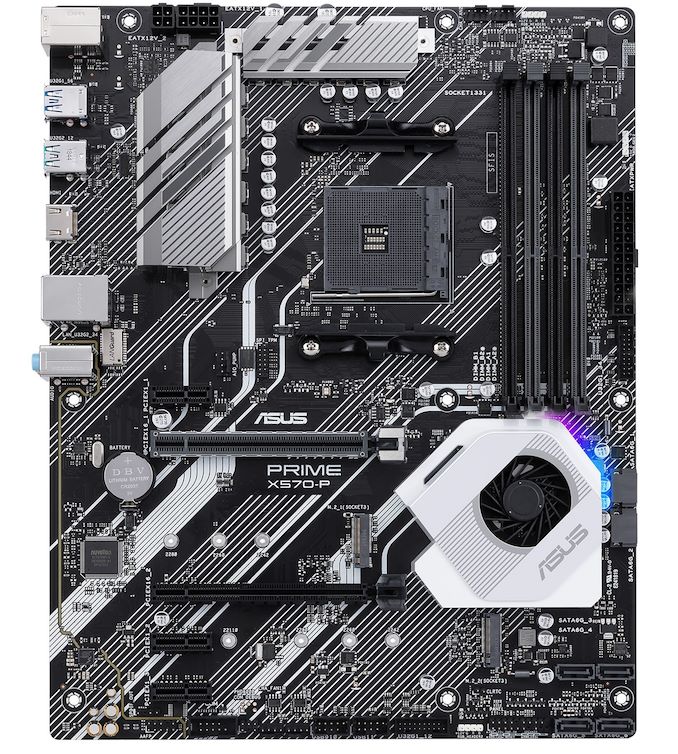 On the main features, the ASUS Prime X570-P has two full-length PCIe 4.0 slots which operate at x16 and x16/x4. This is because the Ryzen 3000 series processors feed the top slot, while the bottom full-length slot lanes come directly from the X570 chipset. This means there is support for two-way AMD CrossFire multi-graphics card configurations, but none for NVIDIA SLI. For storage devices, there are two M.2 slots with support for PCIe 4.0 x4 drives, but users looking to run fast and hot running NVMe drives may need to purchase their own heatsinks as the board doesn't feature them; also included on the Prime X570-P are a total six SATA ports. Memory support is good with four memory slots with support for up to 128 GB with the 32 GB UDIMMs having been qualified by ASUS across its X570 product stack.

As expected with a more wallet-friendly model, the ASUS Prime X570-P rear panel isn't as bare as the lack of a rear panel cover would suggest with four USB 3.1 G2 Type-A, two USB 3.1 G2 Type-A, and two USB 2.0 ports. There are three 3.5 mm audio jacks which are controlled by a Realtek S1200A HD audio codec, a single Ethernet port controlled by a Realtek RTL8111H Gigabit NIC, a PS/2 combo port, and an HDMI video output for users of Ryzen APUs.
The ASUS Prime X570-P sits at the lower end of the X570 product and has an MSRP of $160. This model is designed to allow users a lower cost alternative to benefit from the X570 chipset features such as PCIe 4.0, and more native USB 3.1 G2 Type-A support; this model doesn't feature any Type-C connections, although, given the board's price, it's nothing out of the ordinary.