Gaming Performance
Mobile gaming is still nowhere near as popular as desktop gaming, but thanks to the efforts of ATI and NVIDIA, it is finally possible.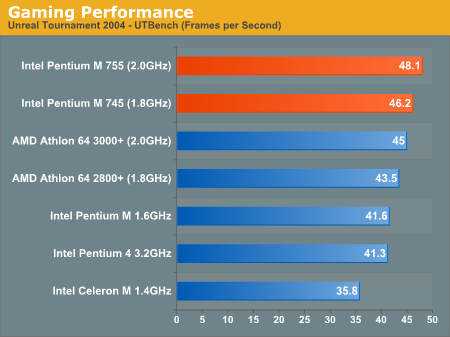 Under UT2004, the Pentium M manages to outperform the rest of the chips, delivering the highest frame rates. But, keep in mind that even at the low 800x600 resolution we were testing at, the game was still mostly GPU limited by the mobility Radeon 9600.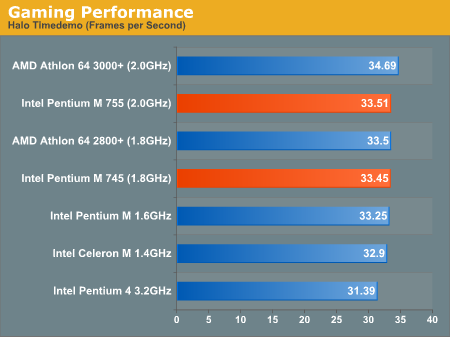 The performance under Halo, even at 800x600, is mostly GPU limited and thus we see the Athlon 64 3000+ at the top with most of the other contenders.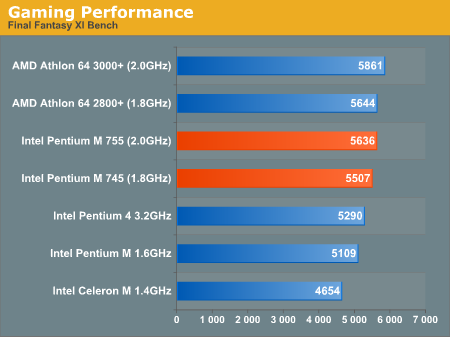 Under Final Fantasy, the Pentium M takes a backseat to only the Athlon 64. Clock for clock, the Athlon 64 does come out ahead by a negligible 4%.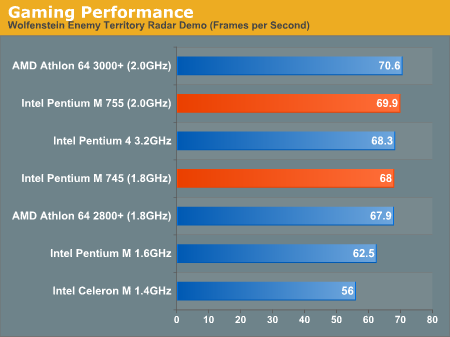 Here, we have yet another close call, thanks to GPU limitations. Really, only the Pentium M 1.6 and Celeron M 1.4 perform poorly here.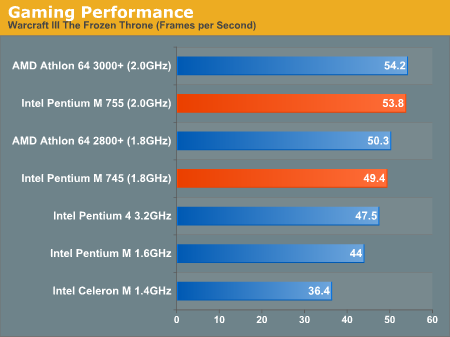 Under Warcraft III, thanks to Blizzard's excellent work at reducing GPU requirements while still making a beautiful game, we finally see some differences between the chips. The Athlon 64 3000+ and Pentium M 755 once again battle it out at the top; and even the Pentium M 745 doesn't mind giving the Pentium 4 3.2 a run for its money.
It would be nice to see what the Pentium M could really do without being held back by a mobile GPU. Unfortunately, there are no decent Pentium M motherboards with an AGP slot that were readily available at the time of this review. Needless to say, the Pentium M can hang with the best of them when it comes to mobile gaming.