DivX and XviD Encoding Performance
Now, as we step out of the applications that the Pentium M was designed to run and into the realm of media encoding, we see how well Dothan stacks up against the kings of the desktop world.
For our DivX and XviD encoding tests, we used AutoGK (a front end for DVD2AVI) and DivX 5.1.1 as well as the latest XviD release. We converted Chapter 11 of "Pirates of the Caribbean" using 75% quality as the target file size in AutoGK. We decoded audio and the rest of the settings were left as defaults. Results were reported in frames per second, higher numbers meaning better performance.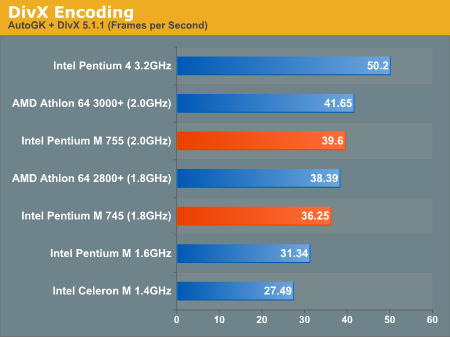 As usual, the Pentium 4 dominates the DivX encoding charts, outperforming the Pentium M by more than 26%. The Pentium M 755 is close to the Athlon 64 3000+, which is still impressive, but it's clear that the Pentium M's dominance does not extend into the realm of media encoding.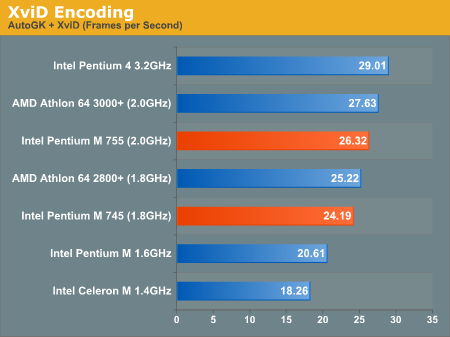 XviD encoding performance is pretty similar, with the performance differences shrinking considerably.