Workstation Performance
Although it's clear that the Pentium M isn't a workstation CPU, we wanted to see how well it stacked up to the competition in some of our workstation tests.
First up is our Visual Studio compile test, where we compile the Quake 3 source code and report compile time in seconds.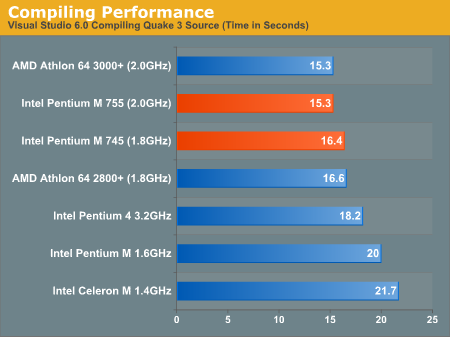 Shorter pipelined, higher IPC designs do much better when it comes to compiler performance and thus, we see that the Athlon 64 and Pentium M 755 tie for the lead at the top of the charts.
Those of you who do software development on your laptops may want to consider the Pentium M 755, but remember that another major performance factor here would be disk performance, so make sure that you get a fast drive with your notebook as well.
Next up, we have 3D rendering performance in 3dsmax: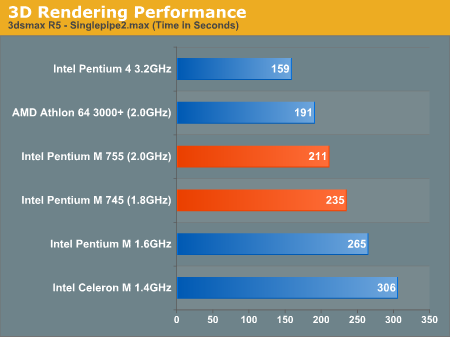 Here, the Pentium M takes a serious backseat to the Pentium 4 3.2. The Athlon 64 3000+ also outperforms the Pentium M in this test.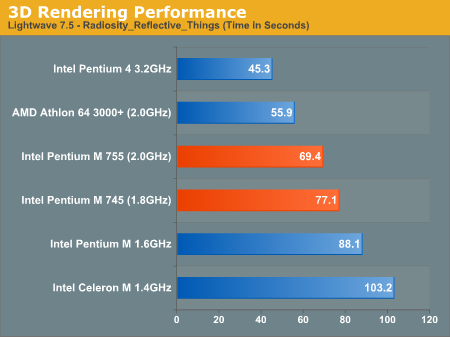 Under Lightwave, the performance results are similar. The Pentium M just isn't cut out for 3D rendering applications as much as the Pentium 4 and Athlon 64 are.