Mixed Random Performance
Our test of mixed random reads and writes covers mixes varying from pure reads to pure writes at 10% increments. Each mix is tested for up to 1 minute or 32GB of data transferred. The test is conducted with a queue depth of 4, and is limited to a 64GB span of the drive. In between each mix, the drive is given idle time of up to one minute so that the overall duty cycle is 50%.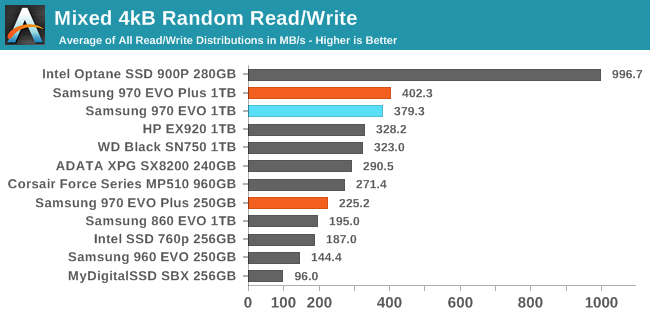 The 1TB Samsung 970 EVO Plus slightly improves on its predecessor's performance on the mixed random IO test, to widen Samsung's lead over other TLC-based drives. The 250GB model fares reasonably well, but is again no match for the oversized SLC cache on the 240GB ADATA SX8200.
The WD Black SN750 holds on to another power efficiency win and the Samsung 860 EVO SATA SSD is more or less tied with the 1TB 970 EVO Plus. Most of the 250GB-class drives have substantially lower power efficiency scores due to spending much more time working with a full SLC cache.
The 1TB 970 EVO Plus steadily picks up speed as the workload shifts to be more write heavy. The smaller 250GB model's performance flattens out during the middle half of the test as its smaller SLC write cache starts to get in the way, but toward the very end it too speeds up.
Mixed Sequential Performance
Our test of mixed sequential reads and writes differs from the mixed random I/O test by performing 128kB sequential accesses rather than 4kB accesses at random locations, and the sequential test is conducted at queue depth 1. The range of mixes tested is the same, and the timing and limits on data transfers are also the same as above.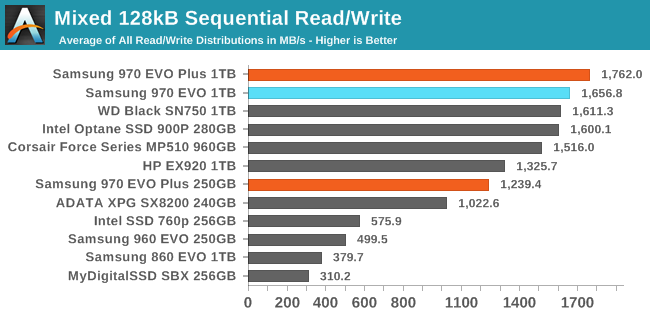 The 970 EVO Plus is a bit faster than the original 970 EVO on the mixed sequential IO test, breaking Samsung's own record. The 250GB model finishes ahead of even the 240GB ADATA SX8200 and is only a few percent slower overall than the 1TB HP EX920.
The WD Black SN750 and Corsair Force MP510 have the top two power efficiency scores on the mixed sequential IO test, but the Samsung 970 EVO Plus and original 970 EVO are next in line. Both capacities of the 970 EVO Plus require more power than most of their competition, but they put it to good use.
The key to the high overall performance scores from the 970 EVO Plus seems to be that the Samsung drives do not lose performance as quickly when writes are first added to the workload. Many drives have pretty good pure read speed but at 90% or 80% reads they may be only half as fast, while the Samsung 970 EVOs don't see a steep performance drop until around the middle of the test.