970 EVO
Sales of the Samsung 970 PRO and 970 EVO M.2 NVMe SSDs are due to begin tomorrow (May 7), and it appears that Samsung may be making a last-minute adjustment to their suggested retail prices. An attentive reader has pointed out that two different sections of Samsung's web site are showing product listings for the 970 series. The Samsung Business site is showing the prices as originally announced last month, but the consumer-oriented Samsung site is showing substantially lower prices indicating a 25% cut to the 970 PRO prices and 5-13% cuts to the 970 EVO prices. Neither set of product listings currently gives the option to buy directly from Samsung, and only the business section listings have links to other online retailers. Those...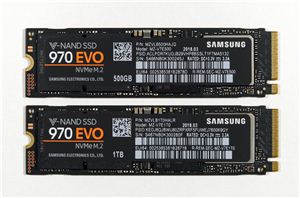 The new Samsung 970 EVO isn't their top of the line consumer SSD, but it might as well be. With their latest 3D TLC NAND flash memory and SSD...
68
by Billy Tallis on 4/24/2018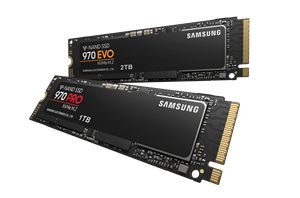 Samsung has announced the third generation of their high-end consumer NVMe SSDs. The new 970 PRO and 970 EVO M.2 NVMe SSDs use a newer controller and Samsung's latest...
17
by Billy Tallis on 4/24/2018