Going Beyond Gen11: Announcing the XE Discrete Graphics Brand
Not content with merely talking about what 2019 will bring, we were given a glimpse into how Intel is going to approach its graphics business in 2020 as well. It was at this point that Raja announced the new product branding for Intel's discrete graphics business: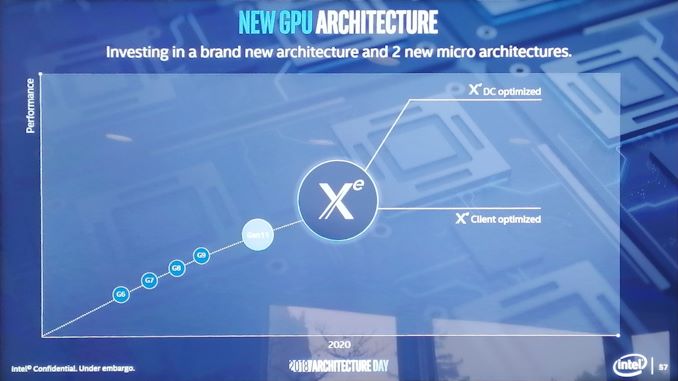 Intel will use the Xe branding for its range of graphics that were unofficially called 'Gen12' in previous discussions. Xe will start from 2020 onwards, and cover the range from client graphics all the way to datacenter graphics solutions.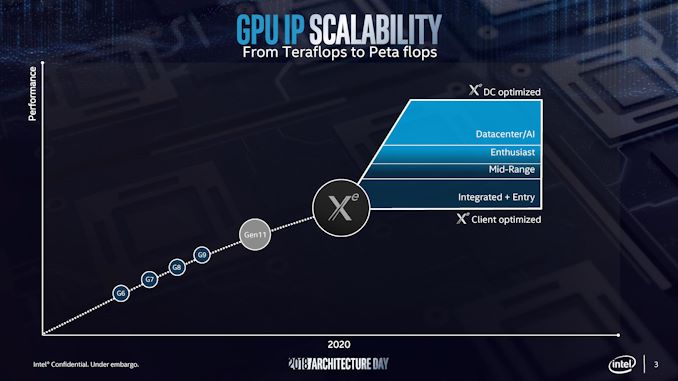 Intel actually divides this market up, showing that Xe also covers the future integrated graphics solutions as well. If this slide is anything to go by, it would appear that Intel wants Xe to go from entry to mid-range to enthusiast and up to AI, competing with the best the competition has to offer.
Intel stated that Xe will start on Intel's 10nm technology and that it will fall under Intel's single stack software philosophy, such that Intel wants software developers to be able to take advantage of CPU, GPU, FPGA, and AI, all with one set of APIs. This Xe design will feed the foundation of several generations of graphics, and shows that Intel is now ready to rally around a brand name moving forward.
There was some confusion with one of the slides, as it would appear that Intel might be using the new brand name to also refer to some of it's FPGA and AI solutions. We're going to see if we can get an answer on that in due course.