Demonstrating Sunny Cove and Gen11 Graphics
As part of the Architecture Event, Intel ran a number of demos on a chip that was supposedly based on the new Sunny Cove cores and Gen11 graphics.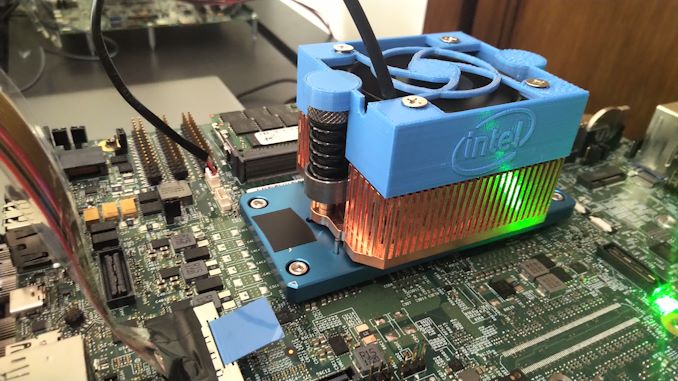 These were development systems with these funky looking heatsinks and loud fans to ensure there was no thermal throttling. One thing worth noticing is that black bit of tape on the heatsink here, which wasn't present on one of the other demo units.

Hello Ice Lake-U. Being a U-series heatsink, this means that the Core is likely designed for a 15W scenario.
Perhaps it's no surprise that Intel wasn't giving anything away in terms of the exact core count on display, speeds, feeds, and power. The demos that were present involved 7-Zip and gaming.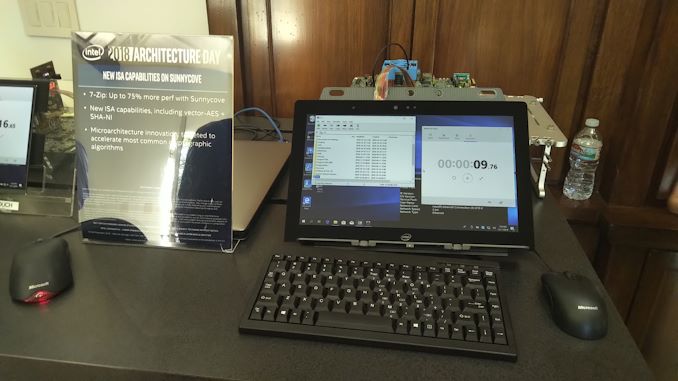 The 7-Zip demo was relatively straight forward, showing how the new instructions such as Vector-AES and SHA-NI in Sunny Cove can give the processor a 75% boost in performance over an equivalent Skylake based platform at iso-frequency. This falls under the 'specialist' improvements to the core rather than the general purpose improvements.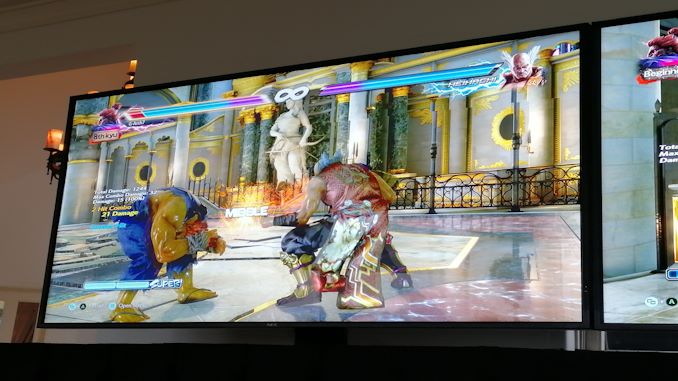 The other demo was Tekken 7, being run on a Sunny Cove + Gen11 machine and compared to a Skylake + Gen9 implementation. It looked a good deal smoother that's for sure, however it was clear that it had some way to go to be fully out of the 30 FPS minimums.