Mixed Random Performance
Our test of mixed random reads and writes covers mixes varying from pure reads to pure writes at 10% increments. Each mix is tested for up to 1 minute or 32GB of data transferred. The test is conducted with a queue depth of 4, and is limited to a 64GB span of the drive. In between each mix, the drive is given idle time of up to one minute so that the overall duty cycle is 50%.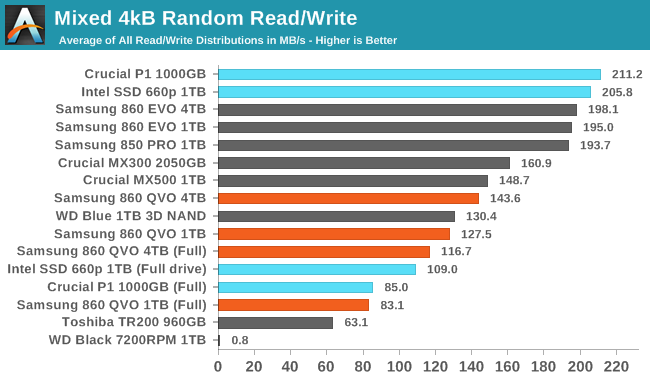 The Samsung 860 QVO's performance on the mixed random I/O test is substantially slower than the 860 EVO, but it is not far behind some of the other mainstream TLC drives. Running the test on a full drive does slow the 1TB 860 QVO down significantly, but it remains faster than the DRAMless TLC drive.
The power efficiency rankings for the 860 QVO aren't much better than the raw performance rankings. Power consumption is generally a bit higher than the 860 EVO but doesn't vary much with capacity or state of fill, so the efficiency scores are largely reflective of the performance variations.
The 860 QVO starts out with a fairly slow random read speed but steadily speeds up as the workload shifts toward writes, eventually catching up to the 860 EVO. When the test is run on a full drive, the 1TB 860 QVO runs out of SLC cache in the final few phases of the test and slows down instead of continuing to speed up.
Mixed Sequential Performance
Our test of mixed sequential reads and writes differs from the mixed random I/O test by performing 128kB sequential accesses rather than 4kB accesses at random locations, and the sequential test is conducted at queue depth 1. The range of mixes tested is the same, and the timing and limits on data transfers are also the same as above.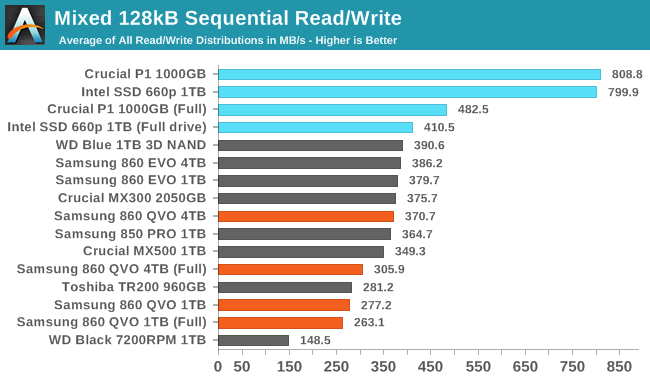 The 4TB 860 QVO handles the mixed sequential I/O test well, but the 1TB model ends up slightly slower than the DRAMless TLC drive and well behind the mainstream TLC drives.
The power efficiency scores vary more among the SATA drives than the raw performance scores, so the 860 EVO and Toshiba TR200 stand out as particularly efficient while the 860 QVO 4TB is merely average and the 1TB model is struggling a bit.
Both capacities of the 860 QVO offer decent performance at either end of the test with pure reads or pure writes, and they are unsurprisingly at their worst with the more write-heavy mixes. The 1TB 860 QVO loses far more performance across the first two thirds of the test, but catches back up with the 4TB model at the end.