Idle Power Measurement
SATA SSDs are tested with SATA link power management disabled to measure their active idle power draw, and with it enabled for the deeper idle power consumption score and the idle wake-up latency test. Our testbed, like any ordinary desktop system, cannot trigger the deepest DevSleep idle state.
Idle power management for NVMe SSDs is far more complicated than for SATA SSDs. NVMe SSDs can support several different idle power states, and through the Autonomous Power State Transition (APST) feature the operating system can set a drive's policy for when to drop down to a lower power state. There is typically a tradeoff in that lower-power states take longer to enter and wake up from, so the choice about what power states to use may differ for desktop and notebooks.
We report two idle power measurements. Active idle is representative of a typical desktop, where none of the advanced PCIe link or NVMe power saving features are enabled and the drive is immediately ready to process new commands. The idle power consumption metric is measured with PCIe Active State Power Management L1.2 state enabled and NVMe APST enabled if supported.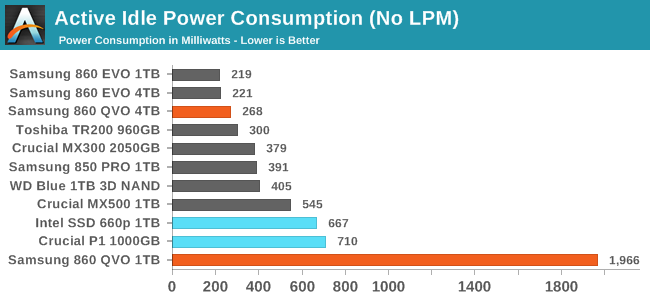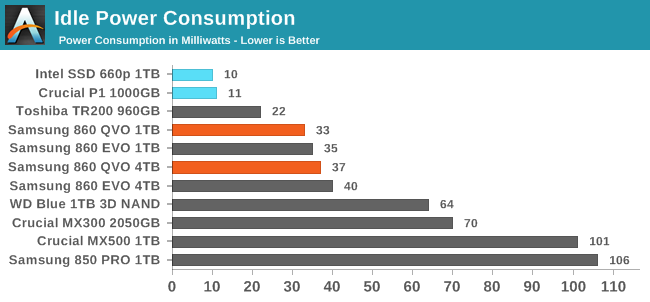 It appears that the 1TB Samsung 860 QVO was still busy with background processing several minutes after the test data was written to the drive, so our automated idle power measurement caught it still drawing 2W. The 4TB was much quicker to flush its SLC cache and turned in a respectable active idle power consumption score. Both drives have good idle power consumption when put into the slumber state, though we've measured slightly higher than the official spec of 30mW.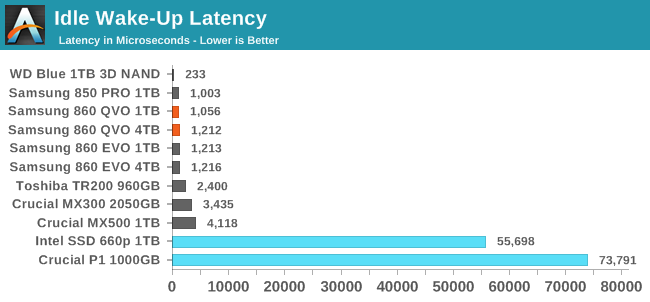 The wake-up latency for the 860 QVO is the same as their other SATA SSDs, hovering around a reasonable 1.2 ms. It's not the best that can be achieved over SATA, but it's nothing to complain about.