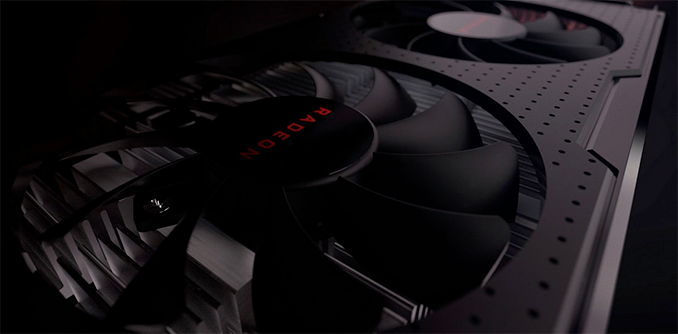 AMD has quietly launched a Radeon RX 580 GPU with a reduced number of stream processors. The new product is called the Radeon RX 580 2048SP and, as the name suggests, it has 2048 stream processors, down from 2304 SPs on the original product. The Radeon RX 580 2048SP is currently available only in China and it is unclear whether the product will be sold in other countries as well.
The Radeon RX 580 2048SP is basically the Radeon RX 570, but with a slightly higher boost clock and a different name. Compute performance of the Radeon RX 580 2048SP is listed as 5.1 TFLOPS, which is around 18% lower when compared to the Radeon RX 580. Just like the RX 570, the RX 580 2048SP cards come equipped with 8 GB of GDDR5 memory running at 7 Gbps, down from 8 Gbps on the original RX 580. Given how close specs of the RX 580 2048SP and the RX 570 are, it is unclear why AMD decided to release this "new" product with the RX 580 name, if only to confuse customers.
AMD Radeon RX 580 Specification Comparison
AMD Radeon RX 580
AMD Radeon RX 580 2048SP
AMD Radeon RX 570
Compute Units
36 CUs
2304 SPs
32 CUs
2048 SPs
32 CUs
2048 SPs
Texture Units
144
128
ROPs
32
Base Clock
1257 MHz
1168 MHz
1168 MHz
Boost Clock
1340 MHz
1284 MHz
1244 MHz
Memory Clock
8Gbps GDDR5
7Gbps GDDR5
Memory Bus Width
256-bit
VRAM
4 GB or 8 GB
Transistor Count
5.7 billion
Typical Board Power
185 W
150 W
Manufacturing Process
GloFo 14nm
Architecture
GCN 4
GPU
Polaris 10
Launch Date
4/18/2017
10/15/2018
4/18/2017
Launch Price
$199 - $229
?
$169
This is not the first time when AMD revises specs of its already launched products. Last year the company let partners to sell Radeon RX 560 products with 896 stream processors, down from 1024 SPs inside the original GPU. Back then the company explained that graphics processors with lowered specs enable its partners to sell more graphics cards and offer a better choice to their customers. At the time the Radeon RX 560D with 896 SPs was an entirely new product sitting above the Radeon RX550 - this time however the Radeon RX 580 2048 SPs is essentially the Radeon RX 570 with slightly higher boost clocks.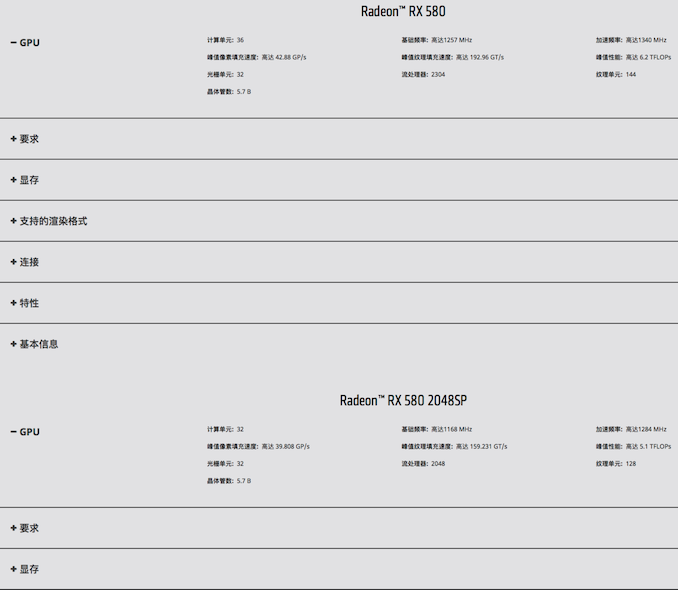 We have reached out to AMD for more information.
Related Reading
Source: AMD China