Overclocking
With the upgraded thermal interface between the processor and the heatspreader, from paste to solder, Intel is leaning on the fact that these overclockable processors should be more overclockable than previous generations. We've only had time to test the Core i9-9900K and i7-9700K on this, so we took them for a spin.
Our overclocking methodology is simple. We set the Load Line Calibration to static (or level 1 for this ASRock Z370 motherboard), set the frequency to 4.5 GHz, the voltage to 1.000 volts, and run our tests. If successfully stable, we record the power and performance, and then increase the CPU multiplier. If the system fails, we increase the voltage by +0.025 volts. The overclocking ends when the temperatures get too high (85C+).
For our new test suite comes new overclocking features. As mentioned in the previous page, our software loading for power measurement is POV-Ray, which can thrash a processor quite harshly. POV-Ray also does a good job on stability, but is not a substantial enough test – for that we use our Blender workload, which pushes the cores and the memory, and lasts about 5 minutes on an 8 core processor.
Results as follows: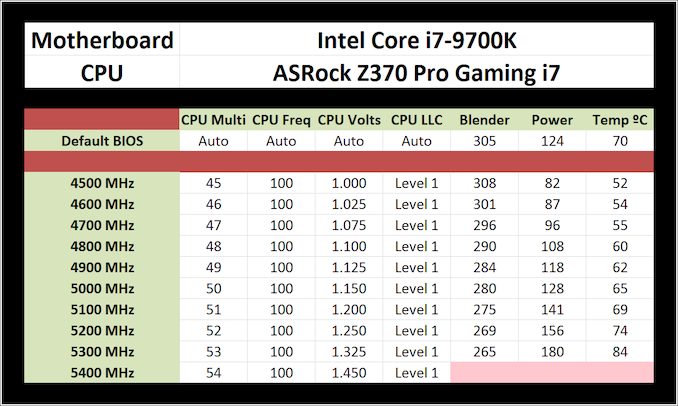 For the Core i7-9700K, we hit 5.3 GHz very easily, for a small bump in power and temperature. For 5.4 GHz, we could boot into the operating system but it was in no way stable – we were ultimately voltage/temperature limited at this case. But an eight core, eight thread 5.3 GHz CPU at 180W for $374? Almost unimaginable a year ago.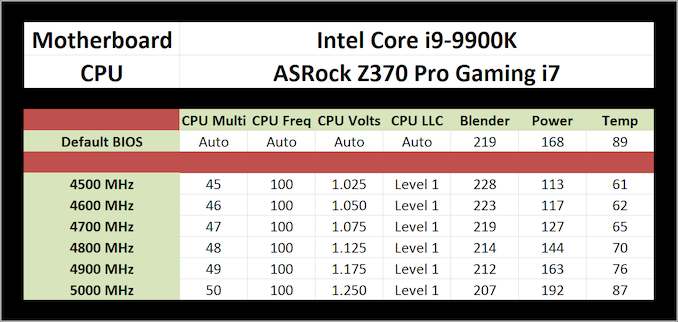 Overclocking the Core i9-9900K was not as fruitful. The best bit about this overclock is the 4.7 GHz value: by using our own voltage settings, we reduced power consumption by 41W, almost 25% of the total power, and also reduced temperatures by 24ºC. That's a safe idea. Even 4.8 GHz and 4.9 GHz was reasonable, but the temperatures at 5.0 GHz might not be for everyone. When all cores and threads are loaded, this is one warm chip.