Idle Power Measurement
SATA SSDs are tested with SATA link power management disabled to measure their active idle power draw, and with it enabled for the deeper idle power consumption score and the idle wake-up latency test. Our testbed, like any ordinary desktop system, cannot trigger the deepest DevSleep idle state.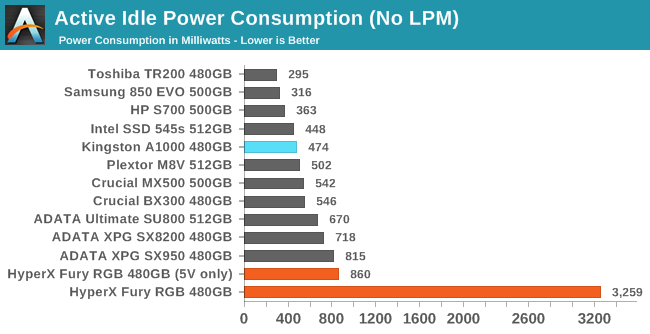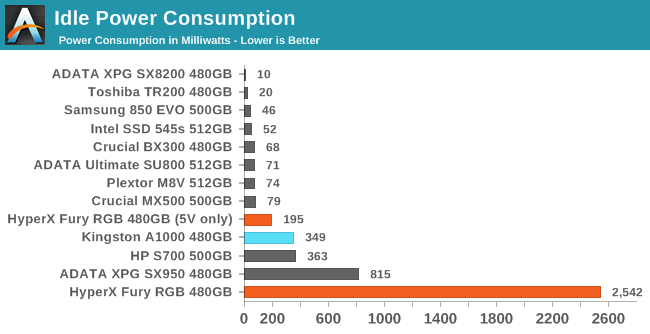 With the LEDs defaulting to red and drawing about 2.3 W on their own, the Kingston HyperX Fury RGB can't come close to matching an ordinary SATA SSD's idle power. But even excluding power on the 12V rail that is used just for the lighting, the Fury RGB has a pretty high active idle power draw and more than twice the slumber state power draw of typical SATA SSDs.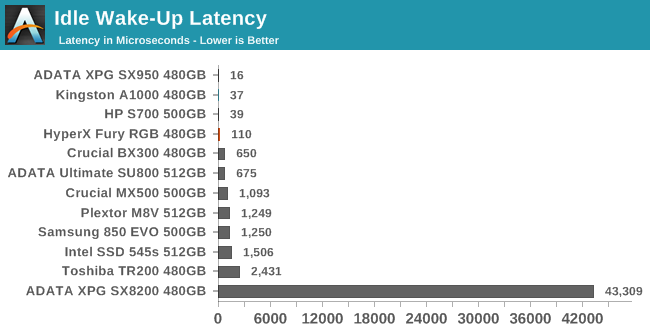 The Fury RGB has a fairly quick wake-up latency, but not as quick is typical for drives with broken power management. If the Fury RGB didn't have the lighting and as a result had lower operating temperatures and better idle power, then it might come across as having fairly decent power management that could be used quite aggressively thanks to the quick wake-up time.