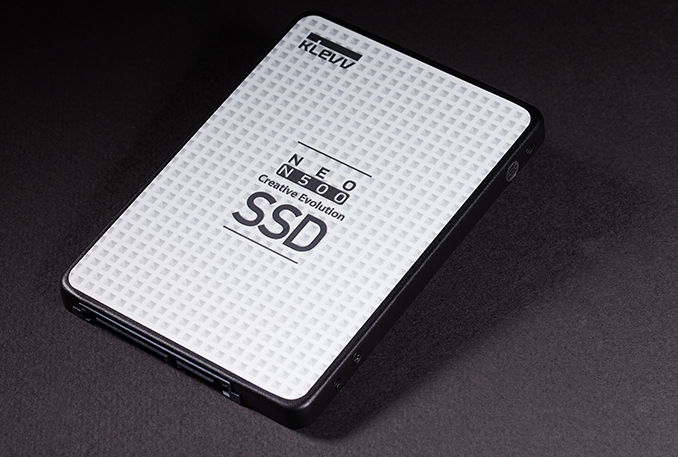 SK Hynix's subsidiary KLEVV has introduced its new client SSDs based on the manufacturer's 72-layer 3D NAND flash. The KLEVV NEO N500 drives are aimed at entry-level desktops and laptops that accept SATA drives. As entry-level products, the SSDs are priced low, and in fact are already available at retail.
The KLEVV NEO N500 family consists of three models featuring 120 GB, 240 GB, and 480 GB capacities, which are popular configurations for inexpensive SSDs these days. The drives come in a 2.5-inch/7-mm form-factor and use a SATA 6 Gbps interface, which makes them drop-in compatible with existing desktops and laptops that use DFF storage. The NEO N500 are based on Silicon Motion's SM2258XT controller as well as SK Hynix's 72-layer 3D TLC NAND memory. The SM2258XT controller has been available for some time now and its features and capabilities are well known: it has four NAND flash channels, LDPC ECC technology, and it supports pseudo-SLC (pSLC) caching in order to maximize SSD performance.
It's noteworthy that while we've seen the SM2258XT controller time and time again, the NAND itself is relatively new. So there may be some significance to the fact that the official performance specifications of KLEVV's NEO N500 drives puts them below other drives using the same controller with other 3D NAND. According to the manufacturer, the drives are able to hit up to 520 MB/s sequential read speeds and up to 500 MB/s sequential write speeds. As for random performance, KLEVV does not disclose exact specs, but the SM2258/SM2258XT controllers are rated for up to 90,000 read IOPS and up to 80,000 write IOPS. Evidently, high-capacity drives offer higher sequential and random performance than their lower-capacity counterparts.
KLEVV NEO N500 SSD Specifications
Capacity
120 GB
240 GB
480 GB
Model Number
D120GAA-N500
D240GAA-N500
D480GAA-N500
Controller
Silicon Motion SM2258XT
NAND Flash
SK Hynix 72-Layer 3D TLC NAND
Sequential Read
520 MB/s
Sequential Write
470 MB/s
500 MB/s
Random Read IOPS
?
?
?
Random Write IOPS
?
?
?
Pseudo-SLC Caching
Supported
DRAM Buffer
No
TCG Opal Encryption
No
Power Management
DevSleep
Warranty
3 years
MTBF
?
The KLEVV NEO N500-series SSDs are positioned below the company's own NEO N600-series drives based on the SM2256 and planar TLC memory, which is not surprising as the new drives offer lower performance. What is a bit surprising is that unlike other suppliers of SSDs, KLEVV decided not to build high-performance drives based on 3D NAND using controllers from a third party or SK Hynix's own silicon.
The new NEO N500 SSDs from KLEVV are covered by a three-year warranty. All versions of the drives are already available in Europe. Based on data from Geizhals.at, the 120 GB version costs €33 ($39), the 240 GB model is priced at €58 ($69), whereas the 480 GB SKU is available for €105 ($123).
Related Reading:

Source: KLEVV (via Vortez.net)