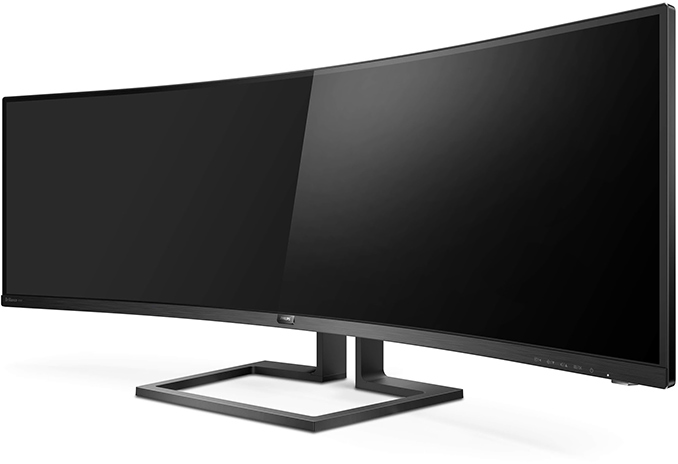 Last week at IFA, Philips demonstrated its upcoming ultra-wide curved 49-inch monitor. The new 499P9H display features a 5K resolution with a 32:9 apect ratio, and will be aimed at various B2B clients that normally use two LCDs. Among key selling points of the new monitor – besides its sheer size – are a pop-up webcam, a USB Type-C docking, and a GbE controller.
A number of display suppliers have introduced their 49-inch ultra-wide LCDs featuring a 32:9 aspect ratio and a 3840 × 1080 resolution over the past few quarters. The displays are based on a Samsung panel and target various applications, including business/productivity and gaming. Philips was first to launch its ultra-wide 492P8 monitor after Samsung released its 49-inchers last year, so it is not surprising that it will be among the first third-party companies to adopt Samsung's 5K ultra-wide VA panel that we're unofficially hearing is expected to hit mass production this month.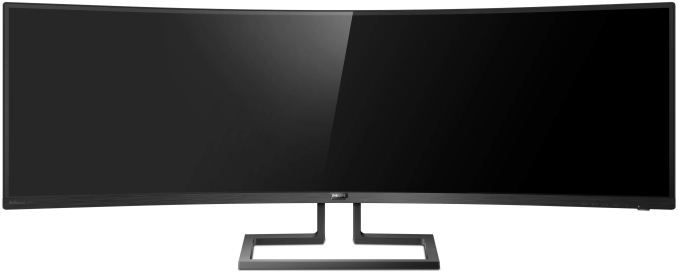 The Philips 499P9H offers a 5120 × 1440 resolution, which is called DQHD (dual quad HD), and is designed to substitute two 27-inch 2560 × 1440 monitors. Based on what we know about this panel unofficially, it has a 1800R curvature and supports refresh rates up to 120 Hz. B2B monitors featuring the panel will likely support a 60 Hz refresh rate, whereas their gaming counterparts will likely gain AMD's FreeSync technology and a dynamic refresh rate between 48 Hz and 120 Hz (or 30 Hz and 120 Hz). Meanwhile, since we are dealing with a VA panel, expect a high contrast ratio along with 178º/178º vertical/horizontal viewing angles.

One of the important features of the Philips 499P9H monitor is its pop-up Windows Hello-compatible webcam, which will likely be welcome by various business and enterprise users who require a biometric authentication.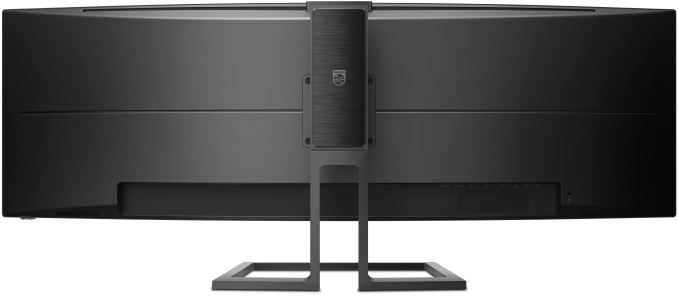 Since the Philips 499P9H has to be compatible with a wide variety of PCs, it features not only a USB Type-C connector with docking and power delivery capabilities, but also a more traditional DisplayPort 1.2 input and two HDMI 2.0 ports. Like other large displays, the 499P9H naturally supports picture-by-picture (PBP) and picture-in-picture (PiP) modes as such LCDs are usually used with multiple PCs at once. In addition, the monitor has a dual-port USB 3.0 hub as well as an Ethernet connector to provide a GbE connectivity to Apple's MacBooks and other laptops that only feature USB Type-C headers.
Philips did not touch upon the ETA nor MSRP of its upcoming 499P9H display at the trade show. Since Samsung yet has to kick off mass production of the panel and start using it itself, expect the 499P9H to arrive sometimes in 2019. Keep in mind that since the 499P9H is aimed primarily at B2B clients, it may not be readily available from the usual retailers.
Philips Ultra-Wide 49-Inch Displays
499P9H
492P8
Panel
49" VA
Native Resolution
5120 × 1440
3840 × 1080
Maximum Refresh Rate
?
60 Hz
Response Time
unknown
unknown
Brightness
high
up to 600 cd/m² (?)
Contrast
high
up to 5000:1 (?)
Backlighting
LED
Viewing Angles
178°/178° horizontal/vertical
Curvature
1800R
Aspect Ratio
32:9 (3.56:1)
Color Gamut
sRGB (?)
sRGB
Dynamic Refresh Rate Tech
unknown
unknown
Pixel Pitch
0.234 mm²
0.312 mm²
Pixel Density
108 PPI
81.41 PPI
Inputs
1 × DisplayPort 1.2
1 × USB Type-C
2 × HDMI 2.0
1 × DisplayPort 1.2
1 × D-Sub
2 × HDMI
Audio
3.5 mm input and output
USB Hub
2 × USB 3.0 Type-A connectors
Ethernet
1 GbE port
MSRP
unknown
unknown
Related Reading: