Making the Most of Memory: Optane DC Persistent Memory
The week before Computex, Intel announced its new Optane DIMMs, and stated that they will be coming to market in three capacities: 128GB, 256GB, and 512GB. The new persistent memory was explained as being a high capacity SSD with that acts as DRAM with similar latencies, available to hold large databases or enable systems to quickly recover from power loss to improve uptimes.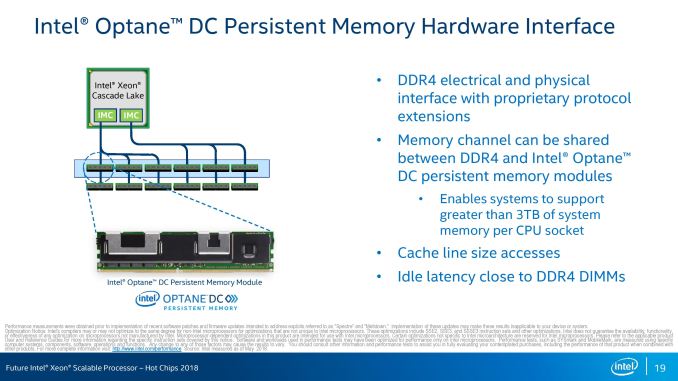 The Hot Chips presentation confirms that the new Optane DIMMs will be enabled at one per memory channel, allowing a single socket to contain six memory modules and six Optane DIMMs at once. For those counting along at home, that is a 128 GB LRDIMM + 512 GB of Optane per channel, or 3840GB per socket.
What this doesn't state is if Optane will be supported on all processors, or select high-memory SKUs at extra cost. We have seen a few prices flying around for the 512 GB DIMMs, although we cannot verify this. Intel's own @IntelBusiness Twitter account recently posted this picture, attempting to show that the DIMMs were shipping.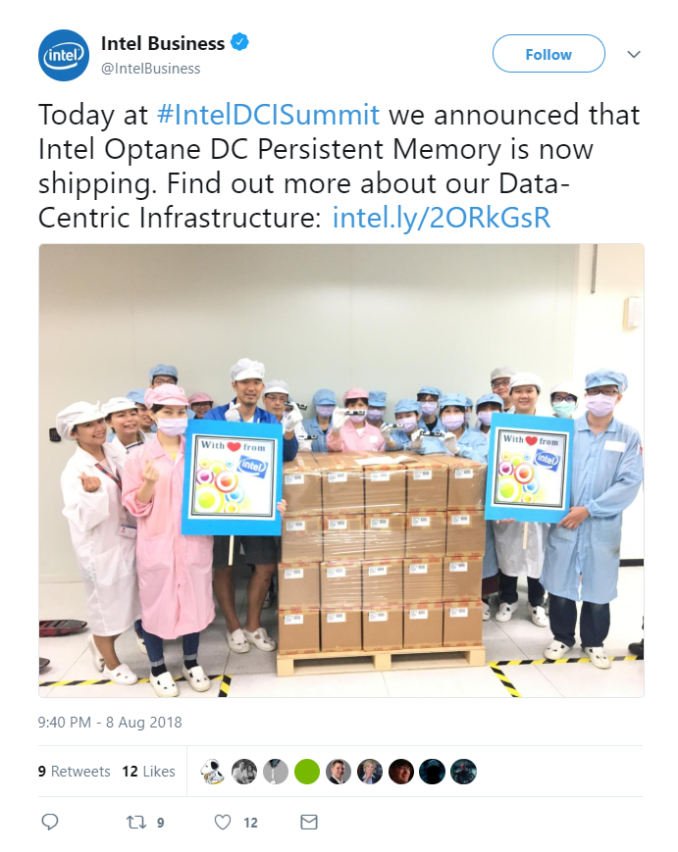 I'm pretty sure the people on the left are making the money hand gesture
If Intel is shipping Optane DIMMs in this quantity already, that means that high-profile customers that are part of Intel's Early Sampling program are already buying them in bulk quantities. It will be interesting to see if they ever post any data about the product.
Unanswered Questions
Sure, it is frustrating that Intel has not opened the lid fully on Cascade Lake yet. The pure takeaway I can give you is that I suspect the processors will be optimized for efficiency and frequencies will improve, but the core designs will likely look very much the same as we have now. Intel will be using the opportunity, alongside the DIMMs and VNNI, to offer a product that has a number of the Spectre and Meltdown variants fixed in hardware. A lot of people are waiting for these parts, and are prepared to pay for them. It will be interesting to see what the pricing will be later in the year.
Slide Deck
Related Reading