Mixed Random Performance
Our test of mixed random reads and writes covers mixes varying from pure reads to pure writes at 10% increments. Each mix is tested for up to 1 minute or 32GB of data transferred. The test is conducted with a queue depth of 4, and is limited to a 64GB span of the drive. In between each mix, the drive is given idle time of up to one minute so that the overall duty cycle is 50%.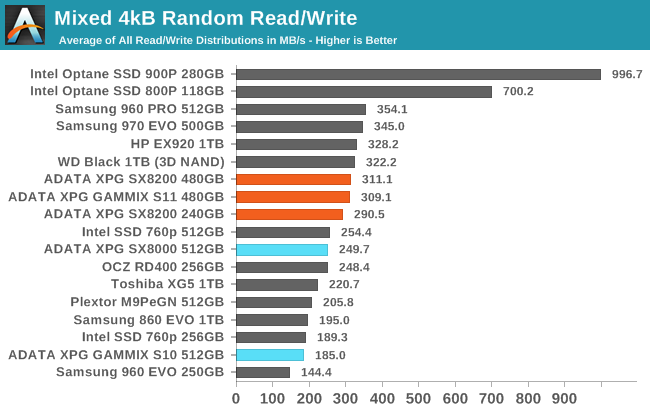 The mixed random I/O performance of the ADATA XPG SX8200 and GAMMIX S11 is a little bit slower than the fastest flash-based SSDs, but is still quite fast, especially given the lower drive capacities.
The power efficiency of the SX8200 is about par, a product of above-average performance combined with slightly above average power draw.
The ADATA XPG SX8200's performance during the mixed random I/O test starts off fairly flat with little impact from a few writes being added to the mix. As the portion of writes increases, the SX8200's performance accelerated to end up with very good performance near the end of the test. However, in the final phase when the workload shifts to pure writes, the SX8200 doesn't show as pronounced a spike in performance as is typical for high-end SSDs.
Mixed Sequential Performance
Our test of mixed sequential reads and writes differs from the mixed random I/O test by performing 128kB sequential accesses rather than 4kB accesses at random locations, and the sequential test is conducted at queue depth 1. The range of mixes tested is the same, and the timing and limits on data transfers are also the same as above.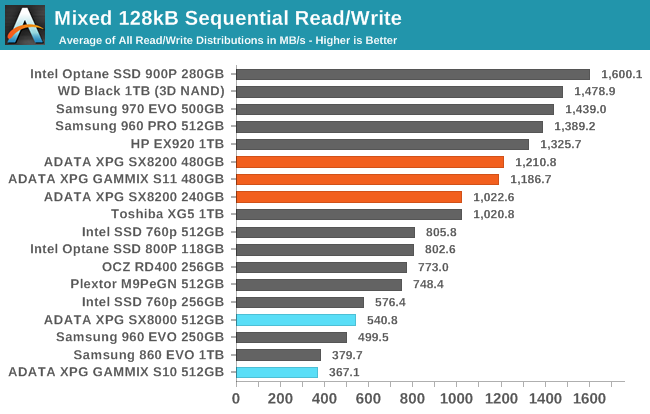 The SM2262 drives including the newer generation from ADATA cannot quite match the performance of the best from Samsung or WD on the mixed sequential workload test, but they otherwise perform quite well for their capacity, and are about twice as fast as the older SX8000.
The average power consumption of the SX8200 during the mixed sequential I/O test is rather high at about 4W compared to 3W for the preceding generation drives. However, the performance increase is more than enough to justify the power increase, and overall power efficiency is pretty good.
The performance of the SX8200 during the mixed sequential I/O test exhibits a classic bathtub curve, with a steep decline as writes are first introduced, very flat performance through the middle of the test with a minimum in the 7-800 MB/s range, and a bit of a performance rebound at the end of the test. Most other drives in this class aren't quite as consistent through the middle of the test and tend to continue slowly losing performance until turning around in the second half.