GIGABYTE B450M DS3H
The last of GIGABYTE's launch day motherboards comes via the B450M DS3H which hails from the Ultra Durable range. With the shift here from gaming to a more subtle theme, the styling choices opted here by GIGABYTE come across as less 'in your face' without RGB LEDs built into the heatsinks, but users looking to make use of rainbow-colored RGB can do so through a single RGB LED strip header.
Without a lot of the bells and whistles of the B450 Aorus motherboards, what the B450M DS3H does focus on is providing value without sacrificing too much on the overall quality. The general controller choice does put this board in the lower range of AM4 boards available, but the Realtek ALC887 audio codec still does a decent job of providing onboard audio. With a Realtek GbE LAN controller present also, the DS3H is admirable for users on a strict budget, but who also require a smaller microATX form factor.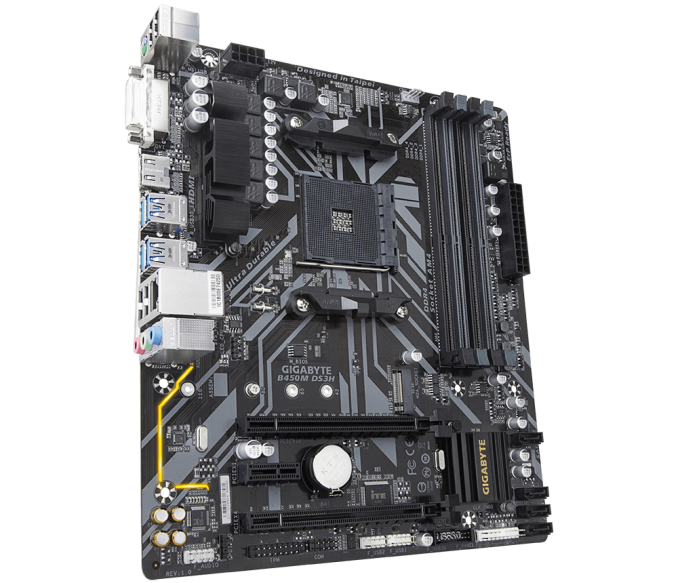 The main bulk of the board's aesthetic prowess come from the PCB, which features a black base with a grey striped circuit-like pattern emanating from the corners of the board towards the socket. This entry-level offering has two full-length PCIe slots; the top slot is PCIe 3.0 x16 while the bottom slot is PCIe 2.0 x4. Sitting in between the two full-length slots is a single PCIe 2.0 x1 slot. Thanks to the two full-length slots, this means AMD CrossFire multi-graphics card configurations are supported, although it should be noted NVIDIA SLI is not supported across the B450 chipset; this is due to a limitation of PCI bandwidth.
Like all of GIGABYTE's launch day range of B450 motherboards, the B450M DS3H has four memory slots capable of supporting DDR4-3200 memory. This means that a total of 64 GB of system memory can be installed with both ECC and non-ECC Un-buffered memory types being supported. There is also support for DDR4 memory with XMP profiles built-in.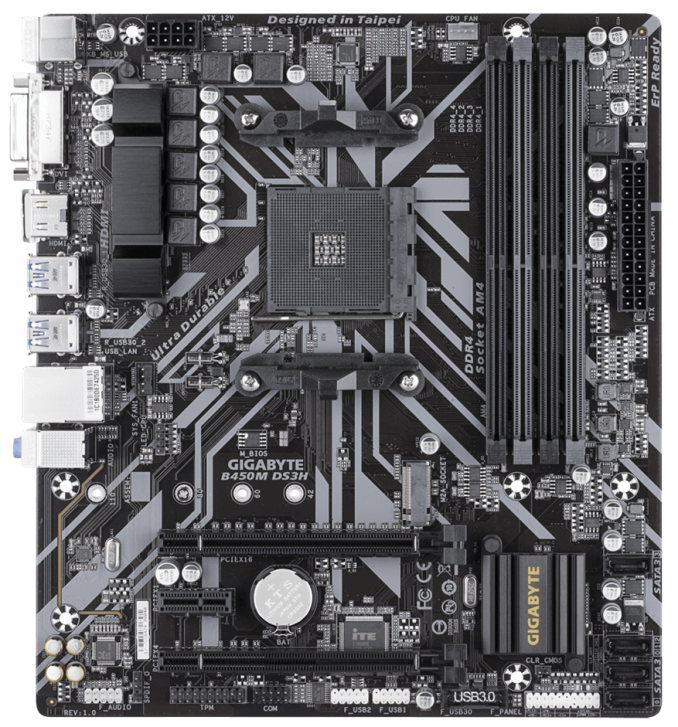 Storage wise, the main bulk is made of from four SATA ports. These ports all feature straight angled slots, which is a pure cost-cutting measure and a consequence of the board's entry-level pedigree. The SATA ports also support RAID 0, 1 and 10 arrays. Also present is a single PCIe 3.0 x4/SATA M.2 slot with support for up to M.2 22110 (22 x 110 mm) SSDs.
In terms of power delivery, the B450M DS3H looks to sport a seemingly simple, but ample, 4+3 hybrid digital design, with a very small and lightweight looking heatsink across the CPU section of the VRM; this leaves the SoC area at the mercy of the system's passive cooling capabilities. Not so much an issue when using a discrete graphics card but could cause potential heat issues if a user intends to use one of the Ryzen 2000 series APUs and overclock them for better performance.

The rear panel on the B450M DS3H microATX motherboard consists of a fairly basic selection of ports and connections including four USB 3.1 5 Gbps ports and four additional USB 2.0 Type-A ports. Also included is a PS/2 combo port, as well as a single LAN port controlled by a Realtek GbE networking chip. The three 3.5mm audio jacks making up the onboard audio are powered by the Realtek ALC887 audio codec. Finishing off the rear panel is a pairing of video outputs which consist of a DVI-D, and HDMI 2.0 port which makes this board suitable for a low-end and entry-level gaming system when paired up with an APU.
The crux of the GIGABYTE B450M DS3H comes in the way of value ($69.99), but without sacrificing core features which are used frequently on most home systems. From the Realtek ALC887 which is a more budget-friendly audio codec opposed to say the ALC1220, to the use a cheaper Realtek GbE networking chip opposed to say the Intel I211-AT featured on their own B450 Aorus Pro/Aorus Pro WIFI models; it gives the B450M DS3H more function and value over style, over the top aesthetics and unnessacary cost spiking componentry.