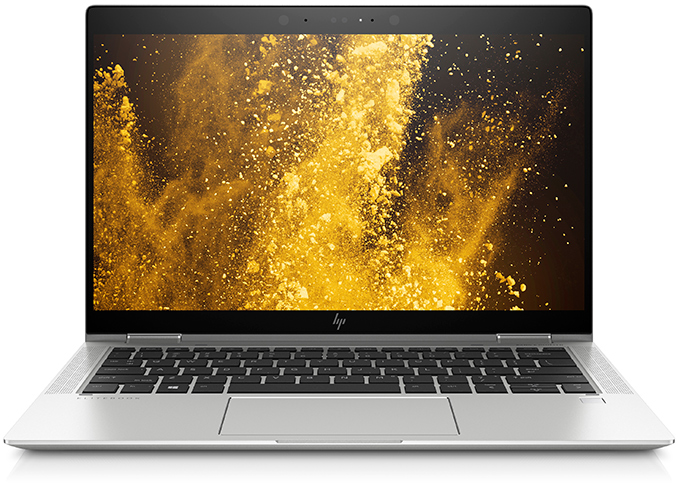 HP has announced its new high-end 13.3-inch convertible aimed at demanding consumers, enterprises, and government agencies. The third-generation EliteBook x360 1030 hybrid notebook got more compact yet more powerful and longer lasting than predecessors (at least on paper). Premium models will feature displays with up to 4K Ultra HD resolution as well as up to 700 nits brightness. Furthermore, the convertible has a number of exclusive features, such as a proximity sensor for optional stylus that sends visual and audio alerts if the pen gets too far from the PC.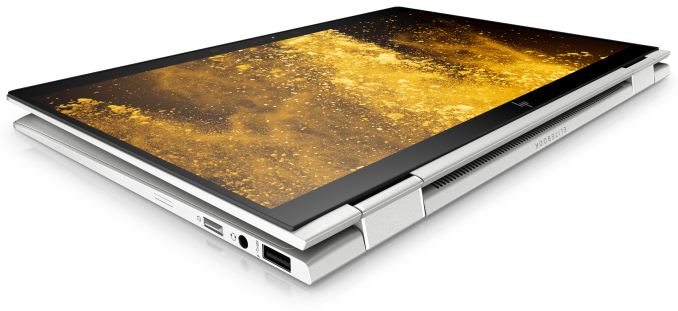 HP's EliteBook x360 1030 G3 is the company's new flagship 13.3-inch convertible that packs virtually all premium technologies that HP has to offer and brings together performance and compactness. From a hardware point of view, the third-gen EliteBook x360 1030 is based on Intel's 8th Gen Core i5/i7 processors with four cores accompanied by 16 GB of LPDDR3 memory, and a PCIe/NVMe SSD of up to 2 TB capacity (select configs for government agencies use encrypted drives). As for portability, the EliteBook x360 1030 G3 comes in CNC-machined aluminum unibody, it is 15.8 mm thick and weighs 1.25 kilograms, which is thinner and lighter than most popular 13.3-inch convertibles (the only viable competitor for the EB x360 1030 G3 is Lenovo's ThinkPad Yoga 3rd Gen and it is still not as portable). In addition to keeping the third-gen EliteBook x360 1030 thin and light, HP also shrunk its LCD bezels, effectively shrinking its footprint size by 10% when compared to the second-gen EliteBook x360 1030. In fact, HP goes so far as to say that the EliteBook x360 1030 G3 integrates a 13.3-inch display into a 12-inch chassis.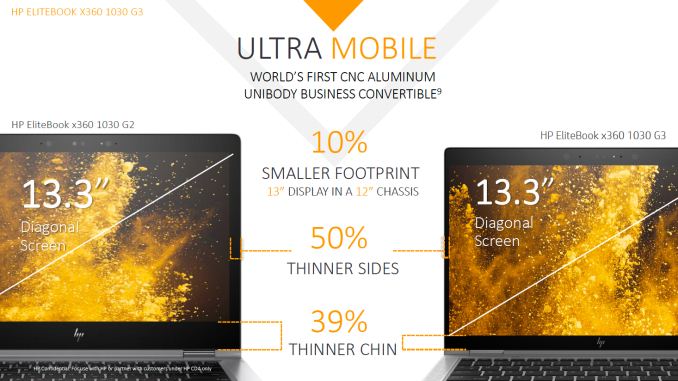 Speaking of displays, HP offers rather unique touch-supporting LCD panels covered with Corning's Gorilla Glass 4 with its EliteBook x360 1030 G3. The flagship models are equipped with a glossy 4K Ultra HD (3840×2160) screen featuring a 500 nits brightness and covering 100% of the sRGB color gamut. Other high-end models are outfitted with glossy or anti-glare Full HD (1920×1080) displays featuring HP's Sure View privacy screen, and a 700 nits luminance that can be used even under direct sunlight. HP claims that the EliteBook x360 1030 G3 is the first notebook to use a display panel with brightness that is comparable to that of high-end smartphones. The rather extreme luminance will be appreciated by people working from cafes in southern countries and usually find it uncomfortable. Meanwhile, such a bright screen will inevitably affect battery life of the machine (more on that later). Meanwhile, entry-level SKUs of the EB x360 1030 G3 come with glossy or anti-glare Full HD LCDs featuring a 400 nits brightness. All versions of HP's new convertibles are outfitted with an ambient light sensor to automatically regulate brightness depending on lighting conditions.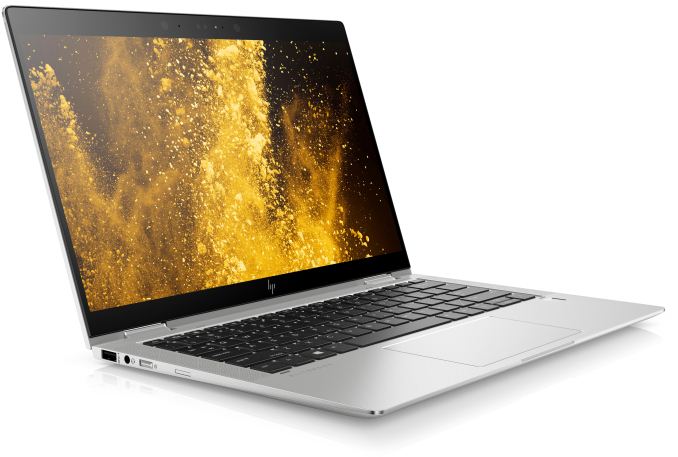 Apart from performance, portability and display options, another strong selling point of the EliteBook x360 1030 G3 is connectivity. The new convertibles are equipped with Intel's dual band Wireless-AC 8265 module supporting 802.11ac Wi-Fi and Bluetooth 4.2, a 4G/LTE modem with or without GPS, as well as NXP's NPC300 I2C NCI NFC controller. As for physical ports, the system has two Thunderbolt 3 connectors, one USB 3.0 Type-A header (for data and charging), an HDMI 1.4 output, and a TRRS audio jack.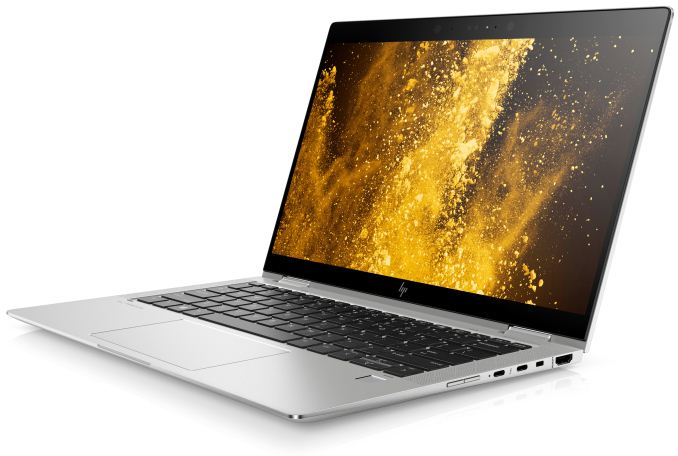 Despite its small footprint, the system integrates four Bang & Olufsen-badged speakers with amplifiers and a microphone array with noise cancellation software capability. In addition, the convertible has a Full HD webcam with IR sensors for Windows Hello facial recognition. Since the EliteBook x360 1030 G3 can work in both laptop and tablet modes, it naturally also features an accelerometer, a gyroscope, a magnetometer, and a Hall effect sensor.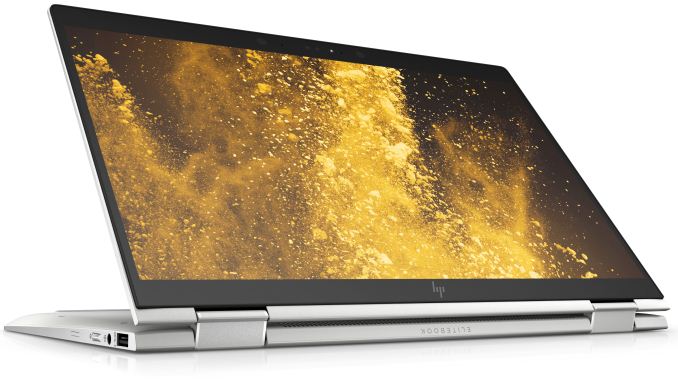 One of the not-so-strong sides of thin and light 13.3-inch laptops is their battery. In a bid to make the EliteBook x360 1030 G3 system as portable as possible, HP had to use a 56.2 Wh Li-ion battery (in line with other notebooks of the same dimensions). HP rates the battery for 18 hours of life on one charge (according to MobileMark 2014), up from 16.5 hours in case of the EB x360 1030 G2. Obviously, for its battery tests, HP used a model featuring a Full HD/400-nits display with lowered brightness that only used Wi-Fi for comms. A high-end EliteBook x360 1030 G3 with an Ultra HD/500-nits or a Full HD/700-nits screen with upped brightness to see things clearly when working on a sunny day in a café over 4G/LTE will clearly not live for 18 hours on one charge. But while the battery life is a potentially weak side of premium versions of HP's EliteBook x360 1030 G3, competing ultra-thin 13.3-inch notebooks from Apple and Lenovo with high-res/high-luminance displays have the same issue because there is always a tradeoff between portability and battery capacity.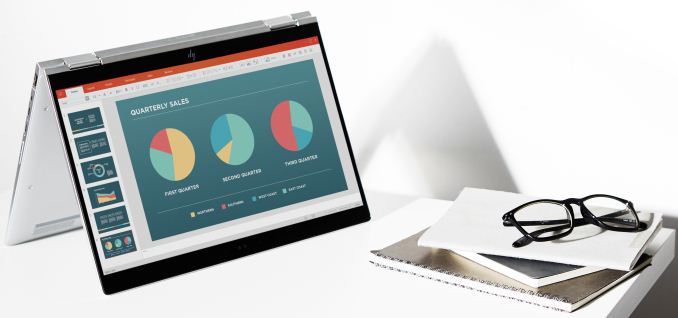 Last but not least, like all model HP Elite-branded systems, the third-generation EliteBook x360 1030 comes with robust security and reliability features. For example, it can support three-factor authentication (face, fingerprint, password), features TPM 2.0, and supports HP's proprietary technologies like Sure Start, Sure Recover and others.
HP's EliteBook x360 1030 G3 laptop will hit the market in June at prices starting from $1,449.
Specifications of the HP EliteBook x360 1030 G3
EliteBook x360 1030 G3
LCD
Diagonal
13"
Resolution | Brightness | Features
3840×2160 | 500 cd/m² | Glossy
1920×1280 | 700 cd/m² | SureView | Glossy/Anti-Glare
1920×1280 | 400 cd/m² | SureView | Glossy/Anti-Glare
Color Gamut
100% sRGB
Touch Support
Yes
Protective Glass
Corning Gorilla Glass 4
CPU
Core i7-8650U (4C/8T, 8MB, 1.9/4.2 GHz)
Core i7-8550U (4C/8T, 8 MB, 1.8/4 GHz)
Core i5-8350U (4C/8T, 6 MB, 1.7/3.6 GHz)
Core i5-8250U (4C/8T, 6 MB, 1.6/3.4 GHz)
Graphics
UHD Graphics 620 (24 EUs)
RAM
16 GB LPDDR3-2133
Storage
512 GB - 2 TB PCIe NVMe M.2 SED SSD
512 GB PCIe NVMe M.2 SSD
256 GB M.2 SATA SED SSD
128 GB M.2 SATA SSD
Wireless: Wi-Fi, Bluetooth, LTE, NFC, and GPS options
Intel Dual Band Wireless-AC 8265 802.11a/b/g/n/ac (2x2) Wi-Fi + Bluetooth 4.2 Combo, non-vPro

Intel Dual Band Wireless-AC 8265 802.11a/b/g/n/ac (2x2) Wi-Fi + Bluetooth 4.2 Combo, vPro

Intel XMM 7360 LTE-Advanced (optional)

HP lt4132 LTE/HSPA+ with GPS Mobile Broadband Module (optional)

NXP NFC Controller NPC300 I2C NCI (optional)
USB
3.1
2 × TB 3
3.0
1

× Type-A (with charging)

Thunderbolt
1 × TB 3 (for data, DP displays)
Card Reader
-
Cameras
Front
Full HD webcam + IR camera for face authentication
Fingerprint Sensor
Yes
Other I/O
Microphone, 4 stereo speakers, audio jack
Other Sensors
Accelerometer, gyroscope, agnetometer, Hall effect sensor
Battery
56.2 Wh
Dimensions
Width
30.58 cm | 12.04 inches
Depth
20.5 cm | 8.07 inches
Thickness
1.58 cm | 0.62 inches
Weight
1.25 kilograms | 2.76 pounds
Launch Price
Starting at $1449
Related Reading: