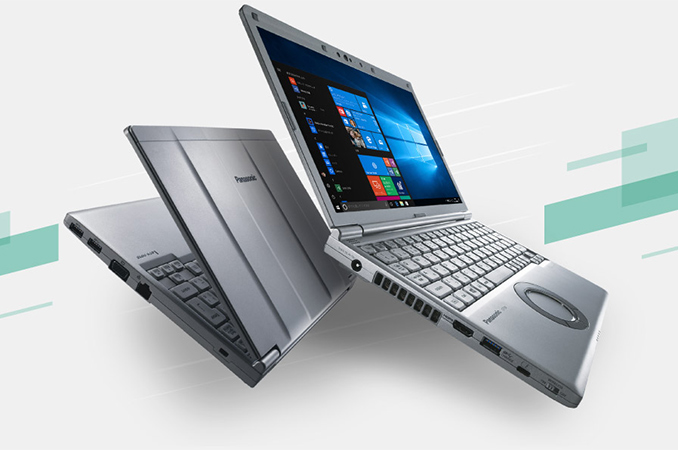 Panasonic has upgraded its 12.1-inch series laptops with Intel's quad-core 8th Generation Core i5/i7 CPUs. The new Panasonic Let's Note CF-SV7-series notebooks are the only ultra-compact PCs to feature Intel's latest mobile processors, a Thunderbolt 3 interconnection, an optical drive and an optional LTE modem in a package that weighs from 999 grams to 1.124 kilograms (2.2 – 2.47 pounds).
Panasonic is one of a few companies nowadays that offers highly-integrated ultra-compact laptops with optical disc drives. These machines are very light because they are made of plastic (they are still rugged enough and can be dropped from a height of 76 cm) and their weight is about a kilogram, but they are not ultra-thin like modern notebooks from Apple, HP or Lenovo. To a large degree, they are relatively thick because they are designed to offer their owners the best possible connectivity, feature set and battery life, something that we usually see on 14"/15.6" laptops from other manufacturers. In Europe and the U.S. many people nowadays prefer ultra-thin PCs even if they lack replaceable batteries or certain ports (and I am not even talking about laptops with ODDs — they have become exotic). User preferences are different in Japan, which is why Panasonic still offers 12"-class laptops with optical drives, thick replaceable batteries and plenty of connectors.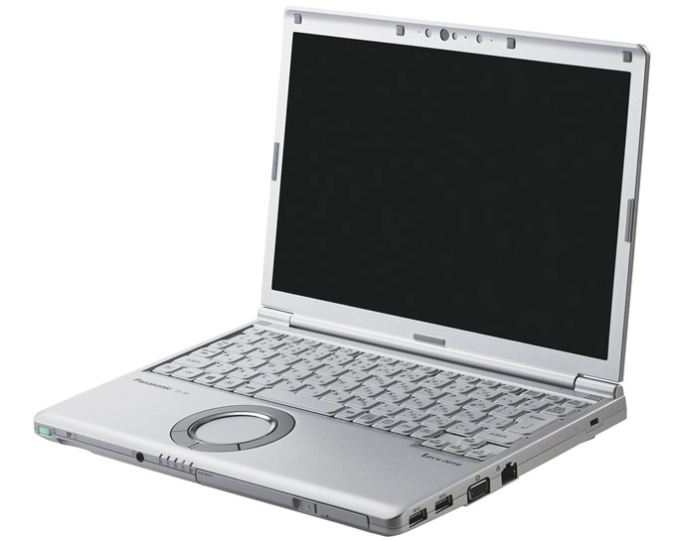 The Panasonic Let's Note CF-SV7 family of notebooks succeeds the company's Let's Note CF-SZ6 lineup that featured a similar appearance, a 12.1" WUXGA (1920×1200) display, comparable weight and dimensions as well as a very long battery life of up to 21 hours (enabled by a removable accumulator). Meanwhile, even though the CF-SV7 continues traditions of the CF-SZ6, it does not mean that Panasonic just installed new quad-core CPUs into an old chassis.
The Let's Note SV7-series based on Intel's quad-core Core i5/i7 processors actually uses a new chassis that is 24.5 mm thick (down from 25.3 mm in case of the SZ6) and features a new cooling system for its new CPUs. Because of the new cooler, the SV7 PCs are a bit heavier than their predecessors, but even when equipped with a high-capacity "L" battery, their weight does not exceed 1.124 kilograms. Besides the new quad-core 8th Generation Core i5/i7 processors, Panasonic's latest SV7-series laptops obtained a Thunderbolt 3 port, a rare feature for 12"-class mobile computers.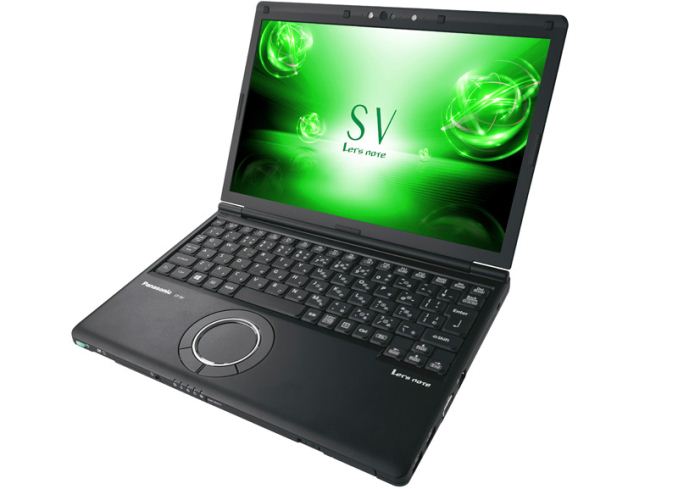 Exact configurations of Panasonic's Let's Note CF-SV7 vary greatly. Retail versions of the CF-SV7 are equipped with Intel's Core i5-8250U or Core i7-8550 CPUs, 8 GB of LPDDR4-1866 memory and a SATA SSD (128 GB – 1 TB). Meanwhile, built-to-order models bought directly from Panasonic can be customized to feature Intel's Core i5-8350U or Core i7-8650U, 16 GB RAM as well as a 1 TB PCIe SSD. As for connectivity, the systems are outfitted with an 802.11ac + Bluetooth 4.1 wireless module, a GbE connector, three USB 3.0 Type-A ports, a D-Sub output, an HDMI 2.0 header (supporting 4Kp60 resolution), a TRRS audio connector and so on. In addition, the systems feature stereo speakers, a microphone, a 720p webcam with an IR sensor compatible with Windows Hello, an SD card reader supporting SDHC/SDXC cards with UHS-II interface as well as a CD/DVD burner/reader or a Blu-ray reader/CD/DVD burner. Some systems come with a 4G/LTE modem, other can be configured to include a 1 TB HDD in addition to a 128 GB SSD. It is noteworthy that the width of a key on SV7's keyboard is 19 mm, comparable to that of a modern MacBook Pro. Meanwhile, the new SV7 continues to feature Panasonic's round touchpad that does not look too comfy.
Besides high integration, the Let's Note CF-SV7-series can be proud of its battery life. When equipped with an "S" battery and an SSD, the laptop can work for up to 14 hours, according to Panasonic. Meanwhile, if an "L" accumulator is installed, the system is rated for 21 hours, probably a record for 12"-class PCs in general.
General Specifications of Panasonic Let's Note CF-SV7-Series
"High-End"
"Mainstream"
"Entry"
Display
12.1" non-glossy
1920×1200 resolution
SoC
Core i7-8550U
Core i7-8650U*
Core i5-8250U
Core i5-8350U*
RAM
8 GB LPDDR3
16 GB LPDDR3*
Storage
256 - 512 GB SSD SATA
up to 1 TB SSD PCIe*
128 - 256 GB SSD SATA
up to 1 TB SSD PCIe*
1 TB HDD
128 GB SSD + 1 TB HD*
up to 1 TB SSD PCIe*
ODD
CD/DVD burner
BD reader/CD/DVD burner*
No ODD*
-
Camera
720p webcam with IR sensor for Windows Hello
Wireless
802.11ac Wi-Fi
Bluetooth 4.1
optional 4G/LTE modem 300/50 Mbps
I/O ports
3 × USB 3.0 Type-A
1 × Thunderbolt 3/USB Type-C
1 × HDMI
1 × D-Sub
1 × GbE
SD card reader with UHS-II support
Audio
Integrated speakers and microphone
1 × TRRS 3.5-mm jack for headset
Dimensions
283.5 × 203.8 × 24.5 mm
Weight
999 - 1124 grams
Battery Life Based on JEITA 2.0
Up to 21 hours with L battery and SSD
Up to 14 hours with S battery and SSD
Up to 11 hours with S battery and HDD
OS
Windows 10 Pro
Windows 10 Home
Windows 10 Pro
Windows 10 Pro
Finish
Body: Silver or Black*
Top Cover: Silver, Black*, Blue*, Dark Red*
Notes
*Available only directly from Panasonic
As mentioned above, Panasonic's Let's Note CF-SV7 laptops will come in different configurations. A basic one featuring Intel's Core i5-8350U, 8 GB of RAM, a 256 GB SSD, a DVD drive and an "S" battery pack costs ¥253,584 w/taxes (~$2320) when bought online. A premium one equipped with Intel's Core i7-8650U, 16 GB of RAM, a 1 TB SSD, a Blu-ray drive, an LTE modem and an "S" battery is priced at ¥425,304 w/taxes (~$3880) when bought directly from Panasonic. The Let's Note CF-SV7 PCs are definitely priced well above average, but the systems offer unique features that tend to cost a lot.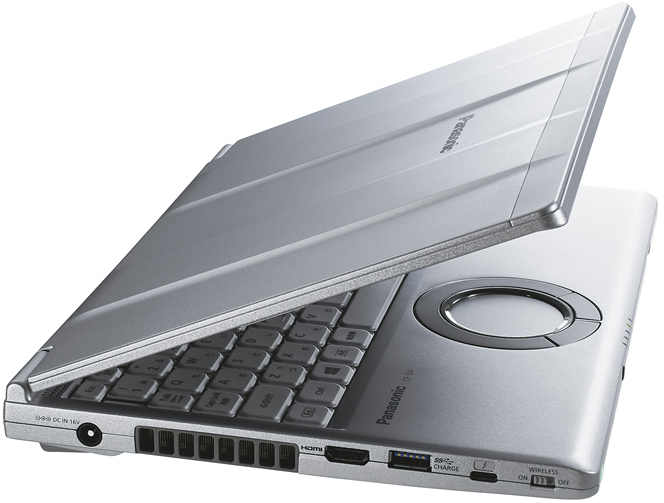 Related Reading: