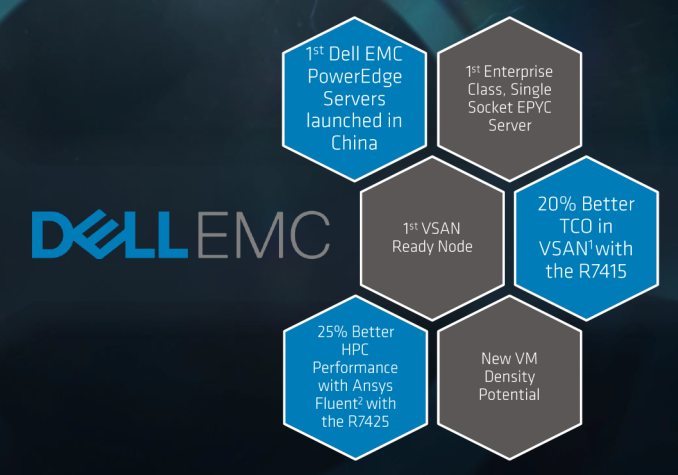 One of the many questions about AMD's EPYC processor line related to AMD's ability to reengage with OEMs since the Bulldozer era. Recent announcements from Microsoft Azure and Baidu have shown that at least two of the Super 7 cloud providers are on board, and today's announcement brings Dell PowerEdge servers, powered by EPYC, into the mix.

Dell is launching three variants of the PowerEdge 14G line:
Dell PowerEdge 14G with EPYC
PowerEdge
R6415
PowerEdge
R7415
PowerEdge
R7425
Size
1U
2U
2U
Sockets
1
1
2
CPUs
Up to EPYC 7601
32 Core / 64 Threads
Up to 2x EPYC 7601
64 Core / 128 Threads
DRAM
< 2TB DDR4 LRDIMMs
< 1TB DDR4 RDIMMs
< 4TB DDR4 LRDIMMs
< 2TB DDR4 RDIMMs
NVMe Drives
10 Total
8 Front Panel
24 Total
24 Front Panel
24 Total
24 Front Panel
PCIe Lanes
2 x PCIe 3.0 x16
3 x PCIe 3.0 x16
1 x PCIe 3.0 x8
6 x PCIe 3.0 x16
(up to 8 slots total)
GPU Support
?
?
3 x Dual Width
PSUs
Platinum 550W
Bronze 450W
Titanium 750W
Platinum 495W
Platinum 750W
Platinum 1600W
Titanium 750W
Platinum 495W
Platinum 750W
Platinum 1100W
Platinum 1600W
Platinum 2000W
Storage Controllers

PERC H330




PERC H370p




PERC H390p




PERC HBA330




PERC 9/10

PERC H330




PERC H370p




PERC H390p




PERC HBA330




PERC 9/10

PERC H330
PERC H370p
PERC H390p
PERC HBA330
PERC 9/10
Networking

2 x 1GbE or




2 x 10GbE or




2 x 10GbE SFP+

2 x 1GbE or
2 x 10GbE or
2 x 10GbE SFP+
4x1GbE + 2x10GbE
2x1GbE + 4x10GbE
2 x 25GbE
Users that have dealt with PowerEdge configurations will be used to the offerings: a single socket system focused on storage (R6415), a single socket system with more storage (R7415), and a dual socket system combining storage and graphics (R7425). All the systems support optional front and rear ports, including networking (dual 1GbE, dual 10GbE, or dual 10GbE SFP+), Dell's OpenManage platform, and a series of PERC controllers.

As new EPYC based servers enter the market, it is always interesting to see how OEMs are implementing the different features. This applies not only to how OEMs will route 128 PCIe lanes, but also if further expansion is needed. In the case of the R7425, Dell is using a PCIe switch in order to provide sufficient lanes for the 24 NVMe drives while also providing up to eight PCIe slots for 64 lanes. This R7425 we were told can support three double width GPUs, however it was not divulged how these GPUs are connected – if all three are on one of the two CPUs, or it happens to be split. There are many ways to design the PCIe front-end of a server like this, and there are usually trade-offs.

If there is one thing to say about AMD's server team, it is that they love to spread news about design wins when they can. Despite this announcement being about Dell's latest line of PowerEdge 14G servers, it was AMD who got in touch to discuss the news from their perspective. Ultimately launches like this are building on EPYC being accepted by the bigger server providers, and feed into AMD's narrative of working closer with OEMs through 2018.
Related Reading