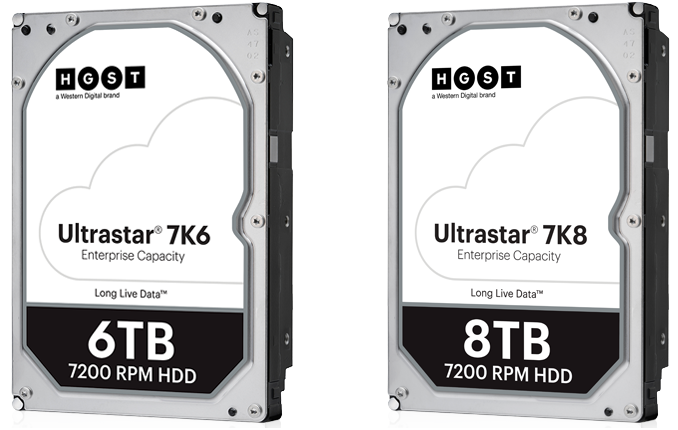 This week Western Digital has introduced a new breed of HGST-branded server-class hard drives targeting "mainstream" applications that require 24/7 availability as well as enterprise-grade reliability and performance, but not at a maxed-out capacity. These drives use the latest generation of PMR technology for high areal density, allowing for fewer platters to reduce costs reach their capacity points. Unlike Western Digital's HDDs with leading-edge capacity, the new Ultrastar 7K6 and Ultrastar 7K8 drives are not filled with helium, and these drives use four and five platters, respectively.
The HGST Ultrastar 7K6 series of HDDs, with either 4 TB or 6 TB capacity, rely on HGST's four-platter enterprise platform featuring a 7200 RPM spindle speed, a 256 MB buffer, and various enhancements to improve their reliability. Consequently, the HGST Ultrastar 7K8 series, with an 8 TB capacity, uses five platters, a 7200 RPM motor, a 256 MB buffer, and enterprise-grade components with enhanced durability. The Ultrastar 7K6 and 7K8 HDDs will be offered with a SATA or a SAS interface as well as 4 KB, 512E or 512n (4 TB model only) sectors.
The key feature for the Ultrastar 7K6 and 7K8 hard disks are their latest-generation PMR platters featuring increased areal densities as well as media cache and flash-based non-volatile cache (NVC) to boost write performance. The 7K6 HDD with 6 TB comes with four 1.5-TB 3.5" platters, whereas the 7K8 HDD with 8 TB uses five 1.6-TB 3.5" platters. This means that these drives are using the highest-capacity platters in the industry today.
The increased areal density enables the storage devices to offer up to 255 MB/s sustained transfer rate, which is a very high speed for a 7200-RPM 3.5" HDD. Western Digital does not disclose whether it uses latest-generation PMR platters manufactured in-house, or made by Showa Denko (which has been offering its Gen 9 PMR drives for a while now). Meanwhile, the manufacturer stresses that the new Ultrastar 7K6 and 7K8 HDDs are 12% faster when compared to previous-gen Ultrastar 7K6000.
When it comes to power consumption, since the new hard drives are not filled with helium, they use a relatively high amount of power: 7 – 8.3 Watts in operating mode for SATA variants and 12.1 – 13.4 Watts in operating modes for SAS SKUs. The drives are built based on the fact that companies that do not own hyperscale datacenters do not focus specifically peak capacity or power consumption per rack, as primary concerns. Therefore, a relatively higher power consumption of the Ultrastar 7K6 and 7K8 (compared to helium drives) is not necessarily a significant drawback.
HGST Ultrastar 7K6 and 7K8 General Specifications
Ultrastar 7K6
Ultrastar 7K8
Capacity
4 TB, 6 TB
8 TB
RPM
7200 RPM
Interface
SATA 6Gbps
SAS 12 Gbps
SATA 6 Gbps
SAS 12 Gbps
Format: Sector Sizes
4Kn
4096
4096, 4104
4160, 4224
4096
4096, 4104,
4160, 4224
512n
512
-
-
512e
512
512, 520, 528
512
512, 520, 528
DRAM Cache
256 MB
Helium-Filling
No
Sustained Transfer Rate
Up to 255 MB/s (4Kn)
Up to 233 MB/s (512n)
Average Latency
4.16 ms
Seek Time (read/write)
8/8.6 ms
Acoustics
2.9/3.6 Bels
Power Rating
Idle
5.9 W
7 W
7 W
8 W
Operating
7 W
12.1 W
8.3 W
13.4 W
MTBF
2 million hours
Warranty
5 Years
HGST's new Ultrastar drives are rated for two million hours MTBF and are covered under a five-year warranty.
Related Reading
Source: Western Digital/HGST