2nd Generation Ryzen
AMD has always stated that its Zen core design will form the basis of its high-performance x86 processors for the foreseeable future. This has included, among other things, a cadence with releasing updates and new Zen-like processor designs into the market. As announced at Tech Day, the update to 1st Generation Ryzen will be 2nd Generation Ryzen, coming in April 2018.
Specific core counts, frequencies, or model numbers were not mentioned – we are still 2-3 months away from this launch. AMD did state a number of points worth discussing however, especially with its decision to use GlobalFoundries newest 12nm 'LP' design process (12LP), compared to the 14nm 'LPP' design process (14LPP) used in the first generation Ryzen products.
First I want to go to this graph, to show what AMD want to claim on raw performance over the next three years: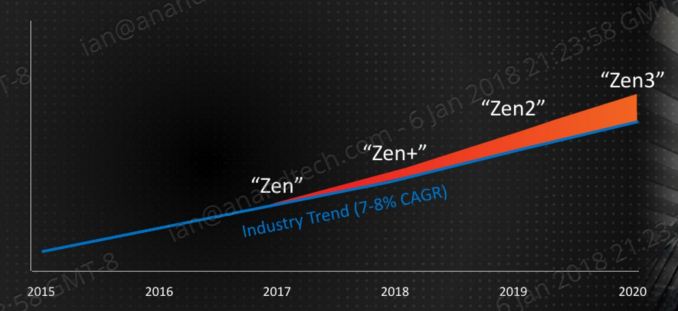 This is a graph of raw performance, combining both the efficiency of processing instructions (IPC, instructions per clock) as well as benefits from an improved manufacturing process. AMD cites the industry trend as growing 7-8% every year, and that they fully expect the Zen package, due to design improvements in the microarchitecture and better foundry notes, will go above and beyond that 7-8% figure.

So first up along that line is Zen+. This will be the name of the core in the 2nd Generation Ryzen family, built on GlobalFoundries 12LP process. AMD has categorically stated that the core microarchitecture underneath has not changed: we will still have the same front-end and back-end as Zen, with the same size caches and the same layout. What has changed will be some of the power management algorithms, and perhaps some tweaks to the neural network-based prefetch algorithms. This will be headlined as 'Precision Boost 2' support, which is a feature that has already been introduced to the Ryzen with Vega graphics components (desktop and mobile).
GlobalFoundries 12LP
Most of the physical changes happen due to the process. Last year, AMD cited that its second generation Ryzen products will be on a '14+' manufacturing node, but now it is going to be on a 12LP process. Some people argue that this is a clever marketing ploy as a name change, given nothing in the designs actually comes close to 14nm or 12nm. We were told that 12LP implements stricter design rules for the manufacturing process, requiring changes to library layout and the floorplan, but with an end result of a focus on performance per watt.
For the new processors, AMD is claiming a 10% boost in performance per watt overall. This is going to be taken as higher clocks for the same power at the high-end and lower power for the same frequency for more power sensitive products. AMD's slide from Jim Anderson's presentation above specifically says 'higher clocks', which when combined with Mark Papermaster's presentation which states '10%+ performance vs. 14LPP', we could take this to mean that we should expect anywhere from an 8%+ increase in frequencies with 2nd Generation Ryzen for desktop (not 10%, accounting for the fact that the power/efficiency curve gets worse the faster you are).
Comparison of 14 nm Branded Process Technologies
GlobalFoundries
12LP
GlobalFoundries
14HP
GlobalFoundries
14LPP ?
TSMC
16FF
Intel
14nm
Fin Pitch
?
?
?
?
42 nm
Gate Pitch
?
?
78 nm
90 nm
70 nm
Min Metal Pitch
?
?
64 nm
64 nm
52 nm
Gate Height
?
?
less than 480 nm
480 nm
399 nm
Metal Layers
13
17
13
unknown
unknown
Design Library
7.5T
12T
9T
9T
unknown
The 10% figure is corroborated by GlobalFoundries, who back in 2017 stated that its 12LP process will offer a 10% better performance. GF also stated that the 12LP process also offers a 15% area reduction against 14LPP. This is done, according to GlobalFoundries, by using 7.5T libraries rather than 9T libraries. This requires its customers to 'recompile' their 14LPP designs for the adjusted 12LP process.
To put this into context, this means we might see 4.3-4.5 GHz processors with the 2nd Generation Ryzen sticker where we used to see 4.0 GHz processors. It will be interesting to see how AMD and GlobalFoundries have moved that seemingly hard overclock limit we saw on processors like the Ryzen 7 1800X, which had a hard time moving past 4.2 GHz on all cores.
We are having a tour around GlobalFoundries Fab 8 in New York this week, and are set to spend some time with CTO Gary Patton, talking about the new process. While he is unlikely to quote specifically about how AMD has used the new design rules to its advantage, he might tell us some more information about the process in general.
As for 2nd Generation Ryzen, we are told that the major motherboard vendors and OEMs already have near-final engineering samples to hand to ensure updated compatibility.
New Motherboards: X470 Chipset and AM4 Motherboards
Launching around the same time as the new processors will be a range of X470 motherboards from the main motherboard manufacturers. Strictly speaking, these motherboards are not needed: the current AM4 motherboards based on the X370/B350/A320 chipsets on the market will accept the new processors (as well as APUs) with a relevant BIOS update. However, AMD plans to optimize its high-end chipset with a few new features.

What we know so far is that the new X470 chipset is designed for lower power. How that is achieved, AMD would not go into at this point, however the fact that the X370 chipset was an outsourced product through ASMedia built on TSMC's 55nm process would point to at least one way AMD could save power: building it on TSMC's 40nm process for a start. We are told that the X370 and X470 chipsets are pin-compatible, which is not a limit to this theory, but an interesting point nonetheless.
AMD has stated that the new chipsets will be optimized better for the newer processors, which can be translated as better memory support and a few newer features. We were told that X470 will have very specific new features, although AMD did not want to disclose anything until we get closer to the launch.
We were lucky enough to see a GIGABYTE based X470 motherboard at CES.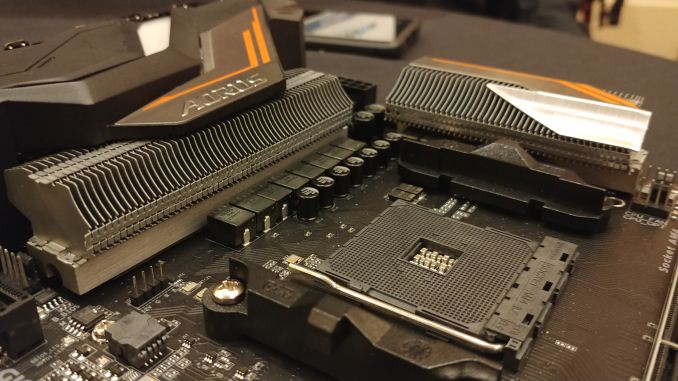 You can read our analysis on this motherboard here.
Second Generation Threadripper
In the second half of 2018, AMD will launch a second generation of Threadripper, based on the new 12LP process. AMD did not go into specific details here, mainly because the launch is so far away, but users should look forward to the same improvements as the standard Ryzen products: up to 10% better raw performance due to the improved manufacturing process, Precision Boost 2 support, and better memory compatibility.
We are not expecting anything to change on core counts or other features like PCIe lanes.