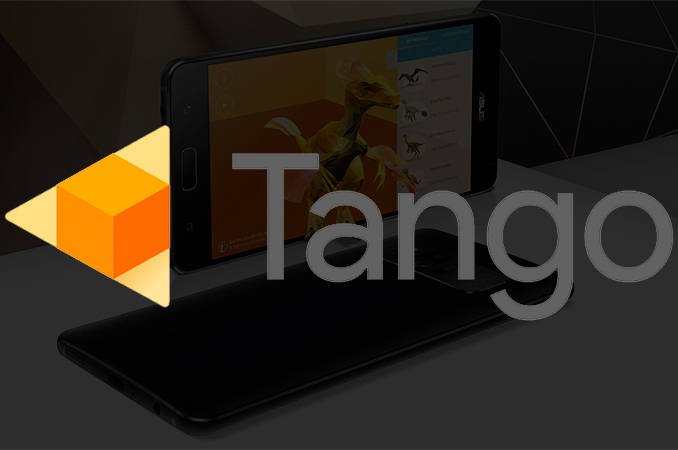 Google announced on Friday that it would cease support for its Tango computer vision and augmented reality initiative on March 1, 2018. The company urges Tango developers to migrate to the more common ARCore framework that does not need specialized hardware and thus can be used with mainstream smartphones.
Google kicked off its project Tango in early 2014 with the goal to give mobile devices a human-like computer vision, primarily for the purposes of augmented reality. Tango uses custom hardware (an RGB camera, a motion tracking camera, IR depth sensors, accelerometres, gyroscopes, etc.) to capture what is going on around and then rather powerful compute devices (such as the Movidius Myriad 1 vision processor and additional microcontrollers for sensor hub and timestamp functionality) to process this data and understand positioning of the device in a room. Given the hardware requirements of Tango and their costs, the initiative was slow to gather traction outside of Google. Early last year Intel built a prototype of a Tango-supporting smartphone featuring its RealSense camera and an Atom SoC, then Qualcomm demonstrated its Snapdragon-based Tango-supporting concept. Eventually, ASUS and Lenovo have released Google Tango-supporting smartphones for consumers, but this is as far as Tango ever got.
By contrast, ARCore does not need specialized hardware to support a significant part of the Tango functionality (at least when it comes to consumer applications) and promises to work on normal, reasonably powerful Android-based smartphones. Therefore, for AR software developers and for Google it makes sense to focus on ARCore just because it promises to be available to hundreds of millions of users worldwide.
Google says that it has taken everything it learned from its project Tango to build ARCore, so it definitely was not useless. Meanwhile, Tango's purported human-scale understanding of space and motion could be used for Google's autonomous vehicles platforms. The latter already use custom hardware and the costs of sensors and SoCs are generally not a problem for devices like self-driving cars. Moreover, Visual Positioning System of standalone Daydream AR/VR headsets reportedly has its roots in Tango. So, while the project Tango is dead, its elements are going to be used here and there.
Related Reading:
Sources: Google (via AndroidPolice)